Let's get one thing out of the way. Dockwalking sucks. No one likes it. No one wants to do it. And it certainly doesn't give you any more confidence to do it when every set of deckie's eyes on the docks are staring you down.
Dude, All I want to do is give you my cv ok?!
This is going to be your guide to dockwalking for yacht chefs. Read on…
Who actually needs to dockwalk anyway?
Green yacht crew get told constantly that they MUST dockwalk in order to get a job. Yes, it helps, and yes as a green crew member looking for work, you really should put yourself out there as much as possible.
Green yacht chefs do have a different advantage.
Just like engineers, ETO's, masseuses, nurses and pursers, superyacht chefs have specific skills. You have highly trained skills that you have worked years for, and honed in on with many more years working in restaurants.
This often means, as a chef, you don't HAVE to dockwalk. Great news right?!
But you should still dockwalk so that you get your face out there. People will remember you, and it can help with landing a job! Dockwalking for yacht chefs is still important!

Do I wear chef whites dockwalking?
Chef whites are never really worn off a boat. As a yacht chef, even if I was attending a function for yachties that required a uniform, I would wear the same on charter uniform as the rest of the crew. This all depends on the boats image and how the captain wants you to represent the boat.
Wearing your chef whites while dockwalking could be both a blessing and a hinderence.
Firstly, you could get picked up by a boat because the crew working outside know they need a new chef, and you look the part. After all, deck crew aren't always going to know which dockwalkers are chefs without speaking to you.
But you could also be doing yourself a disservice. Because chefs don't tend to dockwalk much, seeing someone strolling down the dock with an armful of cv's may look weird. It may even make you look unapproachable. And that NOT what you want when you are looking for your first yacht job!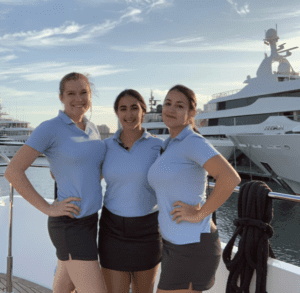 What to wear dockwalking then?
Dress like the other yachties you see about. A clean and freshly pressed, simple, one colour teeshirt or even better, polo shirt, will do the trick. Pair that with some khaki or black shorts and some sensible shoes and you have yourself a winner.
Girls, this ones for you- don't go dockwalking like you are on a night out on the town! Simple makeup will do and sweep your hair off your face just as you would for a shift.
Guys, go easy on the shiny hair gel. It doesn't need to look like you live in the deep fat frier to get the job.
Be presentable. Its simple.
What to take dockwalking
Every chef should carry a stack of their CV's with them. We are working on a post now to cover what your CV needs to have, so keep an eye out for that.
For more information on paying a professional to do this for you, check out Superyacht Cvs on facebook. You will want to avoid normal cv and resume writers, no matter how brilliant they are. Without knowing how the yachting industry works and what is required, they will not have your information presented in the best light as a yacht chef.
As well as your resume, you will want to hand over a basic meal plan showing your skill range. This is usually a 7 day plan covering breakfast, lunch and dinner. Keep it broad and focus on your strengths. Click here to learn more on writing a yacht chefs meal plan.
Food photos are also really important. After all, you are selling yourself and your chef skills, so presentation plays a big part of this. Print out at least 1 page of your best food shots and attach it with your cv and meal plan.
How do you actually dockwalk?
This is the hard part. This is the bit that everyone hates. If you decide to dockwalk, at least you are prepared.
You will enter the dockyard and systematically approach boats. Keep an eye out for deck crew working outside. You will want to get their attention, in a polite way of course. They are the gatekeepers of the boat for now. Your aim is to get your little resume package to the right person on board.
Once someone comes over, chat to them briefly if they aren't too busy. Or even better, ask if the chef is on board. From there you can figure out if the boat needs a temp chef in the future or someone to cover an upcoming crossing.
With a bit of luck, you will get a chance to speak to the right person on board, and connect for either future reference, or walk away with a trial there and then!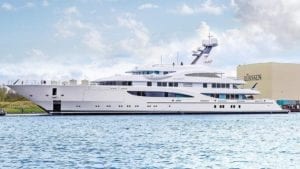 And if dockwalking doesn't work…?
Dockwalking is only one part of getting a job! You should still be networking as much as you can. And I don't just mean "Hit the bars in Antibes and chat everyone up"! You can network just by chatting to other yachties- the supermarket was a good one for me when I started!
Contact agents is an absolute definite!! You will NEED to contact them, show them all of your work and listen to their advice. They have their finger on the pulse for what boats need crew, and when. Crew agents will be your bread and butter for work. For a list of the best ones in the industry for chefs, check out THIS page.
Also make sure you check facebook groups aimed at yachties such as Palma yacht crew and Antibes yacht crew for the Med, or Fort Lauderdale yacht crew and Rotational superyacht chefs
These groups are all heavily used to post jobs, so it's worth checking them daily. Not all yacht chef jobs are advertised by crew agents, especially the smaller private ones.
If you go to drop down menu for "Green Chefs' you will find plenty more resources for new superyacht chefs entering the industry. Keep coming back as more articles and blogs are added weekly. And of course, if you have any questions or if you have any topics you want us to cover, please contact us and let us know. We are here to share!