Hopefully, you are able to start making some plans for your downtime this season. We have teamed up with a BUNCH of travel bloggers who have helped give yacht chefs and foodies an ultimate travel list of beach destinations. We all know how hard the season can be, and sometimes, you just want to chill in a tropical paradise with a cocktail in one hand and decent food in the other.
And if you can do cooking classes and learn more about the local food while you are there- bonus!
Please share this post with other chefs and yacht crew who may also love to mentally put themselves on a tropical beach for a few hours in their lunch breaks. Or if you are looking for a bit of inspiration for your next leave. Let us know, what beach destination are you planning for your next holiday?
Contents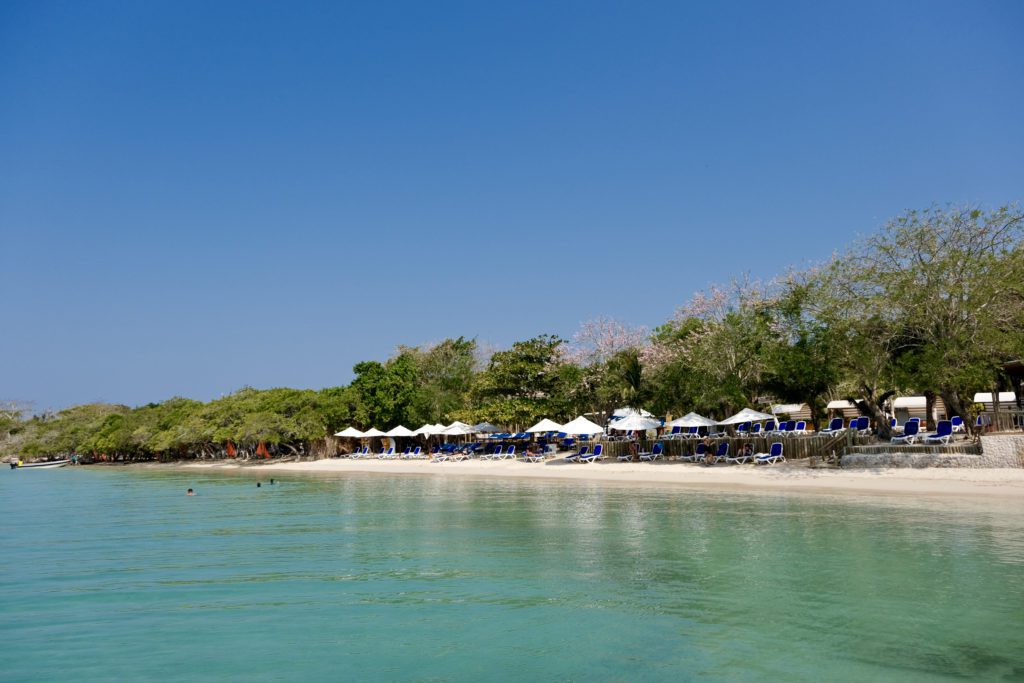 1. Cartagena, Colombia
Cartagena, Colombia would be a great destination for stressed-out yacht chefs. It has a lovely, colonial charm, vibrant culture, great street food, gourmet restaurants, and of course, gorgeous beaches!
Chefs will love not only the terrific Cartagena beaches but also going to tour the local Bazurto Market, where they can source fresh seafood, fruits, and vegetables. Or they may just want to try the great food at some of the finest restaurants such as Club de Pesca or Carmen. They will love trying a local favourite street food arepa de huevo and sampling local traditional sweets at the Portal de Los Dulces.
The ultimate way to destress though is with a visit out to the nearby Rosario Islands. Here, in addition to a delicious fried fish plate with coconut rice, they can enjoy snorkelling in crystal clear Caribbean waters or just sipping on margaritas and piña coladas made in the coconut while catching some rays. Eco-resort Isla Bela offers a laid back vibe, while Bora Bora Beach Club offers a more party atmosphere. However, the ultimate way to see the islands is on a private boat rental with a group of friends.
5 must-try Dishes:
Traditional fried fish plate with coconut rice and patacones
Limonada de coco
Arepa de huevo
Cazuela de mariscos seafood stew
Camarones al ajillo garlic shrimp
A great choice for where to stay in Cartegena is the relatively new Hotel Capellán, located strategically in Getsemaní and close to the top attractions and restaurants. In addition to the fine dining experiences at Club de Pesca and Carmen, chefs will love the homestyle traditional food at Espiritú Santo, and the unique take on the arepa de huevo at Donde Magola.
For drinking, check out iconic Donde Fidel for beers and people watching, Caponera for laid back drinks, Townhouse's rooftop for a fun, trendy vibe and tasty cocktails, and Mister Babilla to get your dance on.
By Adam McConnaughhay from CartagenaExplorer.com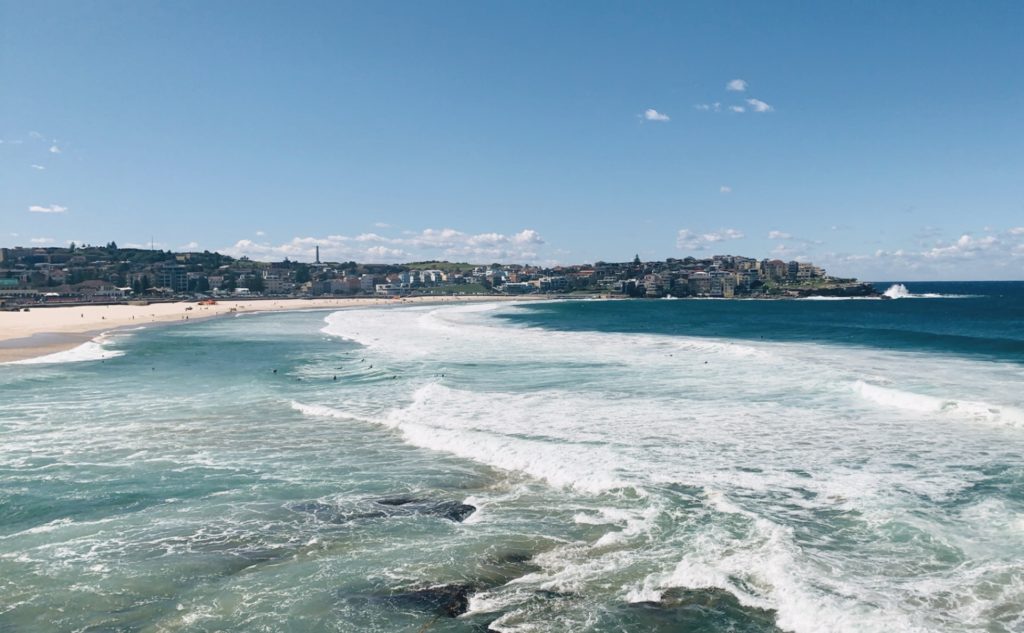 2. Sydney, Australia
There's no better place for a getaway than the land down under and heading to Australia's biggest city gives chefs and foodies the option of dozens of beaches as well as tons of foodie attractions.
There are countless ways to de-stress in Sydney, mostly revolving around the city's many beaches. For the classic Sydney experience, you can't miss Bondi, filled with tanned bikini babes and tourists who've spent far too much time in the sun. For a less crowded and more lowkey experience, the best beach close to the city is Camp Cove Beach in Watsons Bay, Watsons also offers several stunning walks with views across Sydney Harbour and out to the Pacific Ocean. Read more about what to do in Watsons Bay here.
5 must-try Dishes:
Where to stay: Newly opened Kimpton Margot Sydney can't be beaten for location, it's situated in the middle of Sydney's CBD in a restored heritage building. The character-filled boutique hotel also has a much-hyped onsite restaurant, Luke's Kitchen, for those looking to stay close to home.
Where to eat: Firedoor – featured on Netflix's Chef's Table, this restaurant takes the quintessentially Australian barbeque and makes it gourmet. There are no cheap sausages within sight but everything on the menu is cooked over fire.
Where to drink: it might be cliché but Opera Bar really is the place to go in Sydney. Located below the steps to the Sydney Opera House, the mostly outdoor bar looks across the harbour to Sydney Harbour Bridge. It's the best place in the city to while away a lazy afternoon with a cocktail.
Must-try local foods:
Damper – a flatbread traditionally made by Australia's indigenous people from whatever ground up seeds or grain were available, damper is a must try in Australia.
Moreton bay bug – this is a local shellfish similar to lobster
Kangaroo – if you come to Australia you have to try kangaroo, it's a rite of passage. The gamey meat is similar to venison and can be served as a burger, kebab or mince.
Crocodile – another uniquely Aussie meat offering, crocodile is a lighter meat and can be tough, try t in tacos for a unique flavour hit.
Barbeque – in Australia we love a barbeque and while it's usually a very lowbrow affair it's the perfect beach food. Throw some snarlers on the barbie, grab some bread, and you're good to go.
By Kate Slater from KateAbroad.com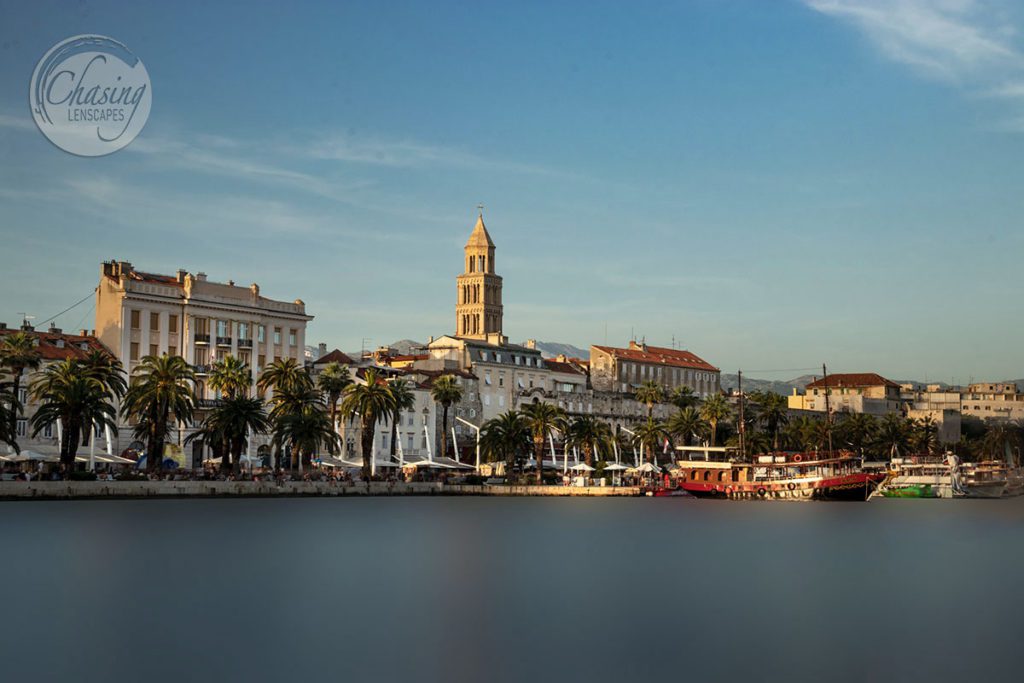 3. Split, Croatia
Split is the second-largest city in Croatia and the largest city on the Dalmatian Coast. In spite of its size, it feels intimate, and we quickly fell in love with its lively atmosphere and charming scenery. There are many things you can do in and around Split, from exploring its stunning old town to going bar hopping or sunbathing on one of its beaches. One of the best things about Split is the fact it has one of the best foodie scenes in Croatia so naturally, any chef would love to spend a few days in Split.
When you visit Split, you really must spend some time exploring the old town and historical sites, especially Diocletian's Palace. Getting lost in the old city is lots of fun and you will find many traditional restaurants and hip bars in those alleys. Also make sure to walk along Split's promenade, the Riva, which is lined with seafood restaurants, coffee shops and bars.
If you love markets, you can visit Split's Green Market for some fresh produce, flowers, nuts and dried fruits or go check the fresh fish at the local Fish Market. However, if you just want to relax, go sunbathing at one of Split's beaches. The closest beach to town is Bačvice beach. You'll also find there a selection of bars and a party atmosphere. Not far away is Firule Beach which has a more relaxed atmosphere. You can also go explore the beaches around Marjan Hill on foot or with a kayak. This is a great way to relax and there are many kayak tours, especially at sunset. If you have more time, you should definitely go island-hopping or go visit one of the nearby wineries.
To really experience Dalmatian cuisine, you must try some of the regional dishes. Some of the basic ingredients include lots of cooked and grilled seafood as well as a variety of local cheese and wine.
5 must-try Dishes:
Brudet – is one of the most popular dishes in Dalmatia. It is a fish stew, made from several types of freshly caught fish which are slow-cooked with vegetables, herbs and spices, prosecco and wine.
Octopus Salad – A staple dish in any menu. Each restaurant serves its octopus salad with different seasonings and a mix of vegetables. It's a great way to start your meal accompanied by a glass of wine, of course.
Shrimps Na Buzaru – Fresh shrimps cooked in the traditional Bazura sauce which is made from olive oil, garlic, chopped tomato and wine. Make sure to order some bread because you wouldn't want to leave any drop of that red sauce.
Soparnik – Enough with the healthy food, let's talk about carbs! Dalmatia's local pastry is made from layers of thin dough, filled with Swiss chard, parsley and garlic. Some believe the Romans based their pizza on this pastry. It's absolutely addictive and delicious.
Rozata – For dessert, you must try the traditional custard pudding that is flavoured with Rozalin, the local rose liqueur and covered with caramel.
Split Recommendations:
Restaurants & Bars: For breakfast and/or lunch, try Fig. They have a selection of healthy dishes with a Mexican flare. Bokeria Kitchen & Wine is a must for dinner, you should definitely reserve a table in advance. If you love wine bars, check out Zinfandel Food & Wine Bar. They also have live performances at night.
Where to stay: We suggest staying close to the old town in Bačvice neighbourhood or Varoš Neighborhood.
For more things to do in Split, foodie recommendations and day trips, check out our Split Guide with detailed 1-5 days itineraries.
By Maya and Sari from Chasinglenscapes.com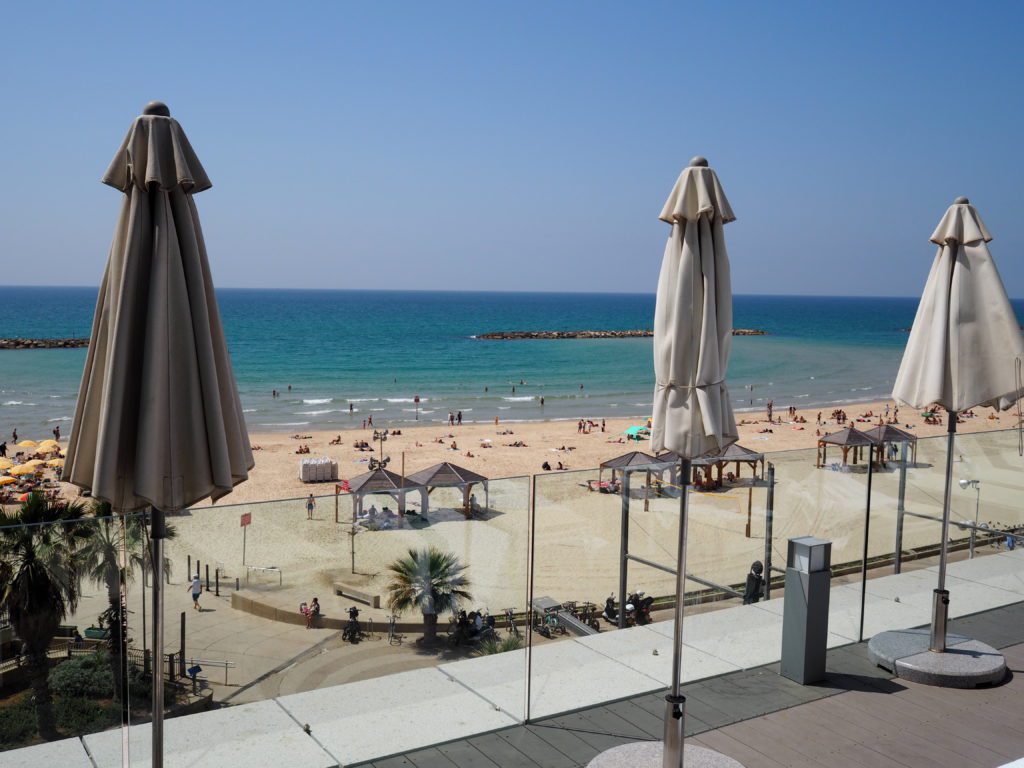 4. Tel Aviv, Israel
Tel Aviv is a cosmopolitan city in the Middle East, known for its white sandy beaches and buzzing nightlife. The city is also a Mecca for foodies- featuring dishes from a mixture of cultures and a great destination for vegans and vegetarians.
Visitors and locals in Tel Aviv enjoy a wide variety of recommended and well-rated famous restaurants of many cuisines. For mouth-dropping typical Israeli street food, I recommend visiting HaKosem, while Sarona Market is great for "one-place fits all" with a variety of food stalls owned by some of the best chefs in Israel. Another great authentic market to visit is Shuk HaCarmel.
The beauty of Tel Aviv is the mixture of cuisines brought to Israel by Jews from all around the world. For example, near Shuk HaCarmel is the famous and one of the oldest neighbourhoods: Kerem HaTeimanim. The neighbourhood was established by Yemenite Jews who immigrated to Israel in the late 1800s. Over there, you can find authentic Yemenite restaurants featuring typical Yemenite Jewish food such as Jachnun, Lahoh and Kubaneh.
For vegetarians and vegans, the options in Tel Aviv are endless. Anastasia is said to be the best vegan restaurant in town, with Meshek Barzilay in second place with delicious organic vegetarian and vegan dishes.
When it comes to pastries, Rougelach is the best one and a must-try! Rugelach is a traditional Ashkenazi Jewish pastry made from sweet yeast dough folded with a filling of your choice. For drinks, I recommend going to the coolest cocktail bar in town: BellBoy.
To distress while in town, visitors can enjoy a variety of activities from yoga on the beach to water sports, or simply chill on one of its white sandy beaches.
5 must-try Dishes:
Sabich
Falafel & hummus
Jachnun
Shakshuka
Shawarma
By Hadas Lesnick from luxury-voyager.com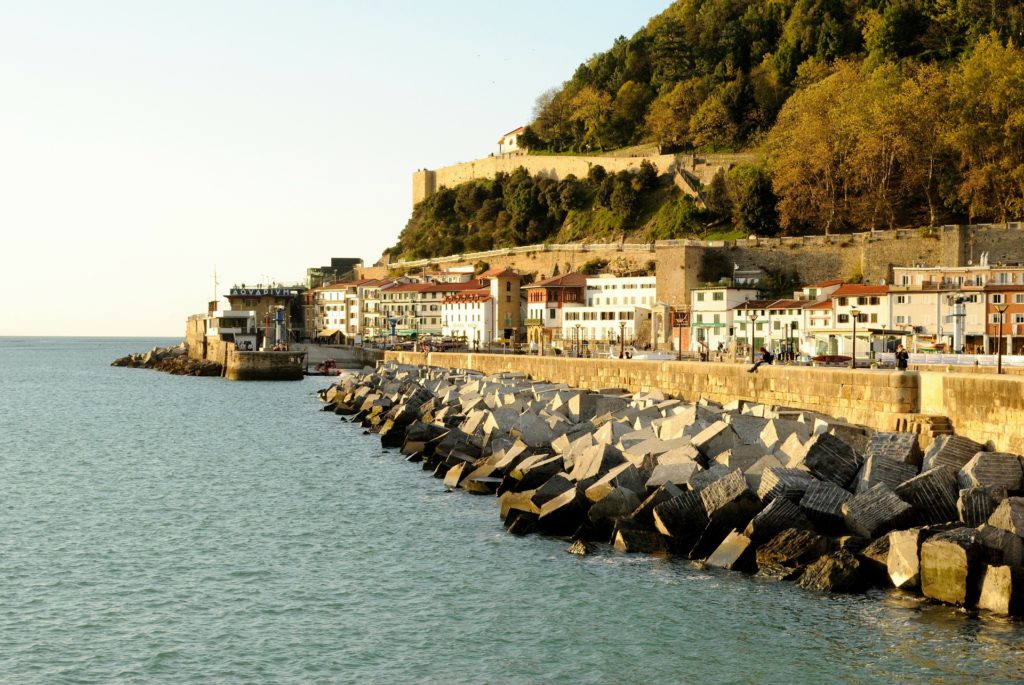 5. San Sebastián, Spain
San Sebastian is the food centre in the world that celebrates food as an art and a way of life. Situated in Spain, this city serves as the right beach destination for a refreshing culinary break. There is a lot that this city has to offer.
San Sebastian is home to several restaurants, food festivals, proud traditions, and even more. Chefs from its gastronomic societies come together and hold various food celebrations on January 19 every year.
This city is the spot for Basque Culinary Center which is situated in a building made to appear like a stack of plates. Txokos, or all-male secret gastronomy groups, number in the hundreds here. It is well-known for its high-quality food, first-rate culinary schools, and an abundance of renowned chefs.
Every January, it brings together thousands of chefs on the streets of Parte Vieja. Everyone hears drumroll beats while the txokos lead the celebrations of the city's Feast day. La Tamborrada is a regional festival that brings forward regional pride. It is led by the members of the popular society of San Sebastian- Gazetelubide.
When it comes to food, it's hard to think of a better place on the planet. San Sebastian is a gloriously chaotic whirl of tortillas, calamari, and steaming croquettes that are crammed with rich visitors. To get the greatest pintxos, you have to act fast before the pubs close their doors at midnight, so you have to bar hop, eat standing up, and move quickly.
The reason why food from San Sebastian is so famous is that they produce locally and believe in producing fresh raw materials. The best way to explore secret fresh products is to visit popular food markets like Brexta or San Martin. The most famous chefs of the city visit here quite often.
While you get your hands on the fresh products, the local cooking classes will allow you to learn about the local cooking culture. A few of the top cooking schools like Mimo Food, Amaur cooking, and more will teach you to cook the best Bacalo croquettes.
If you are on a vacation, the city also offers many activities to release your stress. It has an 11-day surf, party, and yoga camp where people can re-treat themselves with a choice of activities. The package includes food, and various activities including hiking, horse riding, swimming, and many more. It is also easy to reach there as the camo is situated in the town of Aia, which is just half an hour away from San Sebastian city. For sure, this is a wonderful de-stress session for chefs and every other visitor.
5 must-try Dishes:
Anchovies and the Gilda pintxo
Fresh foie gras
Salt cod
Txuleta
Kokotxas de merluza
Don't miss trying these delicacies and other local cuisines at Bully restaurant and bar. While you explore its food culture, you can enjoy a stay at Abba San Sebastian Hotel.
By Paulina from Paulinaontheroad.com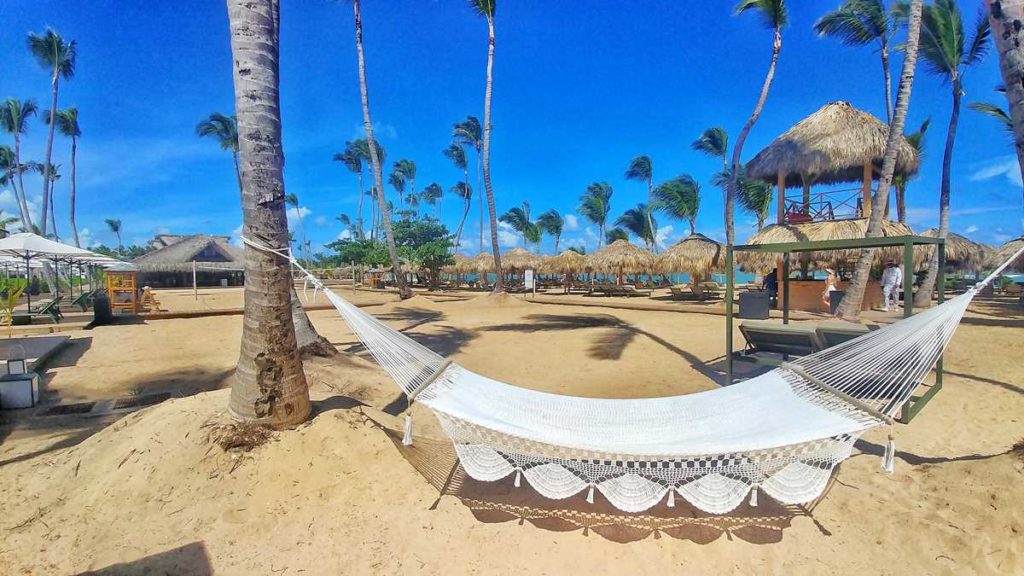 6. Punta Cana, Dominican Republic
Punta Cana in the Dominican Republic is the best choice for stressed-out chefs when looking for a place to unwind, relax, have good food and enjoy a couple of delicious Caribbean cocktails. Later, if you want to explore the gastronomic hidden gems of the country, you can venture out and explore the Dominican Republic on your own.
First of all, you shall book a few nights in one of the all-inclusive resorts in Punta Cana. The vast majority of hotels have at least 5-6 restaurants (some up to 12) and the same amount of bars (all included in your stay), guaranteeing enough choices and culinary highlights for a couple of days. Some of the hotels in Punta Cana known for having the best gastronomical offers are Iberostar Grand, Hyatt Zilara and Paradisus Palma Real.
Furthermore, the all-inclusive resorts in Punta Cana are also perfect to completely disconnect from work, as there is service staff for literally everything and you get pampered 100%, especially in the high-end resorts mentioned above. All of the hotels also feature a large spa area in case you'd like to relax even more.
If you are looking for top-notch restaurants outside of your all-inclusive resort, you shall check out Passion by Martin Berastagui, Montserrat Manor or Bamboo at Tortuga Bay.
Beach-wise, Punta Canas' beaches are well-known for being some of the best in the Caribbean. They are extremely wide, offer amazing views and you can walk more than a dozen miles without leaving the sand, especially on Punta Cana's main beach, Playa Bavaro.
Later, you can leave the resort and explore the authentic Dominican Republic, for example on a 3-day road trip through the country. During such a tour, you can not only experience the incredible warmth of the Dominican people and the never-ending diversity of the Dominican Republic but also some of the best food-based experiences in the Caribbean, such as:
Visit Chocolate Jungle to get a full plantation tour (fruits and veggies, not only chocolate)
Eat farm-to-table meals in Salcedo or Cabarete
Visiting the Barceló or Brugal rum distillery to sample some of the best rums in the Caribbean
During your vacation in the Dominican Republic, you also shouldn't miss the following local delicacies:
5 must-try Dishes:
Mangu (mashed plantains)
Pescado de Coco (fresh fish simmered in coconut sauce)
Moro de Guandules (rice cooked with pigeon peas)
Sancocho (local soup with different kinds of meat)
Habichuelas con Dulce (kidney beans cooked in sweet sauce)
With these tips, you should be well prepared to unwind at the famous beaches of Punta Cana and explore the Dominican Republic with all its gastronomic highlights.
By Christian Jannasch from Puntacanatravelblog.com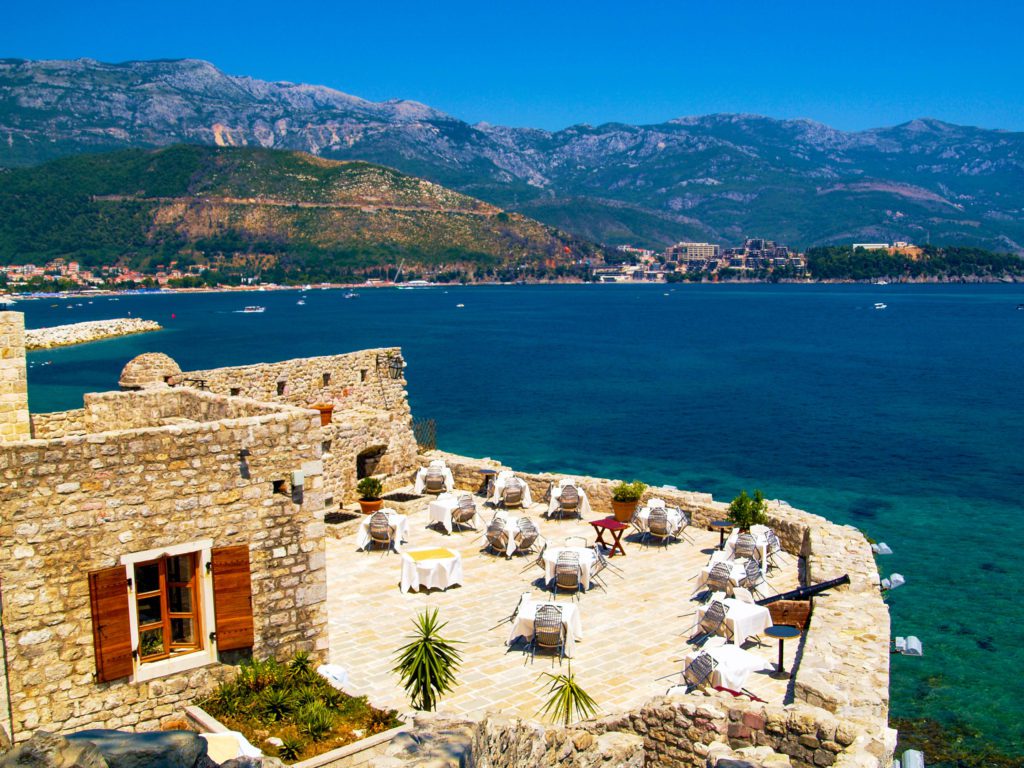 7. Montenegro coast
The Montenegro Coast is a popular beach destination for people who love the sun and the sand. There are also a lot of things to do, such as taking a boat ride, hiking, and going to the casino. The food is also great, and there are a lot of restaurants that serve local cuisine.
A chef would love to visit the Montenegro Coast because of the great food that is available there. The restaurants serve local cuisine, which is a mix of European and Mediterranean flavours. There are also a lot of seafood restaurants!
The best restaurant close to the Montenegro Coast is called Riva. It is a seafood restaurant, and the seafood is fresh and delicious. The restaurant has a great atmosphere, and the service is excellent.
The best food market on the Montenegro Coast is the market in Budva. It is a large market that sells a variety of local food items. There are also a lot of seafood vendors, and the seafood is fresh and delicious.
There is a coffee farm close to the Montenegro Coast. It is called the Dukley Gardens Coffee Farm, and it is located in the town of Kotor. The farm is about a 10-minute drive from the coast.
The best bar close to the Montenegro Coast is the Blues Beach Bar. It is located in the town of Budva, and it is a great place to relax and listen to music. The bar has a great atmosphere, and the drinks are delicious.
There are many things to do on the Montenegro Coast, you just need to pick something and get started! There's no doubt that a chef would love to visit the coast of Montenegro.
By Philipp Muders from Journication.de/en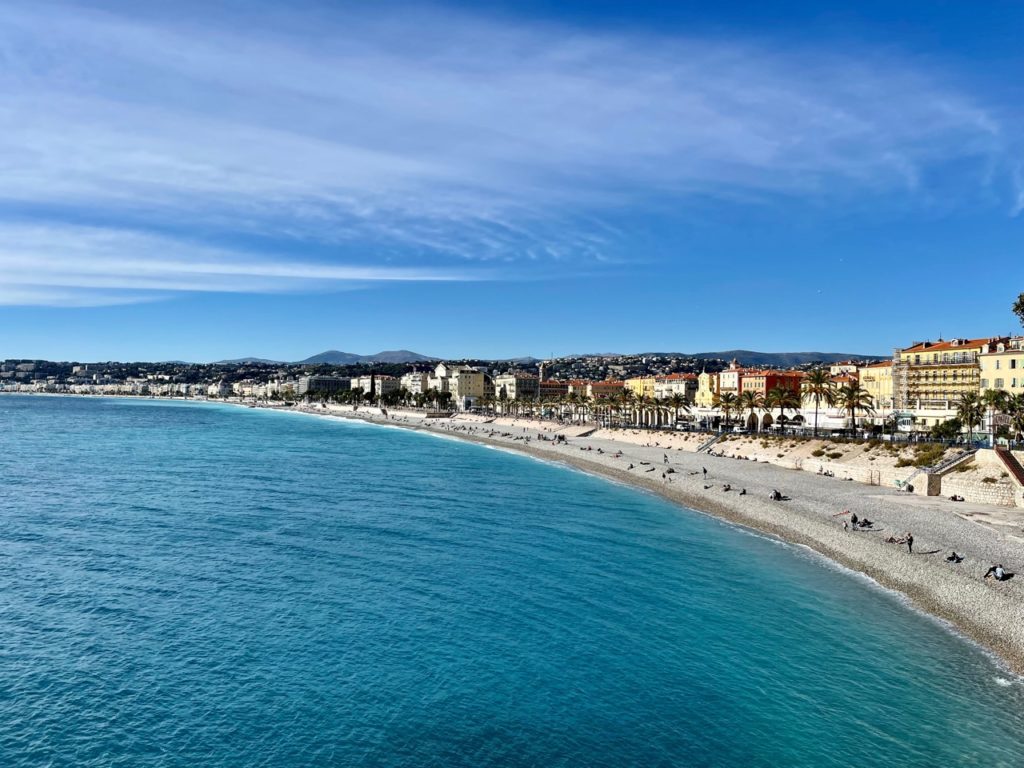 8. Nice, France
As a chef or foodie going on holiday, my favourite beach destination is Nice, France. First, there's plenty of foodie stimuli, regional fare, and enough awesome restaurants to satisfy any chef. Second, the beautiful vistas, charming Old Town, and scenic walks make it a great place to unwind.
Looking for a chef's port guide to Antibes?
This one covers the entire coastline from St Tropez to Nice.

Early-risers start the day with gorgeous sunrises over the Mediterranean. The benches along the Promenade Anglais offer respite for a few moments to be grateful for such an experience. Then take a morning stroll along the 7km paved seaside path. Stay at Le Meridien Hotel and Promenade Anglais will be at your front door.
Walking is not only the best way to de-stress in Nice, but it's the best way to explore the city. Wind your way through the pastel coloured historic buildings, explore Castle Hill, Place Garibaldi, the Old Port, and Place Messena. Then pick a spot on the beach that stretches along Nice's entire coastline from the castle to the airport to relax and watch the waves.
Take in the local produce and food specialties at the farmers market on the Cours Saleya (Tues-Sun). You'll find foodie souvenirs to take home like tapenade and olive oil made from provencal olives. Cheese stalls and charcuterie purveyors provide all you need for a picnic. Or try one of the carts like Chez Theresa for Nicoise street food.
Old Town Nice is filled with delicious eateries. Look for the "Cuisine Nissarde" label for Nice restaurants that are certified for serving authentic dishes. Try Lou Balico's appetizer platter that showcases an assortment of 10 specialties.
5 must-try Dishes:
Socca
Pan Bagnat
Pissaladière
Beignets
Tourte de Blettes
Just like any food-centric city, the best Nice restaurants offer incredible meals made from local ingredients. Bistro d'Antoine and Comptoir Du Marché are two of the best choices in Vieux Nice. And for drinks, you can't beat the view at Le Plongeoir in the Old Port.
Planning on hitting the French Alps this winter instead? Check out these 20 must-see destinations.
By Denise Mack from ChefDenise.com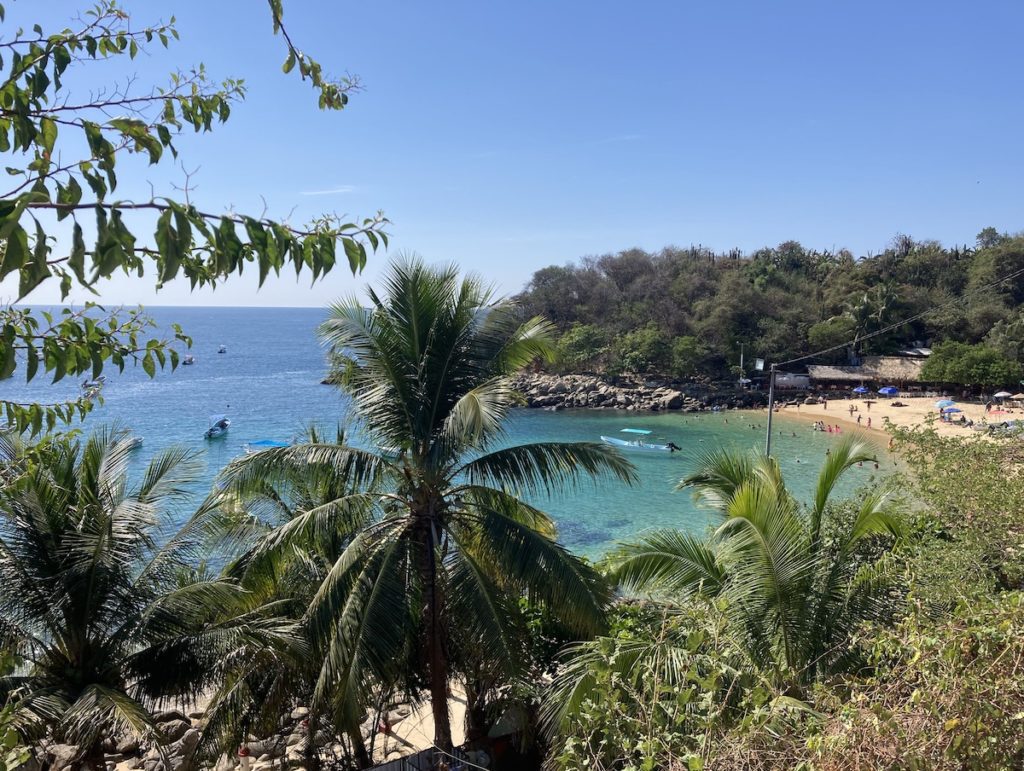 9. Puerto Escondido, Mexico
When it comes to de-stressing, de-compressing and getting a wellness boost, there's a wealth of restorative options to choose from in Puerto Escondido, Mexico. In addition to popular yoga studios such as Arte Y Espiritu and Vida Yoga Center that offer classes and teacher training in Vinyasa, Restorative, Iyengar and Hatha Yoga, select hotels such as Casamar Suites Hotel even offer complimentary yoga classes to their guests.
As well, among the many things to do in Puerto Escondido, there is a wide range of wellness and spiritual workshops and classes such as cacao and full moon ceremonies, drumming, meditation and pilates. One of the most memorable and culturally immersive experiences is to participate in a temazcal, an indigenous ritual known for its cleansing and spiritual properties. This ceremony takes place in a sweat lodge structure made of adobe, brick or mud and involves healing herbs, steam and massage.
The Pacific Coast setting of Puerto is soothing and de-stressing on its own. It's possible to feed your soul with a walk on a hidden beach such as Playa Coral or a windswept beach such as Playa Bacocho where you walk towards the moon in one direction and witness the rising sun on the way back.
Other ways to connect with the healing power of nature include swimming with wild dolphins, whale-watching, marvelling at an arribada where more than 5,000 sea turtles come ashore to lay their eggs, and swimming in a bioluminescent lagoon under the stars.
5 must-try Dishes:
Puerto Escondido is known for the diversity of its food scene which is a mix of Oaxacan and international cuisine. Shop its food markets such as Mercado Benito Juarez or Mercado Zicatela and get inspired by both the ingredients and rich culture.
Or, explore the wealth of restaurants in Puerto Escondido which include fine-dining spots such as the acclaimed Almoraduz to rustic beach bars such as Brad's Split Coconut.
Top food and drink to try in Puerto Escondido include:
Mezcal
Tlayudas (giant tortilla slathered with toppings similar to a pizza),
Tamales Oaxaqueños (masa dough in banana leaf),
Fresh oysters
Fresh fish such as snapper and mahi-mahi.
Recommended places to stay include Hotel Escondido (a design hotel with cabanas outside of town), Villas Carrizalillo (set overlooking Puerto Escondido's prettiest beach) or a fully-equipped condo such as the architecturally-stunning La Escondida featuring panoramic views and plunge pools.
By Michele Peterson from Atastefortravel.ca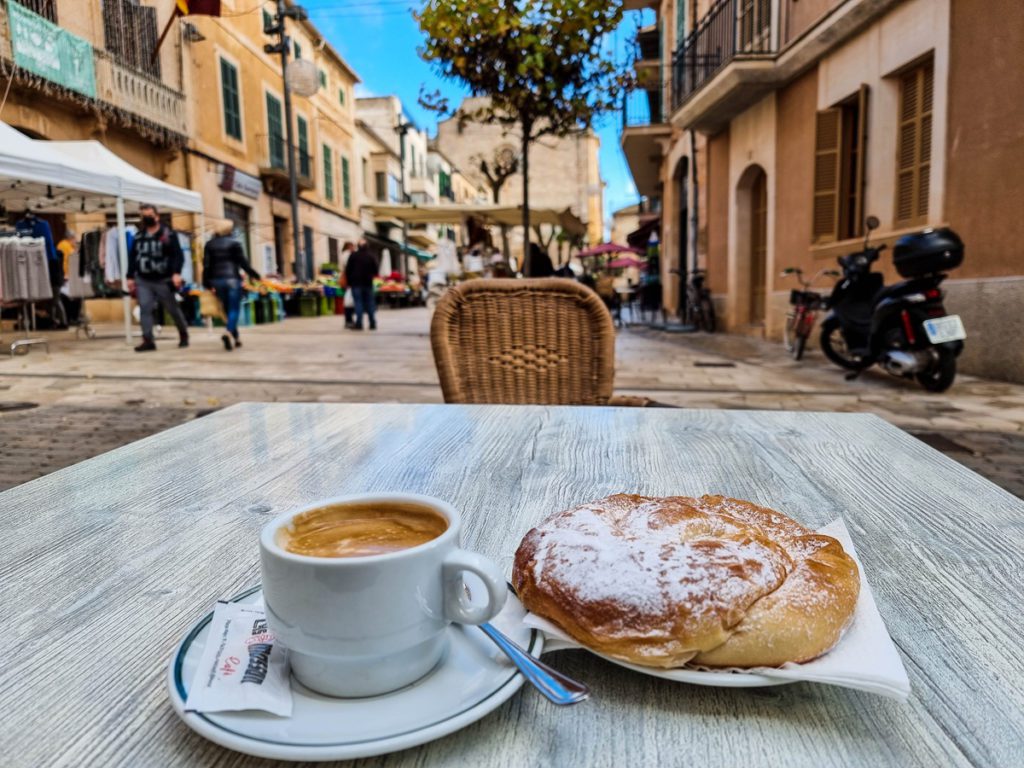 10. Mallorca, Spain
Mallorca is a fantastic beach destination that offers plenty of relaxing time but also amazing local dishes. Chefs and foodies would love to explore Mallorca not only to discover its beautiful, secluded beaches but also to experience the traditional Mallorcan dishes that the island has to offer. A lot of the traditional food in Mallorca is made with local produce, grown on the island.
Every day, a different town or village in Mallorca organises a market, where the local producers come to sell their fruits and vegetables. The most famous one is in Inca, whilst one of the most picturesque ones is in Pollenca. Palma de Mallorca has a permanent market which you can visit every day.
To help reduce stress, chefs should go on a wellness weekend in Mallorca at Tramuntia. Owned by a Spanish chef, Tramuntia offers wellness packages that include yoga sessions, hikes in nature in a national park, meditation time, as well as a full vegetarian menu meant to detox the body.
If you travel to Mallorca out of season, you will find most of the popular beaches empty. It is really nice to explore them without other people around. The island has some of the most stunning beaches you will ever see, easily comparable with beaches in the Caribbean.
If you are also hitting up Barcelona this season, grab our free yacht chef guide to Barcelona here
Another great thing to do in Mallorca, to help reduce stress, is to enjoy wine tastings in unique locations, such as a 16th-century windmill in the middle of a vineyard. Usually, the vine tastings are accompanied by local products such as Mallorcan sobrasada or Menorcan Mahon cheese.
5 must-try Dishes:
Arroz brut
Pa amb oli
Porcella
Sopa Mallorquina
Ensaimada
One of the best places to eat and drink in Palma de Mallorca is Mercat 1930, a foodie market where you can find many different cuisines, but also three different bars: one for beer, one for wine and one for cocktails.
By Joanna from theworldinmypocket.co.uk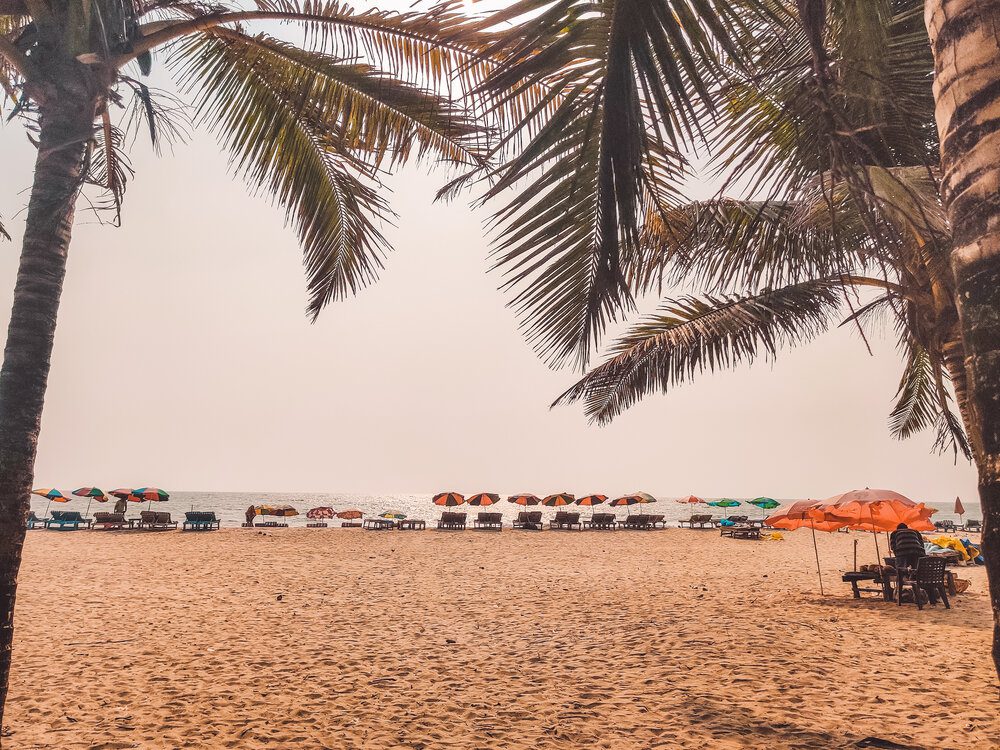 11. Goa, India
Goa is a state in India that is known worldwide as the ultimate beach destination, with over 50 beaches and a coastline of 160 km (roughly 99 miles). There are a number of exciting activities going on all across Goa. Whether it's surfing, yoga ashrams, music festivals, biker meet-ups, psychedelic music and dance events, bicycle or walking tours, heritage walks, art exhibitions, food festivals, bird watching or a yacht cruise – there is no shortage of things to do in Goa for people with varying interests.
Even in terms of sightseeing, Goa has amazing beaches – popular ones as well as offbeat empty ones, churches, waterfalls, islands, natural beauty and lots of offbeat places to visit in Goa.
Coming to the food, Goa has an inspiring food scene that comprises cuisines from all over the world. Most restaurants here hold live music events, karaoke nights or salsa nights. Because Goa has incredibly low-priced alcohol compared to the rest of India, almost all restaurants serve alcohol. Apart from that, there are countless pubs and bars here too.
Goan cuisine is heavily meal and seafood-based. The Konkan or typical Goan cuisine has chicken, pork or beef served in delicious gravies served with poi – a traditional Goan bread made locally. Seafood is also very popular here.
5 must-try Dishes:
Chicken Xacuti
Chicken Cafreal
Pork Vindaloo
Prawn Curry
Traditional Goan fish curry with rice – a staple food of the locals.
Speaking of street eats, chicken shawarma, fish cutlet, beef cutlet, and ros omelette(omelette in gravy) are all must-try food items!
Goa also has a local alcoholic drink called Feni which is made locally out of cashews. It can be found in any hole in the wall stores that sell drinks. Furthermore, given the heavy Portuguese influence in Goa, Bebinca – a local layered Christmas delicacy is also worth trying.
Some of the best restaurants in Goa for tasting local dishes are Ritz Classic, Chef Fernando's Nostalgia, Martin's Corner and The Fisherman's Wharf.
For drinks, check out Olive Bar and Kitchen, Soro – The Village Pub, Thalassa and Joseph bar.
Combine a holiday to Goa with a foodie adventure around India, and don't forget to stop at the Taj Mahal!
By Soujanya Rai from thespicyjourney.com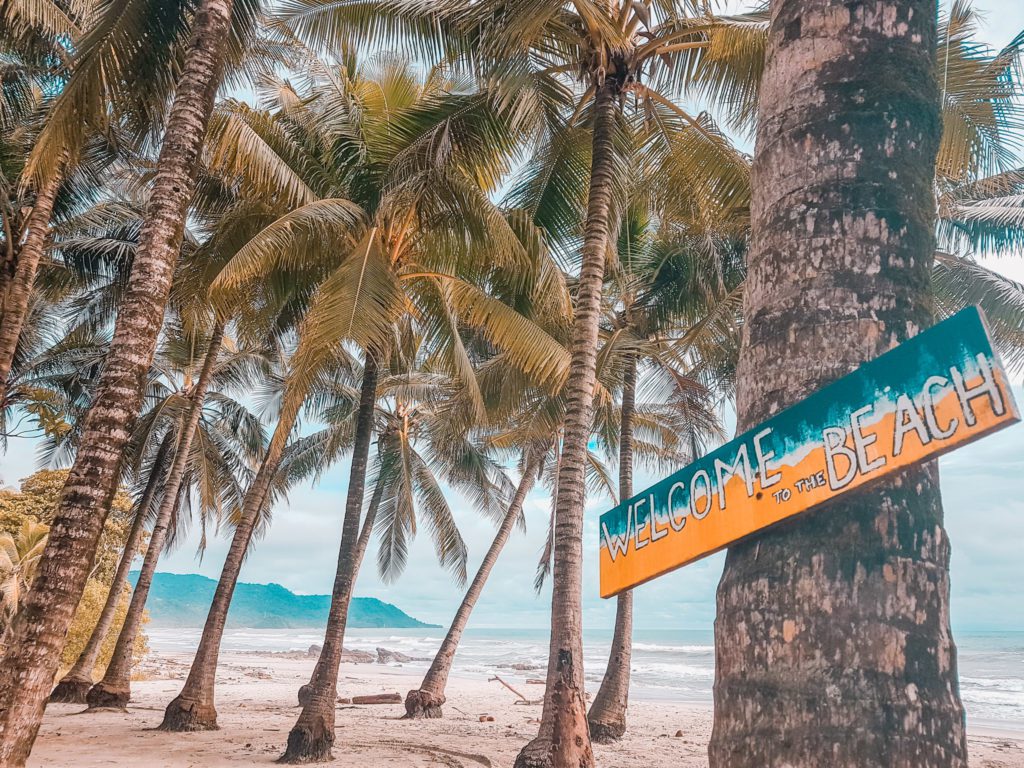 12. Santa Teresa , Costa Rica

The beach town of Santa Teresa is located on the Nicoya Peninsula of Costa Rica. This town consists of one main road (which is actually a dirt road) with many shops, restaurants, beach bars, and tour companies. The expansive white sand beach runs parallel to the main road.
The Nicoya Peninsula is one of five Blue Zones of the world. This means that people here tend to live longer than almost anywhere else in the world. A big part of this long lifespan is the local diet.
5 must-try Dishes:
Typical Costa Rican breakfast (rice and bean mixture, eggs, fried plantains, homemade corn tortillas, a fresh fruit smoothie and local coffee)
Casado (the name given for the typical daily dish of rice, beans, a protein, and salad)
Ceviche
Sashimi
Grilled fish, served on the beach!
Some of the best things to do in this area include:
Surfing There are plenty of surf shops in town which provide rentals or lessons. The employees are always happy to help customers find the best surf spot based on skill level.
Fishing Next to Santa Teresa is a small beach village called Mal Pais. From here it is possible to enjoy in or off-shore fishing. Some of the fish that are commonly caught are; red snapper, yellowfin tuna and mahi-mahi. It is possible to keep the fish that is caught.
Often, people either prepare it at their accommodations or bring it to a local restaurant to cook up with side dishes. The restaurant La Cevicheria always seems happy to prepare caught fish for guests (and all the food is excellent here).
Relaxing at one of the many beach bars Banana Beach Club and El Chiringuito are great options for this. At Banana Beach Club try the Rare Sliced Yellowfin Tuna appetizer. It is delicious!
The best way to get to Santa Teresa is by flying into the San Jose International Airport. From there, it is an hour and a half drive to the Puntarenas ferry port. The ferry takes about 80 minutes across the Nicoya Peninsula. From the ferry landing, it takes about one hour to get to Santa Teresa by road. It might sound like a long journey, but it is an enjoyable ride.
This trip can be done by rental car, private shuttle, or public bus. Once in Santa Teresa, it is always possible to rent an ATV to get around town.
There is no shortage of places to stay for all budgets here from luxury beachfront villas to hostels. Just keep in mind that Santa Teresa is surrounded by unpaved hilly roads. Without a 4×4 vehicle, it is best to stay in the downtown area.
By Sarah McArthur from Costaricavibes.com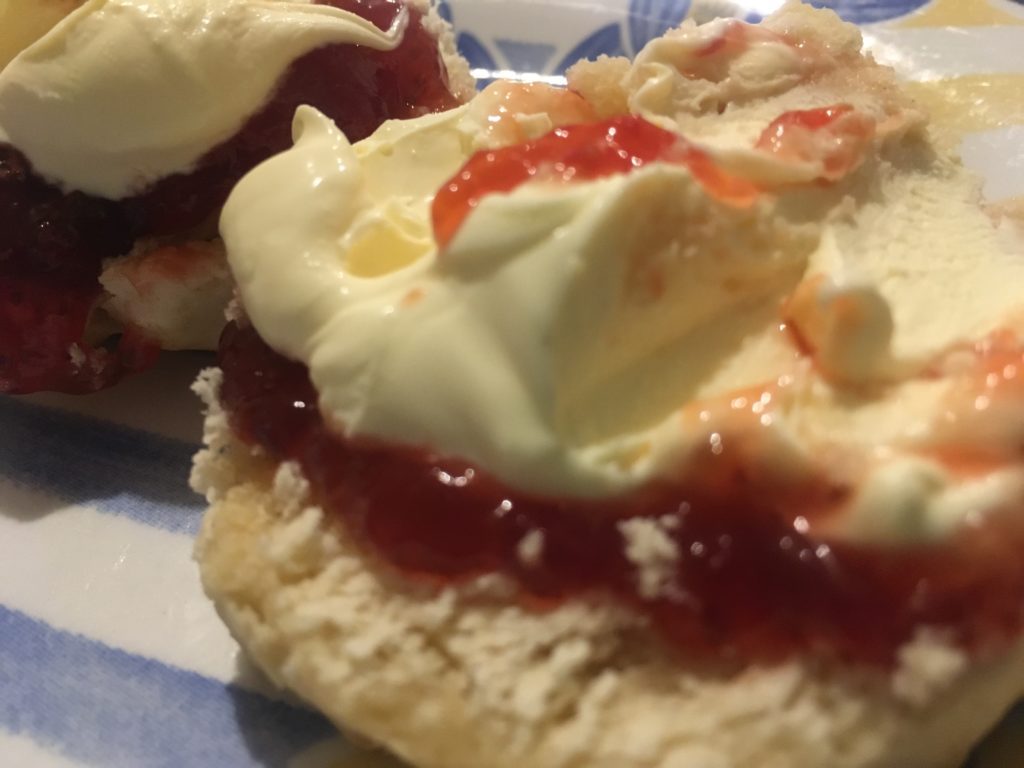 13. St Ives, United Kingdom
Here in the far west of Cornwall, it's all about beaches and seafood. And in St Ives, you have the benefit of some great beaches, fabulous places to stay, and a well-connected location for public transport. There's a chilled-out vibe, even in the height of summer that you just don't get anywhere else in the county. The beaches around St Ives are the best. And there's one for everyone, whether you prefer to surf, to take long walks, place beach games or just lie in the sun. For a truly chilled-out experience take a drop-in yoga session at the far end of Porthmeor Beach with local yogi Lucy Aldridge.
The great outdoors around St Ives is truly glorious – this part of the coastline is stunning and walking at least a small part of the 630 miles South West Coast Path is a must. Bring walking boots and your camera and be sure to take in one of the pubs along the route at the end of the day.
The Gurnards Head Hotel has a fabulous garden with stunning views. You might want to stay around longer, the rooms here are fabulous and the hotel has a fabulous kitchen – with staff even foraging the local hedgerows and waters edge for local delights such as samphire, sea beet, and Hogweed shoots. Taking a trip with local expert forager, Catherine Davey of Fat Hen is a great way to explore the traditional foods of the area too – and you'll get a good brisk walk around the area as part of it!
Looking for another UK chef experience? Do a cooking course with Ashburton Cooking School in Devon.
Head also to the Thursday farmers market in St Ives, it's at the Guildhall from 0930 to 1430 – running since 2008, it is truly local. So you'll find Cornish Cheese (do try the Yarg, it is a regional specialty), although the Cornish Brie is sublime. There's also fish, meat and baked goods.
Other things to look out for here are Cornish Saffron (yes, it's grown here), Cornish Gin, and some Cornish wine – there are several vineyards here – vines have been planted locally since the late 1970s. Nearly 70% of the wine produced in Cornwall is sparkling – try the Polgoon Valley Vineyard Sparkling Pinot Noir Rose. And then take a visit to the vineyard, it's closer to Penzance than St Ives, but still, that's only 9 miles away – and yes, you can take a bus there, so it's easy to taste all they have to offer.
5 must-try Dishes:
Cornish Pasty
Stargazy Pie
Cornish Sardines aka Pilchards
Local Crab from Newlyn
Cornish Clotted Cream with Jam on a Scone
By Sarah Carter from Cornwallsbest.co.uk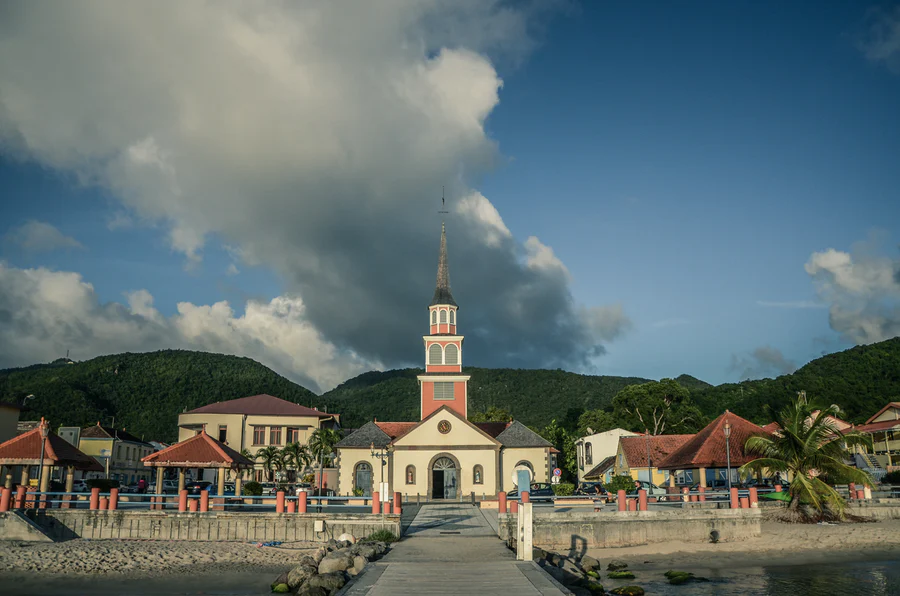 14. Martinique
If you're looking for a beach destination with great food, think Martinique! The Caribbean island has beautiful beaches, large markets, and world-class restaurants. Known for white sand beaches and deep blue seas, Martinique serves up creole cooking with French flair.
While most Caribbean islands make rum, Martinique adheres to strict guidelines for its Rhum Agricole. Learn more about this unique French Caribbean liquor at St. James Rhum Distillery and Museum for tours and tastings. Unwind with a picnic on the lovely grounds of the estate in the shadow of St. Pierre's powerful volcano.
Martinique is celebrated for its big beautiful beaches. One of its best is Grande Anse Le Salines or Salines for short. Located in the south of the island, at Salines you can stroll the beach alone, or walk amongst the vendors selling everything from jewellery and sarongs to delicious local snacks. A great place for a local lunch, restaurants set up outside serving fresh grilled fish and a true local favourite: accras.
TIP: Another great Martinique beach is close by Salines. Anse Michel is perfect if you want to try kiteboarding or jet skiing.
A foodie can't visit Martinique without sampling accras, cod fritters with a little bit of Caribbean spice. Tasty, tender and oh so lightly breaded, they are a delicious snack or appetizer and are served all over the island.
The Fort de France marche, or covered market is a wonderful place to shop for fresh produce and local crafts. In addition to locally grown pineapples and lettuce, vendors sell homemade salsas and flavoured rhums using local fruits like passionfruit and mango. The market also houses several cheap and cheerful local restaurants for lunch or a snack while you wander.
Can't make it to Fort de France? Don't worry, small towns like Anse Mitan and Sainte Anne have their own smaller marches with local flair.
Another absolute must for chefs visiting Martinique is a meal at one of the Caribbean's best restaurants. And who wouldn't want the chance to sample local rhum with Chef Hot Pants at Le Petibonum Restaurant and Rum Bar? Chef Guy Ferdinand goes by this nickname honestly: Hot pants are his work uniform at his beachfront fine dining restaurant outside of St. Pierre. You won't want to miss his signature rhum cocktails or the amazing French-inspired Caribbean seafood, foie gras, and more. You won't forget the meal – or the hot pants – for a while!
Garage Popular, with its retro 50s American decor, is Fort de France's most happening nightspot. Featuring live music nights, Garage Popular is the party spot for locals and tourists alike.
Take a break in Martinique's lovely botanic garden. The Jardin de Balata is a private garden showcasing tropical plants and flowers in a truly beautiful natural setting just outside of the main city of Fort de France.
Le Bakou is a beachfront hotel in a great location, near the many restaurants of Anse Mitan and a quick ferry ride to Fort de France.
By Melinda Medley from Melonthego.com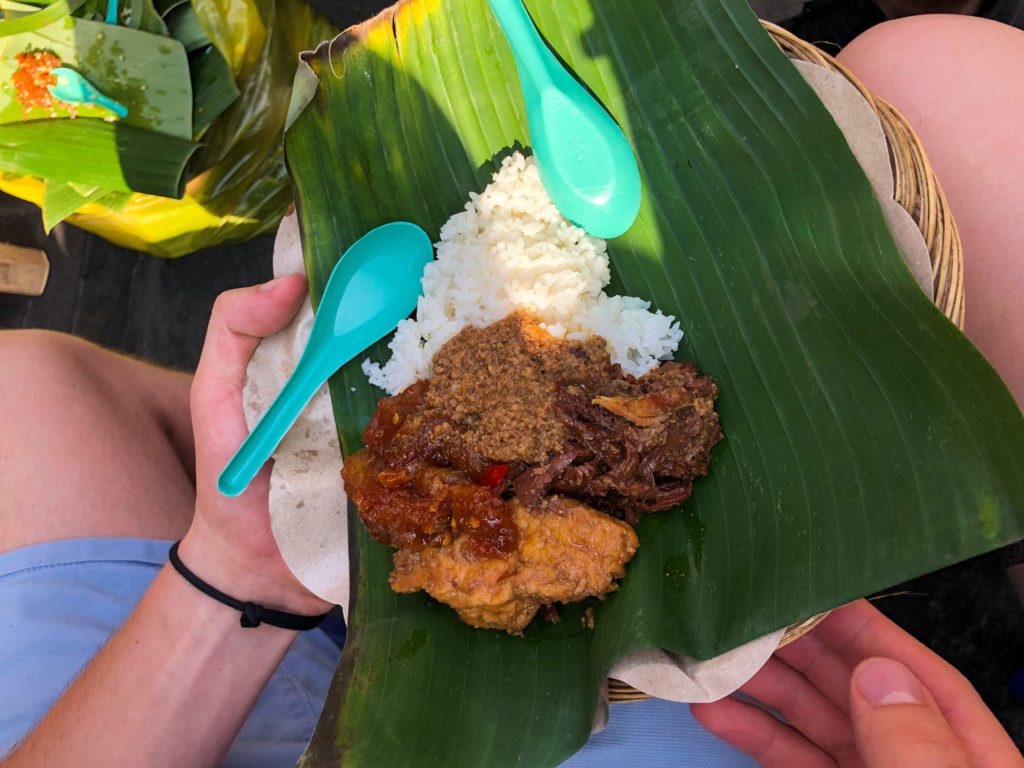 15. Yogyakarta, Indonesia
Yogyakarta is an incredibly underrated city with lots of things to do and see. It is a perfect beach destination for chefs. This Indonesian city is located on the island of Java and is known for its vibrant art scene and for being the gateway to Borobudur Temple, one of the most famous tourist attractions in the country. Because most people who come to Yogyakarta only go to Borobudur and don't do much else, the city has actually been sheltered from the majority of tourism, making it a very authentic and beautiful place to visit.
There is an incredible selection of street food available including amazing spring rolls served with fresh garlic paste, freshly fried satay skewers or delicious sweets. The cuisine in Yogyakarta is very different from the rest of Indonesia and there are many dishes that cannot be found anywhere else.
The main street of Yogyakarta is Malioboro Street which is where you'll find the majority of local restaurants and food. Beringharjo Market is a great place to shop for fresh fruit and veggies and the night market on Alun Alun square is fantastic for cheap and authentic eats.
Yogyakarta was featured on an episode of Netflix's Street Food which highlights unique culinary experiences in different places. In Yogyakarta, two women and their families are notorious for having some of the best food in town. Mbah Satinem and Mbah Lindu sell delicious treats early in the morning and usually sell out in only a few hours. Visiting them is highly recommended!
If you're looking for a place to relax and enjoy yourself you should visit the nearby temples of Borobudur and Prambanan. While they get very crowded during the day, they are incredibly magical during sunrise and very serene.
5 must-try Dishes:
Gudeg – Fried and cooked jackfruit served with rice and different sauces
Bakso – Indonesian meatball soup
Bakmi – Chicken, noodle egg soup
Spring rolls served with garlic paste
Jajan Pasar – sweet snack
Gallery Prawirotaman Hotel is a great place to stay in Yogyakarta for its luscious pool and proximity to the city. While alcohol can be difficult to find in this predominantly Muslim area there are some bars like the TapHouse Beer Garden.
By Victoria Heinz from GuideYourTravel.com