A big part of being a superyacht chef is also the transition out of yachting when the time comes to head back to landlubber life.
Chatting to Stephanie Soret about her transition back to land has made a nice change from recent chef interviews. After all, how many times have you said you were quitting yachting midseason, only to end up doing yet another season?
You may know Stephanie through her instagram account @healthynaughtybakes, if not, follow her there for more delicious baking inspiration and sweet treats.
I cannot be held responsible if her feed makes you hungry and craving cakes, macaroons and a smoothie bowl though. 😉
Can you tell us more about how you got into being a superyacht chef?
My first job was horseback riding teacher. I was teaching in Nice and some of my good friends were running a yacht services company. I was looking to make a bit more money and these friends got me to do some deck work in my spare time, in St Jean Cap Ferrat on a classic sailboat.
I instantly loved it, being outside, by the sea, with some cool people working on the yachts next door and I quickly started to make connections. I loved my horses job but the money wasn't good and I didn't have the opportunity to go compete anymore, it was not challenging anymore so I left my job.
At this same my friends introduced me to a captain in Antibes who was looking for a stewardess. He offered me the job, which I took without a single hesitation, but with no experience either!
I've never served food or properly made a bed before, or wiped a bathroom sink with vinegar after each use, searching for water spots to erase… Not to mention my English was VERY basic haha the struggle!
I was more of an outdoor person that "indoor" but I did my best. I loved every minute of it, the crew was amazing ( Matt, Nelly, Bo and Ali if you read this, big shout out), I learnt as I went, the travel was exciting, being at sea was amazing and serving food to demanding millionaires with weird habits was a whole new world for me!
Then I got to cook for the crew when the chef wasn't on board and this is when I realised I had a passion and skills for cooking.
I jumped yacht 8 months later, to a stew role in Monaco, to be told a week later that they wanted me to cook too. I panicked and said "No thanks I ain't cooking", and they said "You can leave then" so I quickly changed my mind and said, "actually yes I'll do it"!
I took the challenge up, it was VERY stressful! I was on the phone twenty times a day with my mom, who was running her catering business back in a small town in Burgundy. I could cook, but cooking for someone in exchange for a salary is a totally different thing!
I was dedicated and did my very best and managed the season, taking advice from the chefs next door and buying all the cookbooks and did well considering!
This took me on to my next role, based in Fort Lauderdale, FL as a solo chef! I was over the moon, I loved it and was so eager! I was blown away by all the traveling and lifestyle, needless to say exhausted most of the time, but hey that's the yachty life!
What is your formal chef background?
Fast forward few successful years, few yachts under my chef jacket, I am now holding a pastry chef diploma from France. But no cooking certificate, I guess growing up in my parents busy catering business taught me more than I ever knew.
I was lucky to work under an amazing head chef on MY Predator, Fabrizzio Zazzera. He taught me so much but also let me do all the pastry/desserts with absolute trust, always pushing me with his undeniable positive attitude.
What are you doing now?
I am now based in London, cooking for a family in a large household. I rotate with another chef so the kitchen is covered 7/7.
What made you make the move back to a land based job?
I was bored of being somewhat "stuck" on a boat.
The yacht I was working on wasn't doing much travelling and let's be honest, I really wanted to have my own bathroom. I was tired of fire drills every Friday that would always happen in the middle of cooking weekend food for the crew 😉
I think I was just ready for my next challenge!
How easy was the decision to make? Have you made a clean break, or do you think you will come back to yachting again?
This decision was very easy to make BUT it took 2 years to make the leap. You know, you tell yourself "one more season" at the end of each season, you go for a break, feel ready and fresh again and sign up for another one!
About 10 months after I left yachting, I went back for a temp chef role. I was missing the lifestyle and I did struggle in London at the beginning.
I felt overwhelmed in the city, you know, the tube packed with people, the commute, the traffic, it was all busy and noisy and no blue sky, no sunrises anchored in the middle of nowhere and certainly no snorkelling breaks in crystal clear water.
BUT during that temp role on the sailboat with no air conditioning in the kitchen nor my cabin, no stabilisers, never being at a port which made provisioning a real mission I realised I was done with it. Few years back I would have been excited but not this time. I was done with it.
Disclaimer: I am not against a quick temp role on a yacht run by a friend 😉
Can you tell us more about the cooking classes you are running?
This is new and I ran few one to one pastry classes over the last 2 months and I totally loved it.
I offer French pastry classes where I teach some classic French recipes and techniques but also vegan, gluten-free classes, or anything the client wants really.
I want to show that anyone is capable of creating delicious and beautiful cakes or desserts no matter what their diet is like. It doesn't have to be complicated.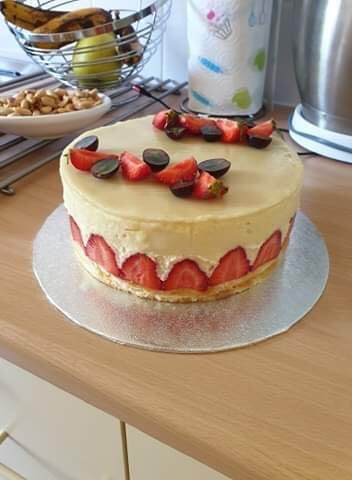 You have a passion for pastry, do you have a favourite recipe?
This is the hardest question…!
I always love baking a fraisier, a beautiful French strawberry and cream cake. It reminds me of endless family Sunday lunches at my nan. No Sunday meal was ever complete without a fraisier!
What is your signature dish?
It sort of changes all the time haha!
Let me think….Oh I love this one: venison filet with celeriac-truffle puree, butter-roasted celeriac, pickled blackberries and blackberry puree.
I always work with seasonal ingredients. I have to be creative as I never repeat a dish unless my boss asks for having it again.
But on my charter days, guests would always love my chocolate macarons so I'd end up baking macarons everyday day, which was quite challenging while at sea!
What does a normal day look like for you on land now?
It's like a day on a charter yacht, with the commute to work!
I usually arrive in the kitchen around 8.30/9am, unpack deliveries and get started with staff lunch.
I feed 18 staff members – butlers, housekeeper, drivers, gardeners etc…so it is very much like being on a large yacht.
Then I send text messages to each of my bosses with the menu options for the day, according to their diets and they decide what they'll have for the day.
Then I make several snacks to fill up my bosses fridges, each family member eat a different diet and they like to have options to snack on during the day.
Onto lunch, bosses eat at different times as they have different schedule.
Once everyone had been fed, I can have some fun and experiment with new recipes, with a big preference for anything sweet 😉
Sadly my bosses don't want to eat dessert/ cakes everyday,and I totally get that, so I have to be creative and offer healthy alternatives, which I love doing!
Then it's afternoon snack time, where I make savoury platters that the butler serve, then dinner time, then clean up, send food orders and time to go home!
Not a day is the same, it always comes with its arrow of requests, last minute guests or meal timing changes.
Busy day, just like on a yacht!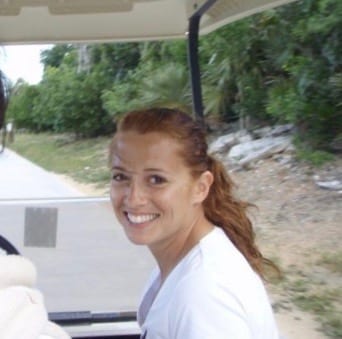 Do you have any advice for chefs wanting to head back to land and work as a private chef?
I didn't really plan it, I'm the impulsive type so I'd say try and plan a little ahead and get in touch with agencies whilst still on a yacht to test the water.

The whole process take longer than on yachts. People travel a lot so you might get an interview in January and cook them a trial dinner in March, that's what happened to me, so be patient and meanwhile enjoy your own bathroom!
A yacht background is definitely a big on your CV.
Be picky, don't jump on the first job as they are plenty of opportunities. Just grab what's best for you!

Oh and SAVE YOUR MONEY while on yachts!!! You probably forgot how expensive life on land is !
What are the biggest differences between private chef life and yacht chef life?
THE COMMUTE!
2 minutes commute on a yacht, from cabin to galley.
45min commute in London, when the tube runs fine. I actually gave up the tube and cycle to work most days, it's so much quicker!

Also on land no one will ask you for a burger at 3am 😉
And paying rent!
What has been the most challenging thing you have overcome in your yachting career?
Starting it and leaving it!
When I look back I can't help but think I was crazy mad going on a yacht and cook for millionaires with no experience or proper training haha but I guess I was so passionate that at the time I didn't realise it!
Leaving it, as it took me 2 years to make the leap and leave a safe and comfortable lifestyle to a whole new chapter.
The rest between the in and out yachting was just a mix of hard work, fun, amazing travels, exhaustion, rough seas, friendship, magical sunrises, heavenly beaches.
And a lot of shots. Tequila shots 😉
Tell us about your first yacht job? How did you get it? how was your first trip?
My first trip in the Bahamas:
I joined a yacht in Fort Lauderdale for my first solo chef role and I will never forget the first time I got to the Bahamas. I was in total awe, the crystal clear water, the heavy heat, the gentle breeze, the sandy beaches, I was amazed. This place was paradise!

Then several years I got bored of it haha, like going to the Bahamas, again?! The crew were tired of eating lobsters and I was tired of making conch fritters!

How could you ever been tired of this, I ask myself while it's pouring in London…
Who are the yacht chefs that you look up to?
I was lucky to work under an amazing head chef on M/Y Predator, Fabrizzio Zazzera.
He taught me so much but also let me be do all the pastry/desserts with absolute trust, always pushing me with his undeniable positive attitude.
And he is the nicest chef I ever met.
What restaurant chefs are you inspired by?
So many, and it changes often. But today I go by Hélène Darroze, who holds 2 Michelin stars at the Connaught in London for her elegant and creative cuisine.
Yotam Ottolenghi for colourful and playful middle eastern inspiration.
Sabrina Ghayour for her vibrant Persian flavours and awesome personality.
Amy Levin for next level raw chocolate desserts.
What are your favourite instagram accounts to follow for inspiration?
It changes a lot too, but right now I am stalking:
@amylevin_ for next level raw desserts
@karim.bourgi for amazing pastry
@chefjasonhoward for helpful culinary facts
@thefeedfeed for everyday food inspo
@theyachtchef and @chef_in_transit to keep an eye on the yacht life
@ pickyblindersofficial but this has nothing to do with food!
If you had to survive on one nationalities cuisine for the rest of your life, what country would it be?
Mexico with no hesitation!
What would be your "last request" dish?
My mom's quiche! The best quiche in the universe!
What is the last item you bought for the kitchen?
A bloody pair of scissor as they keep "disappearing". I text the work group chat few times/months "Anyone seen the scissors?" That's the polite version 😉
If you were to gift someone one cookbook, what would it be…?
"Simple" from Y.Ottolenghi, the title says it all
Whats your favourite piece of equipment in the galley and why?
The sous vide device, massive time saver. I sous-vide few different cuts of meat at the beginning of the week to save time on staff meals and face last minute requests.
If you could have a table at any restaurant in the world for a dinner reservation tonight, which one would it be, and who would be your dinner date?
Tough one.
I'd go with my ex-yachtie chef-best-friend Heather now private-chef-in-Las-Vegas, to the Taco Bell in Fort Lauderdale at 4am because it would bring back so many memories!
Or on a more serious note, still with Heather, to Osteria Francescana in Modena, Italy.