Head chef Brennan Dates has recently popped up on many yacht chef's radar's. While he has been in the industry for a whopping 20 years, his online presence was kicked up a notch during quarantine. His quirky yet informative videos of his quarantine kitchen have been watched widely by the yachting community and foodies alike. They even earned him an Acrew nomination- yes- head there NOW to vote!!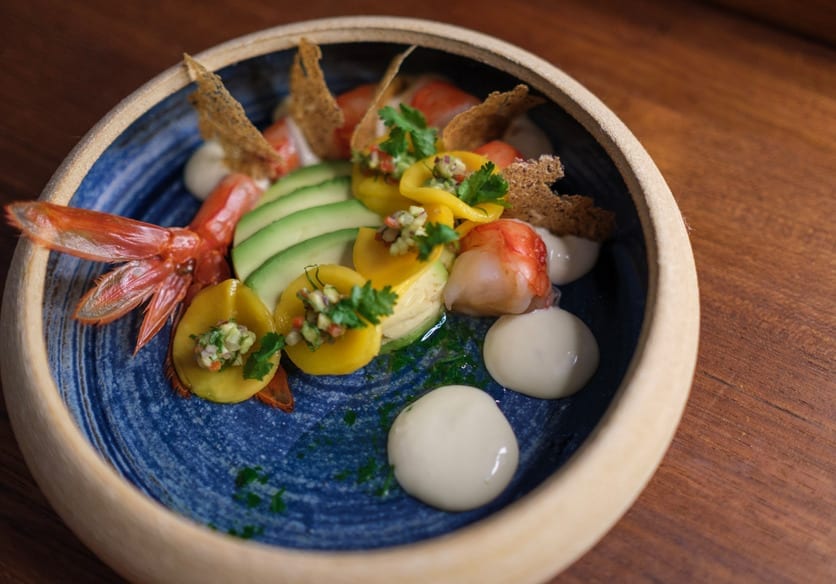 How did you get into yachting?
I was working at a Relais and Chateaux in the Florida Keys when a friend of mine started working on a sailing yacht called S/Y The Other Woman. I went to visit him and I took a mental note of what my life might look like working on a yacht like that.
Years later when I was cooking in, at the time, the best restaurant in Boston, I would find out that another friend of mine from the same resort had become a captain on a small Feadship. I sent him an email asking about how to become a chef in the industry and he asked me to be a deckhand with him for six months to see if I liked the lifestyle and then he'd drop me off at the Fort Lauderdale Boat Show to find my chef job.
Quarantine videos
All of my Quarantine Kitchen videos were shot, edited and posted while on an 8 week charter in the Caribbean during the COVID 19 global quarantine. I started these with no real direction other than wanting to help friends and family who were cooking significantly for the first time in their lives.

Head Chef Brennan Dates
What is your formal chef background?
I have an Associates Degree in Culinary Arts from Johnson and Wales University. They awarded me a scholarship when I was 16 for a recipe contest that I won in my home state of Vermont.
I graduated when I was 19 and got some good advice from an older pirate chef friend that barked at me to, "forget about the money, work at the best places with highest calibre cuisine that will hire you. The money will come afterwards".
In essence, even after formal university training I still needed to be an apprentice somewhere, so that was my mentality during my restaurant career. I learned a lot very quickly while being surrounded by very talented culinary mercenaries showing me how to recover from or not make mistakes at all.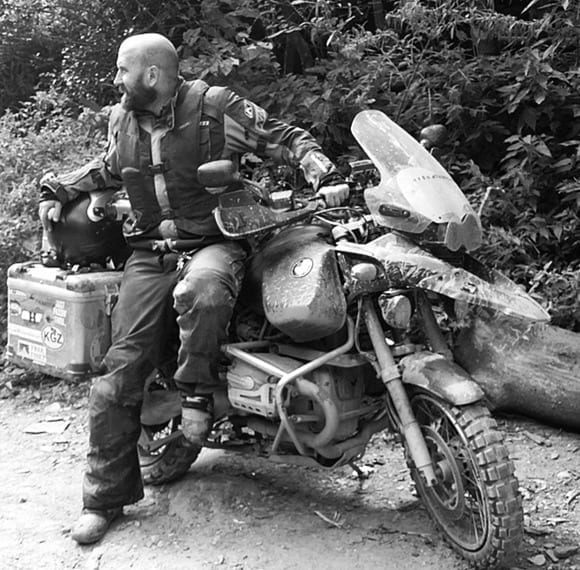 What are you currently working on?
Right now I'm freelancing as much as I can between full time jobs. Mostly because I can work when I want and I can choose the most interesting opportunities that come my way.
I'm looking for rotation on a larger yacht, charter if possible. What I'm not prepared to do is work 10 months out of the year on a yacht. After 20 years in the industry, I'm allowed to say that.

My most recent full-time positions on both Ecstasea and Mogambo were for four years each. When good jobs come up I tend to stay for awhile.

When I'm not working I ride my motorcycle around the world, section by section. I leave it for up to a year while I work and then continue in the direction I was originally headed trying to never backtrack. I've got 90,000 miles on the same bike and she's (Pearl is her name) currently resting in Bali, Indonesia. I rode there from Fort Lauderdale, Florida, via New York City and a cargo flight to Paris, France. In 2006 and 2007 on the same bike I rode from Miami to the tip of South America and back to raise money for Parkinson's disease. I think the global bike trip and how much food is involved could be a whole separate interview.
What are your thoughts on working as a Sole chef on yachts?
I spent 10 years as a sole chef and I try to avoid it completely. It's way more fun to cook with at the very least one other person. Hopefully more.
Being a Sole Chef is brutal and hats off to those that are in the thick of it right now. Two or maybe even three crew meals on top of three time-consuming guest meals. No thanks. Ideally, I'd like to be in a position to come as close to the best food as I can possibly make and the Sole Chef schedule with guests on doesn't fit that description for me.
Much respect to all chefs out there that are grinding it out as Sole Chefs.  I'm not knocking the job I just lost my patience with it.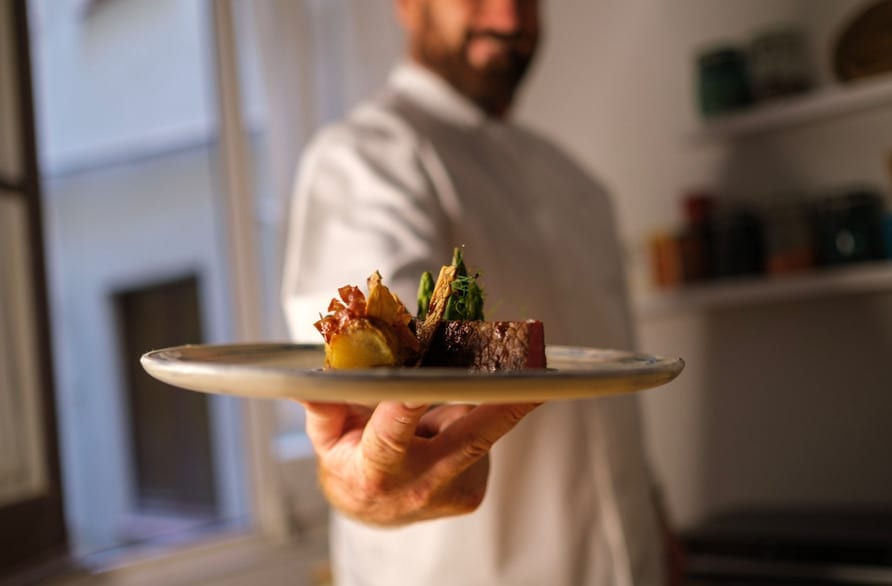 What time-saving tips do you use when working in the galley?
I try to have all of your menus done before a trip or even the season. If you can't do that then overnight have your menus done so you don't chase your tail all day in the galley trying to figure out what to make.
Also, when it's possible and believe me I know that many things can make this almost impossible, try to have as much prep done before your season starts.
Have reference sheets taped to the wall as to what you have, where it is on board and how much you have of it. When you're tired and not feeling that creative you can always look to your prep lists to help you plan menus.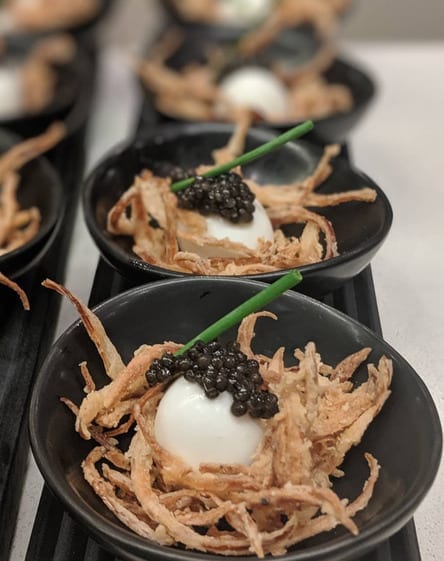 What does a normal day look like for you on charter?
14 to 18 hour days, sometimes being woken up for drunk rich people food during the night. To be honest all trips and guests are different. Murphy's Law seems to consistently make it so that each group of guest has at least one early riser, 0530 or 0600 and at least a couple people that party until 0400 thus making it 24 hour service for the entire interior department.
There are little tricks we have to allow us time to sleep but the first few days when you're getting to know the timing of the new guests can be quite brutal. It's not always the worst-case scenario but it's definitely not always the 14 hour a day scenario either. Both are doable once you get a system in place but it's a bit of Russian Roulette when you're greeting your guests for the first time.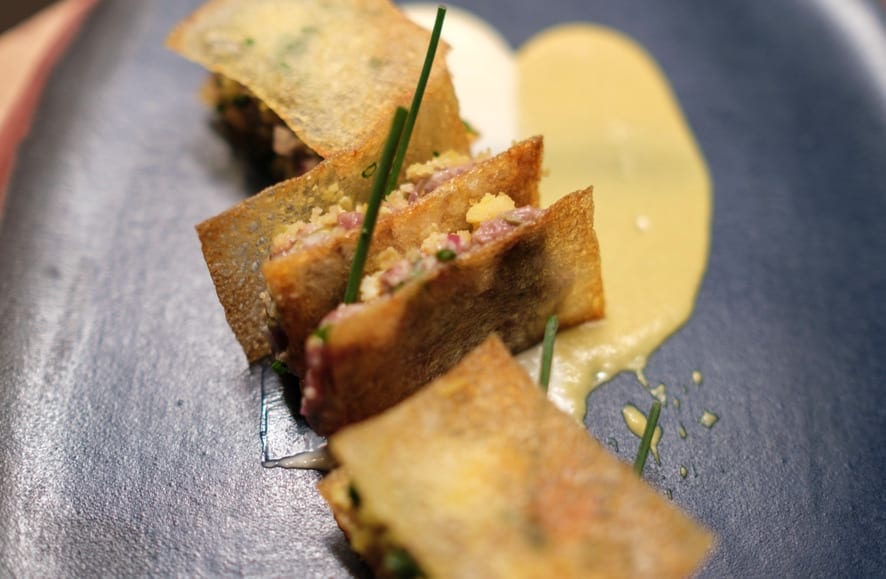 What are some of the most inspiring destinations you have travelled to as a super yacht chef?
The summer in the Mediterranean has to be the best fresh produce in peak season of the absolute highest quality that I've ever seen in the world with the restaurants to go along with that to refuel your inspiration tank between trips.
After that it would have to be the Pacific Coast of North America including Alaska. This part of the world was somewhere that I ended up by accident but fell in love with immediately. The cold water seafood and the produce starting from San Francisco up through Canada is second to none in diversity and quality.
You're also in one of the best wine regions of the world and the options for ethically raised meat and poultry are limitless. Very few yachts are ever over that way so it's not mentioned much in yachting circles but it's worth grabbing at an opportunity to crew in that part of the world if one presents itself.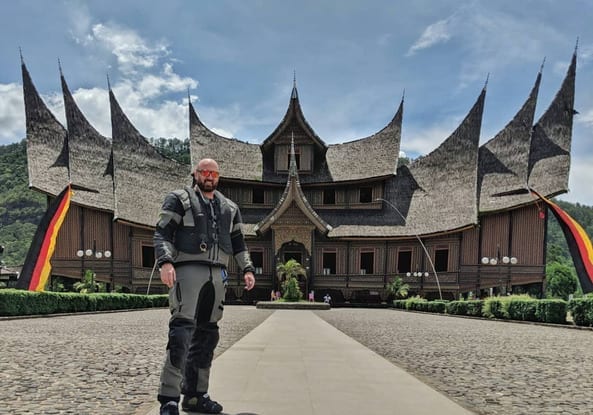 What advice do you have for new chefs coming into the industry?
Your food has to be amazing, both guest and crew. Don't cut corners on crew food, they will get you your next job on a better yacht. It's just how the industry works. Take care of them.
The better your food is in general, the better your life on board will be in every facet. Crew and guests will love and respect your efforts.
On a darker side you need to defend your time in the galley and your downtime, especially sleep on charter. People will try to steal it from you and you need to be as efficient as possible while you're in the galley. It's a dynamic balance you'll need to find for yourself and I'm struggling with how to describe it. If you need help from other departments that aren't pulling the same hours as you on charter, then you need to ask for it, don't be a martyr. If they cry about it, your food isn't good enough or they're lazy assholes.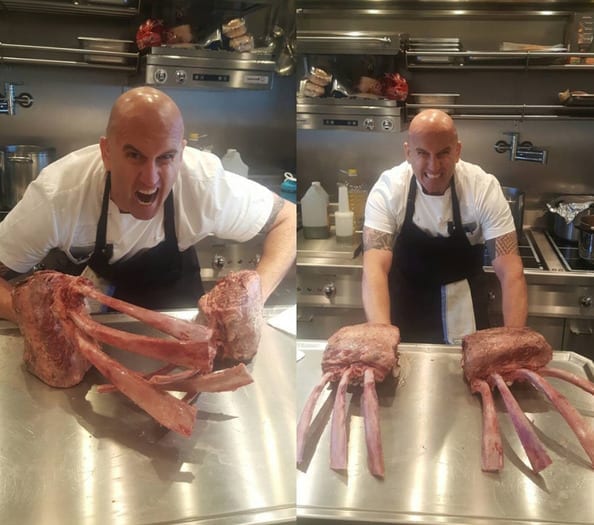 Tell us about your first yacht job
I was a deckie on a 25m Feadship built in 1973 for six months. It was challenging and I was young but it taught me that I can't have a full-time job with no creative outlet, no way. I needed to cook and have diversity in every workday. I don't do well with monotony.
The first trip was ummm interesting.
On one of my first boats two decades ago, the owners son who was twice my age invited me out for drinks in the Caribbean. We drank a lot. I had to drive the tender back because he was passed out and throwing up in rapid succession. When I went to bed, he took a shit on the crew stairs and in the empty captains cabin. This was not done on purpose or with spite in mind. He was simply a party pooper. In the morning, in front of his wife he tried to get the captain to blame it on me. He was made to clean it up himself.
What has your experience been like with yacht chef competitions?
I've only had the opportunity to do one competition 20 years ago in Newport.  The rules were vague and all of us crew were pretty green.  We didn't do a theme or any table decoration but I still came in forth out of fifteen.  Since then even the charter boats I was on were so busy that there was no point in even attending a charter show.  We had to do yard periods and flip the boat around for owner trips and the next season.  Hopefully I'll get a chance to enter one at one point.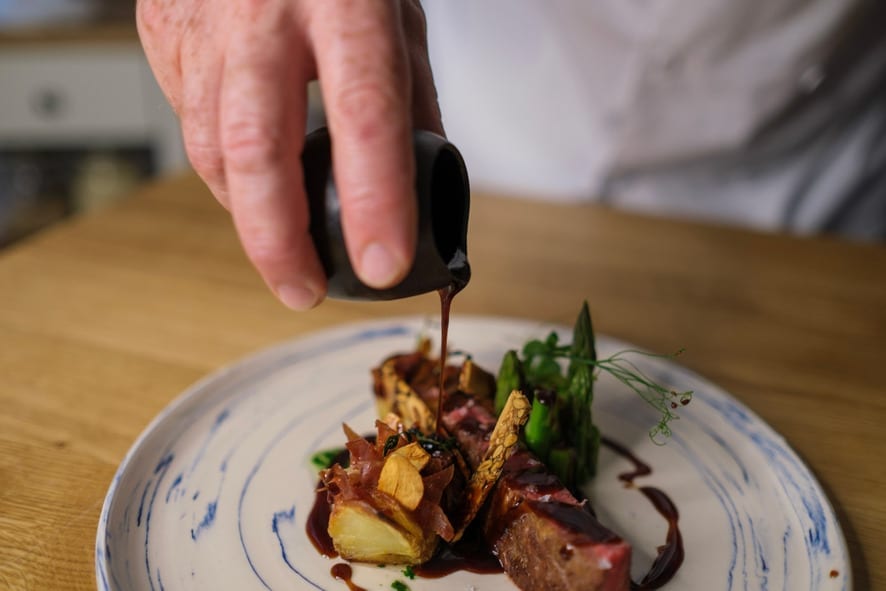 How would you describe your style of cooking?
Quickly changeable and customizable. I try to learn the guests as quickly as possible to keep moving in the right direction as the charter progresses. By the end I want them to sit down and all of their favorite foods magically show up in front of them.
What restaurant chefs are you inspired by?
Ferran and Albert Adria, Thomas Keller, David Chang, Heston Blumethal, Chistina Tosi, Carme Ruscalleda, Rene Redzepi. Chefs that are cooking food from their native cultures. Except for Thomas Keller, he's allowed to do French food.
All of the yacht chefs that are killing it. They inspire me to be better, to try different ingredients, to go in new directions and to post what I'm doing. I think it can be a great way for us all to learn from each other on the fly even when guests are on.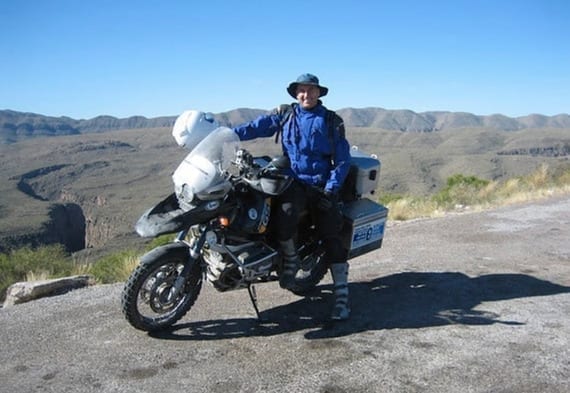 What are your plans for your next vacation?
Ride my bike from Bali, Indonesia to either Borneo and fly it to Sydney, Australia or ride it to East Timor and put it on a boat to Darwin, Australia. It seems like both of those shipping options change all the time. I'll have to see what's available when I'm on the road again and clocking miles.
How has coronavirus affected your season so far?
97 percent the same. I did an eight week charter anchored off of Antigua during the initial global lockdown in March, April and May. One day off then a two week Atlantic crossing. Now I'm relaxing in Barcelona.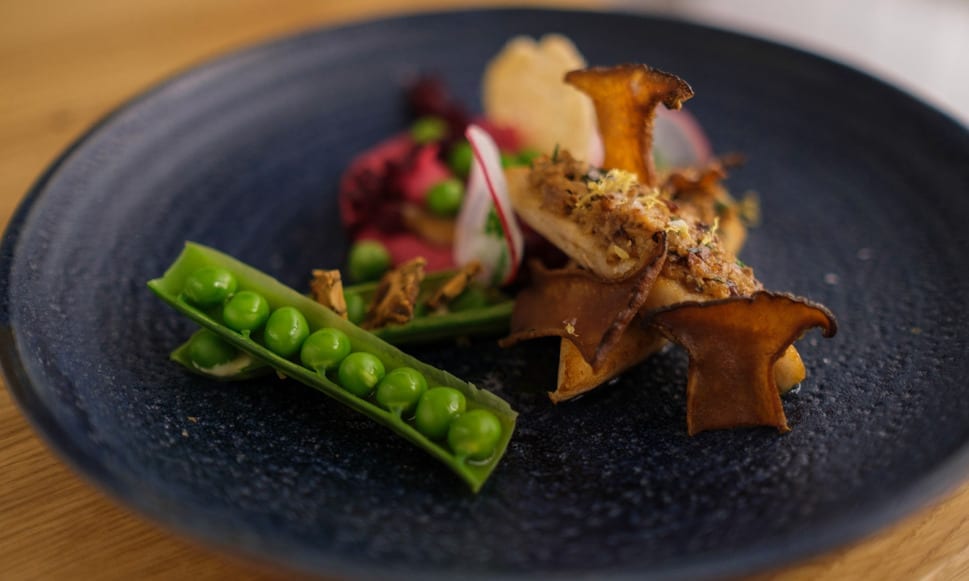 Favourite…?
Protein to work with?  It changes all the time.  Right now the red prawns from Palamós, Spain.
Vegetable to work with?  Anything in the onion family.  A foundational ingredient that can be freaked out with some finesse all the way up to a chive or green onion shoots.  Garlic family too.
Cuisine to cook?  It changes, Thai for now.
Service style? plated/buffet?  It's not up to me but if I was rich with a lot of different types of guests at my table I think a buffet that the service team brought around to the guests would please the most people.
Meat-free Mondays, yay or nay?  Yay.
Crocs or Birks?  Neither, both are very lame.
Med or Caribbean?  Looking for something new and less travelled
Charter or private?  Charter unless world cruising
Under 50m or over?  Over
Port to be based in?  Barcelona
Yacht you have worked on?  Mogambo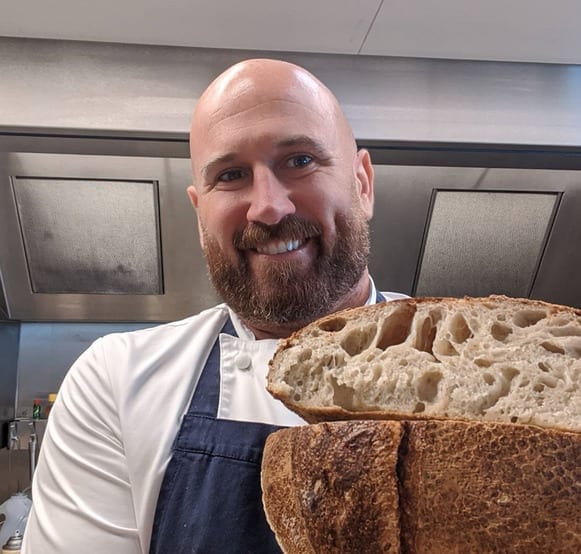 If you could have a table at any restaurant in the world for a dinner reservation tonight, which one would it be, and who would be your dinner date?
2007 El Bulli with the original pre crucifixion Jesus not the post Easter zombie Jesus unless he wants to talk about how the Easter bunny relates to what I can only imagine was a painful resurrection.