This week we do something a little different and bring you an interview with Justine Murphy. She's from everyone's favourite chef crew agency- mymuybueno. Justine has been working tirelessly the past few years to make mymuybueno a success not just as a agency for crew, but also expanding into the Deli, Cooking school, Luxury plate ware and Bespoke events.
If that's not enough, she also just signed a book deal!
What was the driving force for setting up a company like mymuybueno?
I worked as a chef for many years on superyachts, it's what was really lacking in the industry.
I never felt represented properly by agencies. As a chef who has done the job, I understand first hand what the client needs and expects. In turn what the chef is wanting now and long term, and very much making the right match.
More like a dating service, representing individual based on their merit, much like an agent to an actor would. I've done the job, so I know so both sides of the coin.
Ensuring each placement we make is a quality one with vetted clients and candidates means we build trust and a long term relationship with each.
As a company we are now in our 8th year. I first started on yachts as a chef back in 2006. I came off to set up my vision of mymuybueno, and build upon my love of good food and good people.
What does the "my" in mymuybueno stand for?
The my in mymuybueno is about the personal touch. It not only is part of our name but stands for what we are all about and believe in. That each individual matters.
The 'my' is the English contribution, Justine being British herself; and it defines the personal touch we offer. The 'muy bueno' is the translation in Spanish of 'very good'; in relation to good food. Justine merged them together as to establish our registered trademark and our unique name of 'mymuybueno'.
This combination represents what our brand is all about. It demonstrates that only by combining these factors, and them working in unison, can we truly deliver on our company promise and philosophy of excellent quality with a personal experience.
Your company has some great ethos, can you tell us more?
My focus is on good food and good people, I don't tolerate bad eggs, egos, bullies, or wrong'uns. I do things properly or I don't do them at all.
I work hard and am building mymuybueno brick by brick. I'm laying the foundations to build something amazing for the long term. Which will inspire chefs globally and really accelerate connecting people and the talent in this world. I've got big plans ahead.
Founded in 2011 mymuybueno is a destination for luxury food and lifestyle combining exceptionally high standards and a personal touch in all that we do. We stand by and never compromise our core values of Pride, Integrity, Ambition, Passion and Love.

mymuybueno Mission Statement
Can you tell us more about the different divisions of mymuybueno
We have now 8 divisions within the mymuybueno Group, and each one is connected.
Keeping this accessible and sharing this amazing talent and bringing them right here is exciting and amazing and growing well.
RELATED: Why yacht chefs should consider a guest cooking class
As well as running four and twelve courses for those who are new to the industry and or transitioning from stew to cook. We get to spend time with these chefs as students, to better place them this way too.
Our hashtag of #mymuybuenochefs is growing daily. Chefs are posting on Instagram with their best plated dishes.
The plates we have in our mymuybueno Luxuryware elevate their dishes to a whole new level. We have over 3000 products of the very best brands of which we work with directly and can ship globally.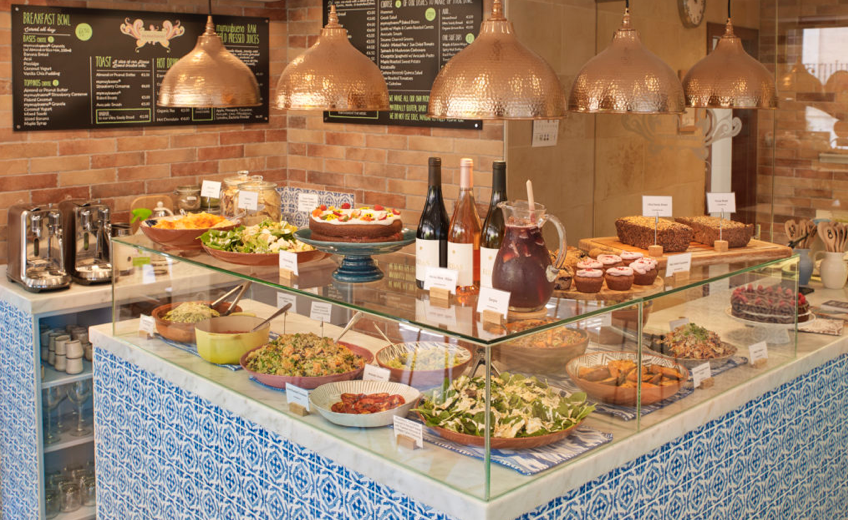 But wait, there's more…

We have our mymuybueno Deli in the heart of Palma on the very same level as all our other sites. We provide healthy plant-based food and raw desserts and juices for crew food deliveries often. And we have a fab terrace area to be enjoyed.
mymuybueno Interior is our interior placement for stews. This is another area of demand we had from our clients wanting the same hand-selected interior candidates as the chefs we were providing.
mymuybueno Lifestyle is our concierge service for our most elite clientele. These are mainly yacht owners who we have looked after with recruitment over the years.
All of my lifestyle managers are ex chief stewardesses from yachts. They didn't know how they would ever translate their skills and time from yachts to land, as they wanted to move ashore and have a life. So they work for me remotely handling our client's needs on their accounts.
From booking a Michelin Star restaurant with zero notice, to a private charter on a mega yacht, we can handle any request and make anything happen from our not so little, black book.
We havemymuybueno Bespoke Events also. This is luxury catering here in Mallorca.
There are many more mymuybueno wheels in motion which I shall be announcing next year as we continue to grow.
What can new crew expect in the job application process with mymuybueno?
We have a custom form that I created. It's literally two pages with a personal and a professional section. Which is nothing compared with other agencies endless pages.
So I wanted it to be user-friendly. But you must complete it. It takes twenty minutes to sit and do so properly. Then you can gain access automatically to our job board to start applying for roles.
RELATED: How to write a killer yacht chef cv
This means there is nothing slowing the procedure down when we get a call from a Captain or Head Chef wishing to speak with you. It all moves fast, getting you to interview and hopefully placement.
Help us help you, the more we have in your portfolio, the better we can represent you.
mymuybueno Private Chefs now has over 11,000 private chefs on its database, worldwide both land and super yacht. ' (11,433 as of right now )
How can green yacht chefs stand out as an applicant when they apply for jobs?
If green chefs have a restaurant background we can place them easily.
Around 40% of our placements are new to the industry chefs who we handle and represent their careers for the long term from their very first vessel and the years ahead.
What are the biggest mistakes you see made on cv's when they come through the mymuybueno office?
Spelling mistakes!!! or not having it checked at all.
A CV that has had a lot of time and love going into it, really tells me a lot about that individual. If they care that much about their CV, just imagine how good their food is.

CV photos as selfies- or wearing suits/ t-shirt, casual wear is a no no– please wear a chef jacket!
What courses are in the pipeline now?
We have 2 Michelin star Daniel Clifford coming next month. As well as 1 Michelin star Tickets Barcelona chefs to teach their signature dishes. Adam Handling and Balazs Enszol are amazing pastry chef with a famous mirror apple.
So lots on with all we are teaching yacht chefs here in Palma. We also have a very popular course for new to the industry chefs which is going really well and is much needed. A 7 day Super Yacht Chef Cookery Course.
This puts them in 'real time mode' they get 5 days of learning about menus. Presentation, guests, crossings, crew,handsonn with dishes and learning how to elevate their food. They are taken to the market, taught about provisioning etc
They must write a guest and crew menu for breakfast, lunch and dinner. On the weekend, they get a cash budget and have to provision. Then they get back to the school and get prepping. Sunday is when they will have to get to it.
The school is open from 6am and they can get cracking as early as 'they' wish. But they have to have guest breakfast for 4 on the table for 9am. Then crew lunch by 12, guest lunch for 4 by 1. The crew dinner for 5, guest plated dinner for 4 by 6pm.
It's going to put them through their paces properly. Not just come and pack one plate and then go onto a boat like a rabbit in the headlights. Our focus is really equip people with that confidence.