Superyacht Deniz Kurt knows a thing of two about working on yachts. She spent many years honing her skills on land before taking to the seas. She is now back on land and running Turkey's only major yacht crew and consultancy business; Atlantico Yachting.
She also has her own chef websites at www.denizkurt.it and you can follow her instagram life here
What inspired you to make the jump into yachting?
For many years I was at important positions in the entertainment and media world. I worked behind the screen for hundreds of projects – famous singers' albums, concerts, TV shows, TV series, and was even in front of the screen as an actress.
But couldn't find the colours that I feel I belong to in this circle reputed to be a colourful world. At some point, I was tempted to get to know new people, do a different job and to know the world.
I both love the sea and to cook, so I combined the two and became a yacht chef.
Of course, it cannot be explained this simply as there are years, training and experiences underlying my career at sea, but this is its summary.
For me, becoming a yacht chef was a twist of fate. Being named Deniz, which means the sea in Turkish, growing up on sea… These can be fateful coincidences, but I believe there is something more to it.
There are some moments in life that may seem insignificant but imprinted on your mind. In 2000, I have cruised along Greek waters on a 50-meter yacht belonging to my friend. I was just 22 years old. I was not even a chef.
The sole dish I cooked was pasta with tomato sauce. One night, we had dinner at Manos Restaurant in Symi island, and returned to the boat for a night cruise. I was wearing a fine white dress bought from Symi and danced by myself listening to music under dazzling stars till I felt dizzy.
Of course, beautiful wines might greatly attribute to that dizziness as well. I was already in love with this vast blueness since my childhood. And at that moment, I fell in love with yachts too. Yachts and the life on them.
Later, I spent enjoyable times on my friend's boats, but that 22-year-old girl would never know that she would travel around the world on yachts or cross the ocean 6 times.
Now, I can safely say that I consider that moment as the turning point of my life. I think dancing that night under the stars sealed my fate. I hope one day I will sail on the seas with my own yacht.
What is your formal chef background?
First, I graduated MSA Culinary Arts Academy of Istanbul. MSA is Turkey's first and foremost culinary school that both teaches fundamental French techniques and modern cuisines.
After my training in MSA, I completed Italian cuisine education in Italian culinary school of Alma La Scuola Internazionale Di Cucina Italiana. Here, I was trained on advanced Italian cuisine, its history and wines, becoming a master of the region's Italian Cuisine and obtained a Professional Italian Chef Diploma.
After the institution, I began to work at "Il Marchesino" inside La Scala Theatre located at the heart of Milano; Il Marchesino was owned by the legendary Italian chef Gualtiero Marchesi who had been modernizing Italian Cuisine and introducing it to the World since 70's and who was granted Italian's first Michelin Star and first 3 Michelin Stars. (He passed away in 2015.)
Following this, I worked in Armani Nobu Milano which is the Milan branch of the restaurant chain owned by the famous Japanese Chef, Nobu Matsuhisa, partnered by Giorgio Armani.
Travelling along Italy from end to end I was discovering the flavours of each region in order to learn the real Italian Cuisine.
I learnt taste and techniques from long-established restaurants with Michelin stars to regional restaurants using cured meat from their own pig farms. I've also travelled to metropoles like Rome, Milano and Florence and to regional trattoria's and stone oven pizzerias on secluded streets.
I even experimentally worked for short durations in these regional restaurants.
What are you working on right now?
Nowadays, I am not working as a long-term yacht chef.
I began this career at the bottom of the food chain on a 24-meter yacht. Throughout the years, I rose to the head chef position on 30-40-50-60 meter yachts.
After various sail yachts and motor yachts, 6 ocean crossings and other cruises a lot longer than ocean crossings, I have made my last jubilee at around 50,000 knots on sea.
I can safely say that I am fully confident about all kinds of yachts even up to 100 meters. There are no challenges left in the yacht chef sector that I cannot overcome.
I am 41 years old, and I have new goals in life. However, I sometimes miss the sea journeys. I try to satisfy this longing with freelance roles or on maximum one-month long cruises of some of my global clients with whom I maintain connections.
I am selective even in this regard. Who is making the demand and location are more important than the amount I was offered… On the other hand, when I accept the job, the other party always confirms the quote.
For example, I recently cruised along the Norwegian Fjords with one of my clients. My next stop will be the Galapagos in February.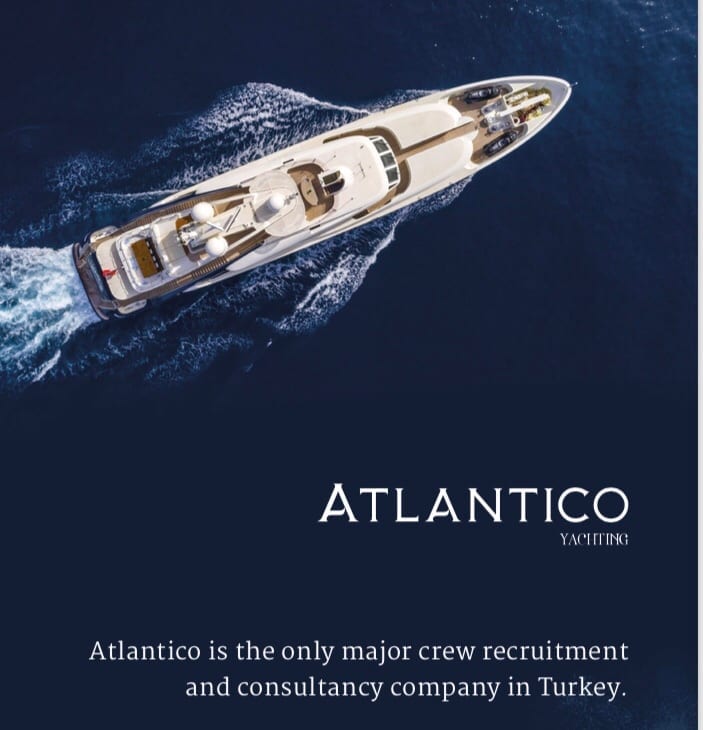 Can you tell us more about Atlantico?
I founded Atlantico last year, and I tried to implement a model similar to other agencies.
Afterwards, I decided that this is not the correct road to take because I am coming from the heart of the sector. Positive or negative, I have collected dozens of experiences personally on yachts.
Yacht management companies or agencies are not travelling with us while we are at sea. I have intimately witnessed the relations between captains and agencies or management companies, their expectations, their desires or concerns.
I have closely seen and experienced the expectations of yacht owners or charter customers from a newly built yacht's docking phase to the most intense and luxurious requirements of charter cruise. Therefore, I have seen the good and the bad, the lies and sincere, honest attitudes.
Within this context I have made brand new decisions this year:
I believe that yacht crew agencies will become obsolete in the forthcoming years. Thanks to the major data platforms such as Yotspot, now you have access to anybody's CV.
Technology and each new innovation in the industry enables easy access to CVs. The problem is not to find the CV but the right crew.
Unfortunately, people still give erroneous, unprofessional information in their CVs. We encounter so tragicomic things that, for example, people copy paste picture of plates from Pinterest to his/her CV.
As I myself am a chef, I can see through this deceit. However, most captains and employers cannot discern lies from truth, and these types of candidates damage the reputation of yachting.
If they are good at what they do then all is always well!
Therefore, Atlantico will only conduct "Interior Crew Placement" as this is what we know best. We will act as a Head Hunter and our data will not be easily accessed by every crew candidate.
Chefs will be categorized as 1*,2*,3*, in other words, 1*Crew chef, 2*Sous Chef and 3*Head Chef.
A 1* Chef, will have a culinary school degree + minimum 1 year of restaurant experience + minimum 2 seasons of yacht experience will be mandatory.
For a Sous Chef, minimum 3 seasons and for a Head Chef minimum 6 seasons of yacht experience will be required.
Candidates without yacht experience but with sufficient restaurant background will complete MCA certified yacht chef programme given in collaboration with MSA Culinary Arts.
The programme will be opened in Istanbul then in Lisbon. This training programme is also one of a kind in the world. The available yacht chef programs in the world are basic maximum 5 –10 day trainings.
But we do not teach how to cook. If the candidate is already a chef meeting the abovementioned requirements, we will teach them everything about being a yacht chef including provision on a global scale. Including, yacht hierarchy, yacht terminology and regulations, how to store food, guest-crew cooking, different cuisines, extreme customer expectations on yachts, chef and chief stew's communications during service, docking period or ocean crossings.
The programme's content is provided in www.atlanticoyachting.com on crew training page.
Stewardesses will also be categorized as 1*2* and 3* star according to experience, meaning Junior-Senior and Chief. Even 1* Junior Chief will be required to have a minimum 1 year hospitality-hotel background.
Of course, their references will be meticulously controlled as well.
Thanks to these strict rules, employers, yacht owners, management companies and captains will know in advance that when they come to Atlantico, they will find the best of the best.
They will be assured that we are not sending every available CVs to them just for the sake of providing an ordinary agency service. The starred category system will prevent confusion and dishonest information given in CVs.
We will give access to this data to every client. The employer will contact us not only for gaining access to CV but to procure a detailed, to the point agency service.
What are some of the most inspiring destinations you have travelled to as a super yacht chef?
For me each and every destination was inspiring after I left my country.
If you are a chef working in a single country, whether you are working in a Michelin starred restaurant or not, you become a prisoner of that country's ingredients.
A yacht gives you the opportunity to create dishes with ingredients from all around the world. Visiting France or the Philippines as a tourist is a whole different notion than being required to know the brands in their supermarkets or shop local and fresh ingredients.
Learning Creole or Peruvian cuisines from YouTube is easy but experiencing those cuisines in a local venue is what differentiates you.
Cooking freshly caught wahoo fish or lobster is not something you learn from videos.
The Mediterranean, Asia, Pacific, the other side of Atlantic – the Caribbean Islands, even Norway that I recently visited all provided me with unique experiences.
How have you incorporated the flavors and tastes of your travels in dishes?
Firstly, by experiencing them in restaurants, then purchasing them from markets and trying them in my kitchen. In the places I visit, I always spare the time for myself and discover the town or city.
I always make a reservation at its best restaurant.
I do not miss its delicious street food as well. At the same time, I write in YACHT magazine and prior to that in yacht magazines like NAVIGA as well. I sometimes publish articles in newspapers. Therefore, discovering tastes and narrating them is part of my job.
What are your favorite markets to wander through when you pull into a port?
I immediately visit the local fish market as fresh seafood is a great part of our task, and it is an ingredient I love to cook the most.
Apart from that, I like gourmet markets where local products such as cheese and salami types are sold. Even if you use a provisioning company, I believe that discovering local markets is essential.
Supermarkets are a must for chefs as well.
RELATED: If you are looking for a worldwide provisioning contact spreadsheet, check out this post.
What would you say is the most exciting thing about being a chef in the super yachting industry?
Experiencing the world.
Not just seeing it but experiencing all tastes locally!
Uncounted journeys and tastes you cannot otherwise have access to with your monthly paycheck… We do not spend time in a city and return one week later like a tourist. We stay in that city and country long enough to live like a local. We become a kind of "citizen".
This lifestyle is priceless.
How is working on a boat different to working in a restaurant?
There are tons of differences.
My Superyacht Chef Training Program incorporates these distinctions. Cooking at a restaurant is completely based on the menu determined by the chef. The goal is making money by preparing the same menu according to customer count.
However, in a yacht, you only aim to please the taste of the yacht owner. or charter client. That's the only aim! And we don't check the cashier at the end of the day! The goal is sail to the sea, have a good time with good food, good wine, good champagne.
So, one of the most important thing is food.
Everybody can cook, but it takes a very experienced professional chef and to put him on a boat, and he'll still need a lot of time to figure out which ingredient to best to use in that country.
Therefore, provisioning is the most crucial difference.
In a restaurant, you know that you will be able to purchase the meat, fish or tomatoes with the same quality from the same supplier always on the same days of the week. You are in your comfort zone.
You experience a different adventure at each coast on a yacht! Good or bad! You can't just go and find 300 kg different types of meat, chicken and fish in any market.
You prepare your list and provisioning companies get all the ingredients for you and deliver them just the way you've ordered.
For example, the order is delivered to the Caribbean from Europe by airlines and we receive them at the port. Minimum order must be 100 kg.
This is the way the system works in big yachts and long journeys. Even if you use a provision company, making sure of the quality of ingredients will be hard.
If, for instance, the yacht owner is Arab or kosher, but his crew is not, then I have to supply halal meat for him and pork for the crew. You need to prepare different menus for an American yacht owner and an Italian one, and therefore adopt different types of supply.
Cooking the best dishes in very difficult weather conditions, highly variable meal times and the number of customers, last-minute demands, the hardships of being flexible and managing stress, meeting dozens of personal requirements… That's why getting into this sector is hard, doubtlessly the wages are high.
But restaurant experience is a must. Because a good restaurant teaches right organization. If I haven't worked at restaurants I couldn't have made it at a yacht.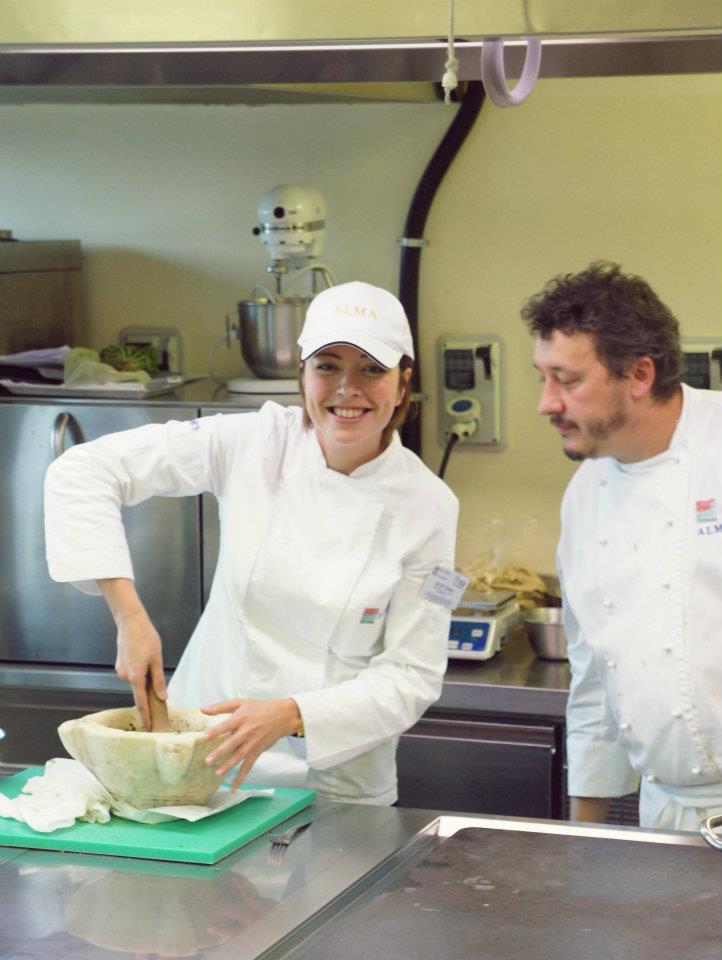 How was your first yacht trip?

My first chef role was on a 24-meter Wally sail yacht.
I was very lucky that the owner of this yacht was one of the prominent families of Italy, and they also owned 5 more yachts ranging from 40 meters to 80 meters. Of course, I did not know this when I first got the offer. I thought I just got a job on a small sailboat.
I worked for this family for 3 seasons with pleasure, and it was a good reference for me as well. Later I worked with renowned Italian owners. I had the chance to learn about various new cuisines and incorporate them to my cooking.
However, I always believe that focusing on one thing and becoming more experienced about it is the correct method, so I always underlined that I am the best in Italian cuisine, and I selected my customers accordingly. They also chose me with this in mind.

What's the most amusing thing about yacht life to you so far?
My answer will be surprising but, crew life!
It is like a Big Brother tv show therefore while working in a small enclosed space, you experience so many absurdities. Most of the time we hate each other, then love, then hate each other, then love, again… This is the cycle we are in, but when you remain separated from the industry for a long time, you understand that the crew life is a unique, interesting and highly bonding experience making you share a lot and that will always keep you young and energetic.
After certain age you do not want to live and share the life on a boat but I do not think there is another community in the world that discovers and while having fun than us.
Do you have any advice for new yacht chefs coming into the industry from a restaurant background?
Take the job seriously!
Take anything and everything seriously from personal and professional relationships with the captain and crew, the importance of working hygienic or details like how you leave the kitchen to the next chef!
Being a yacht chef does not only mean discovering new places or cooking delicious food… It means doing your best in teamwork, and human relations is primarily important.
You must not even utter the word "ego". Ego in yachts and galley will erase you from the industry! You need to have a solid attitude to overcome all these challenges.
If you want to stay in the yacht industry for a long time, you need to maintain your reputation not only by cooking good but with your attitude as well.
Yachts may travel to all corners of the world, but the sector is small. Everybody knows everyone. Reputation is everything.
What has been the most challenging thing you have overcome in your yachting career?
Nothing. I have been working in different sectors from a young age of 19. I am one of those people who bbelievethat there is nothing in life with an answer of "no".
If it complies with the rules of physics, in other words, if someone is not saying "fly from here", I do not believe the answers of "it can't be done" or "no way".
Anything is possible.
Therefore, I do not think of the things that I have no knowledge of as challenges. Of course, I worry for a short while about an issue I am not confident with, but I stay calm and focus on a solution. Then I resolve it. I have always resolved it.
If we are speaking about challenging customer expectations, being a yacht owner or chartering on a yacht weekly paying $500,000 (sometimes a lot more), gives rise to expectations of similar luxury. However, this expectation of luxury does not mean that yacht owners eat caviar and lobsters every day. It would be absurd and unfeasible… Sometimes the lobsters would sleep in the pool for days while the customer demands pasta with tomato sauce.
Or quite the opposite, I have encountered expectations like 'we ate something in that Michelin starred restaurant, could you make the same?'.
In this level of life, a yacht owner can take the helicopter parked on the boat and land to the closest Michelin starred restaurant. Aside from the joke, I naturally receive challenging or special requests, because I'm a private chef. If I'd chosen not to be interfered with, I'd have opened a restaurant and served my customers there. But I'm a private chef. They may as well request an omelette for dinner or a Michelin quality fancy looking plate.
This is my job and I'm not bothered slightest.
That's why they pay me tons of money.
What restaurant chefs are you inspired by?
Alinea is an inspiring restaurant with its story and its chef's Grant Achatz life story.
D.O.M's Brazilian chef, Alex Atala is similar.
Of course, there is a story underlying every success, but these two stories come to my mind first.
As a chef, I like Nathan Outlaw as I am a seafood admirer myself.
Where do you get your inspiration for dishes, ingredients or plating?
Actually, from everywhere.
I constantly watch new things on the internet, experience the restaurants in places I visit, but I am not and do not wish to be someone who always follows the trends.
Because of this, I have my own style. I do not like complex dishes. Multi coloured food or plates with various micro herbs or flowers do not interest me. I do not like painting on a white plate with coloured sauces and dozens of drops or brushstrokes.
To the contrary of what we were taught, I don't like contrast colours in plates but I like different shades of the same colour. This is my style and I do not wish to change it.
I prefer my dishes to look delicious not just beautiful. Again, Nathan Outlaw can be a similar example. Or Michael White.
How do you deal with crew dietary requirements on board?
It is not possible to make anyone 100% happy about food, however, we as chefs are obligated to make the crew at least 70% happy.
When you accept the fact that every one of us is stuck in a yacht, crew meal is the best part of their exhausting day, so that they can get comfortable and they look forward to it.
We are required to prepare food that meets everyone's expectations. Otherwise, I cannot say a chef just preparing good guest food but not caring about crew is a good chef!

Do you have an amusing guest story?
One of the most amazing ones is that a Kazakh charter customer came to the yacht with a huge chunk of frozen horsemeat, almost half of my height, and requested from me to cook it.
If you could have a table at any restaurant in the world for a dinner reservation tonight, which one would it be, and who would be your dinner date?
I always like Michael White's 2 Michelin starred Marea in New York.
I visit there whenever I visit New York. This is a restaurant that fits my culinary philosophy, preparing tasty dishes and focusing on deliciousness instead of adornments. I like Marea's atmosphere as well. It is not boring. It is not like a surgery room fully lighted just for the sake of looking at the dish meaningfully to get a culinary experience or a dimly lit French restaurant where you can barely see what you eat.
Marea is elegant and lively.
My date should be someone that I have not eaten there before. You would expect me to say my husband but no. We ate at Marea on the night of our wedding. He should be someone that I have not shared a table there before. For example, Tom Hardy! ☺ Yes, Tom Hardy is a good idea. Or Bradley Cooper.
What's your favorite piece of equipment in the galley and why?
I cannot point out a specific equipment. Anything in my knife case is my favorite, because I selected and use them myself.
My Kai chef knife accompanies me for the last 8 years. And other Kai and Wüsthof knives.
My Oxo slicer is simple, but I would not change it for the whole world.
I love My Chefs Tongs.
My Sous Vide machine, but I don't always use it. It sure makes life easier, yet if I am cooking for a small group, I choose classical cooking methods.
My recommendation to a freshly graduated young chef working in a Michelin starred restaurant but only preparing food with sous vide cooking would be that do not get stuck in sous vide. You would forget to cook properly with classical methods.

If you were to gift someone one cookbook, what would it be…?
This is a good question.
Nowadays, I am working on a cookbook. Actually, it is not a classical cookbook but a travel cookbook. There are works on yacht cooking, but these books generally describe simple and light dishes that can be cooked on small boats.
My book will be a great route including all destinations I visited as superyacht chef like all of the Mediterranean from Greek Islands to Ibiza, the Atlantic from ocean crossing to the Caribbeans, Norwegian Fjords I visited this summer and ending at the Panama Channel!
A journey depicting each popular or unknown coast I visited on this route, their culinary histories and most traditional recipes. It will be published globally in English, Italian and Turkish under the title of 'WET MENU'.
I hope one day I can gift my book to you.
Editors note: That sounds amazing, and do let us know when it is out, so we can let The Superyacht Chef readers know too!
If you could convince the captain to drive the boat anywhere in the world right now, where would it be and why?
It would be Galapagos, and I will be visiting the island this February. It would absolutely be Antarctica and the Pacific.
The Thousand Islands of the Pacific is the world I wonder about. I am no longer curious about popular coasts or touristic destinations. I crave for the most unknown.
Those are the destinations that make me feel alive. I am a fanatic of BBC Earth nature series. I even thought about becoming a chef in an explorer ship because of this.
What would be your "last request" dish?
Lobster. And a good champagne.
For more interviews with ex yacht crew who have turned their passion for yachting into a career on land, check out the following people:
Justine Murphy from mymuybueno
Stephanie Soret from Le Cookie Shop
Jamila Garcia Lillo from Starfish Crew