The Superyacht Chef traditionally only follows and shares yacht chef accounts. But there are a few fabulous instagram accounts that we let slip through the cracks. @m0mmyeats is one of them.
If you haven't stumbled across Charmaine Lin's beautiful plating by now, get ready to be impressed. While she isn't a yacht chef, nor is Charmaine Lin even a culinary trained chef, her dishes are guaranteed to inspire you. You may find yourself glancing at her page for a bit of quick plating inspo mid charter, or slipping down the rabbit hole and watching her plating videos for hours on end.
If you are a green yacht chef starting out, or you have some years under your belt, she's one worth following.
Table of Contents
How did the Instagram account @m0mmyeats come about?
@m0mmyeats started 5 years ago as a "just for fun" account where I would post all things food. It started out as a hodge-podge collection of photos of food I cooked and dishes from restaurants. As the page grew over the years, my audience was much more interested in my creations, and thus it evolved into the cooking/plating feed it is today.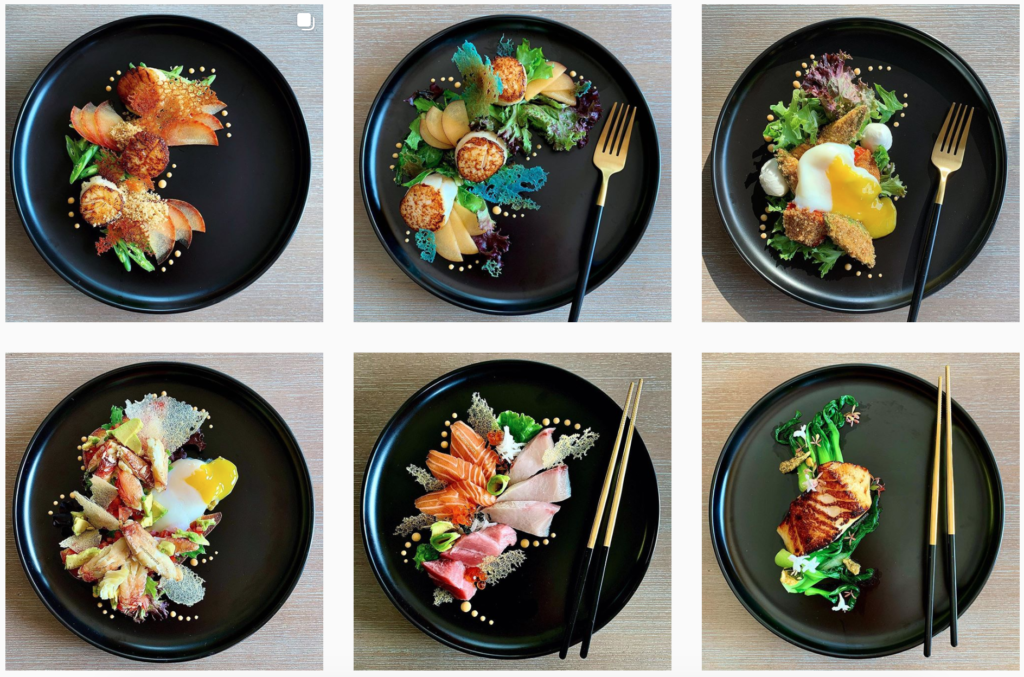 What resources have you used to self teach 
yourself cooking and plating?
 I am very fortunate to have both parents who are good cooks, who also enjoy fine dining. At a very early age, I very much enjoyed dressing up to have dinner at formal and fancy restaurants. I learned how to cook mostly from watching my parents in the kitchen and Jacques Pepin on KQED on Saturday mornings.
Then the boom of the Food Network really sparked my interest in cooking. My inspiration for plating and presentation comes from the many Michelin Star restaurants we've dined at.
I have not taken any cooking classes, but I think that the internet is such a vast source of information that I can google any dish and learn how to cook it – I'm good at following directions and applying science to accomplish my dishes.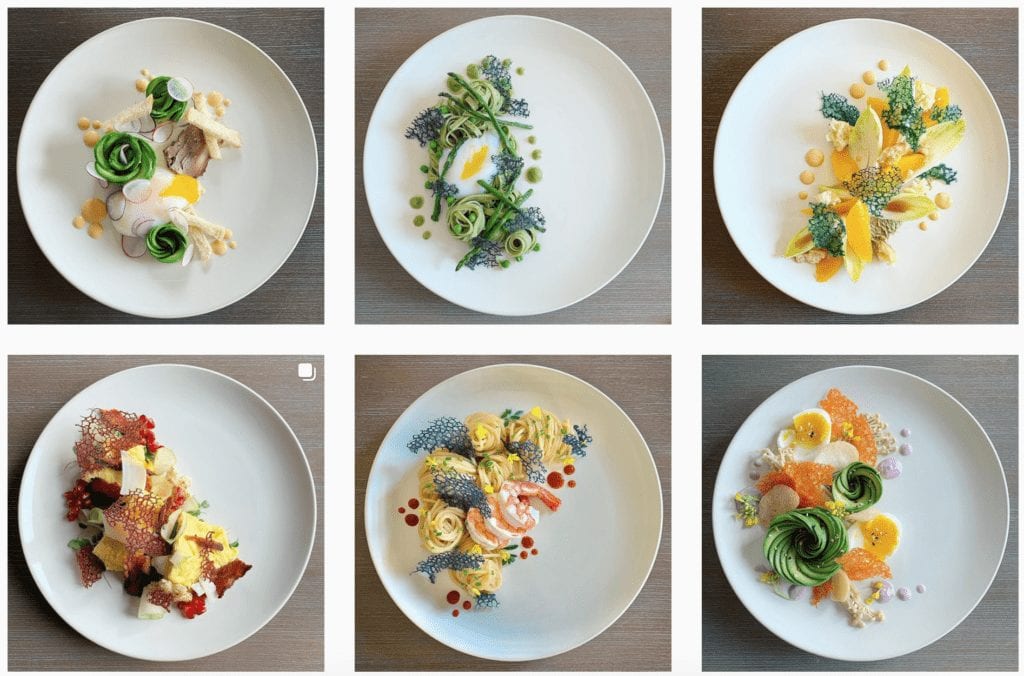 What are your future plans with @m0mmyeats?
It would be amazing to host cooking/plating classes, become a YouTube star, write a book on plating, be a plating consultant (is there such a thing?). I would love to do it all and am open to all the possibilities!
How do you manage your time as a career mom, and creating these
beautiful plates?
It is nice that Instagram is a hobby for me and that I have the choice of posting when I want to. I usually have a small window of time on weekend mornings when everyone is still sleeping to cook and plate my dishes.
I try to plan ahead to fit the cooking into this small window so that I can focus the bulk of my time on my family and career.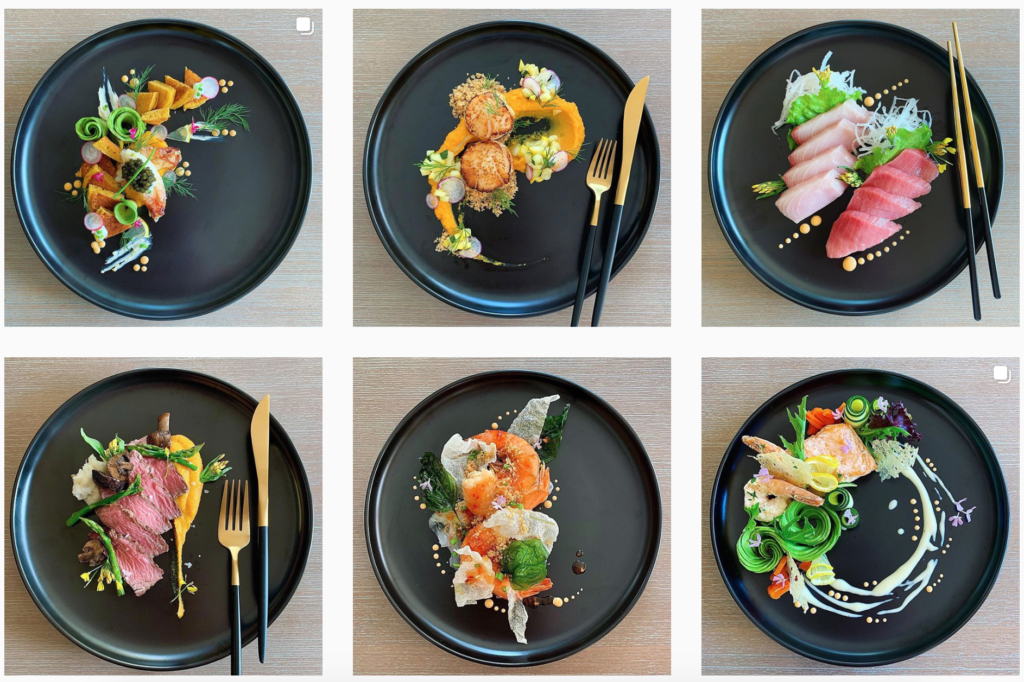 You inspire so many others with your plates, who inspires you?
Thomas Keller, Grant Achatz, Eric Ripert! They are the greatest of our time. Michelin Star chefs and restaurants are usually where I draw my ideas and inspiration. They make food look artistic and other-worldly!
What plating techniques do you enjoy the most and why?
I love adding colorful tuiles to my plates because they add so much character. They are so delicate and coral-like, they add a lot of dimension and elegance.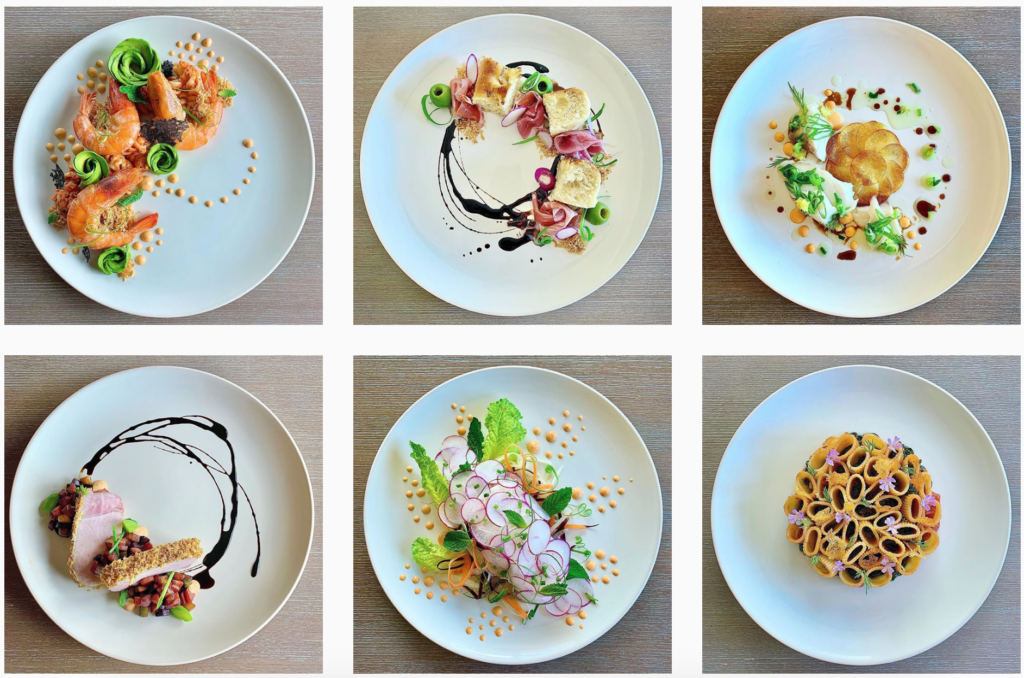 You use sous vide often in your dishes, do you have a particular protein
that you prefer to cook with?
I'm an equal opportunity protein cooker, but if I had to choose, I'd definitely cook a thick cut filet mignon to medium rare in the sous vide. For a thick piece of steak, it comes out perfectly cooked throughout, every time. And a juicy tender filet is hard to beat!
I've noticed you often use ingredients not found at a local supermarket-
How do you source your ingredients?
The local farmer's market usually carries a plethora of interesting ingredients, but the best place to find unique and tasty groceries is at an Asian supermarket. There is so much more variety of green vegetables, fish, and cuts of meat at an Asian grocery store – not to mention the aisles of sauces and condiments! 
You are the queen of the avocado rose and the tuille. Do you have any
tips for perfecting either one?
I get the most questions on these 2 things! Thank you for recognizing me as the QUEEN of something!
For avocado roses: the key is slicing with a sharp and thin knife. Practice fanning and rolling with thicker slices first, until you get the hang of it, then move onto thinner slices. I have also found that the more you fan the avocado, the more "rose-like" it will turn out because of the well spaced petals. 
For tuiles: I learned from this youtube video and have shared this with all those who ask. 
Do you have a go-to recipe to wow a friend coming over for dinner?
I am a big believer of making something simple, but doing it well. Go-to dinner would be steak, sauteed haricot verts, mashed potatoes, and plenty of wine.
What do you think about when you create your plates?
My dishes are mostly free-form plated and not visually composed before-hand. I have a general sense of placement of the main ingredients, but the rest falls naturally into place. Not knowing how it will turn out is part of the fun.
What are your favourite foodie accounts to follow on Instagram?
@dennistheprescott @oli_harding @chefjacqueslamerde @theartofplating and all of my favourite chefs.
If you were going to gift someone a cookbook, what would it be?
The Food Lab by Kenji Lopez-Alt. There's SO much science behind cooking and cooking something well, this book is full of experiments and helps to break down cooking into a science.
And because you mentioned you were a fan of below deck, I'd love to know
what you think being a yacht chef would be like?
HECTIC! Like any professional kitchen, being a yacht chef is a very serious and high-pressure position that would require quick thinking, skill, adaptability, and sea-legs! Add all that to being in a confined galley and away from your family for long periods – I would imagine that to be a super tough job. But to be able to travel the world on a luxury superyacht while getting paid and making tips would be worth it!
Read Below Deck Chef Anastasia Surmava's Interview here