Superyacht chef Chris Simon has been on our radar for a while. His perfectly plated dishes are posted on his Instagram account frequently. Every now and then we get a glimpse into his Yacht Life, with pictures of his travels around the Med mid-season, or cat pictures. And who doesn't like cat pictures?!
How did you get into Superyachting?
I first heard about the superyacht industry and it is a possibility for me after meeting a chef who was already working in the industry. They told me it was the best thing to do. They thought I would be an "ace" at the job.
Haha don't know about ace but I knew I could do it. I was working as a chef in a restaurant in Dartmoor national park Devon. But, I felt I needed a challenge and was already excited about the industry.
So, I had one goal. To get in! 3 weeks later I was.
What is your formal chef training?
I was trained in a seaside pub restaurant in South Devon.
I was lucky, as I had a head chef who was as keen to teach me as I was to learn! If I asked he told. Throughout my time there I was given the opportunity by amazing owners to keep learning in the kitchen.
I learnt at home.
I read all the classics.
Practised.
Wanting to learn every technique, every cuisine. I moved on to a higher position in another restaurant where I could put into practice everything I had learnt. It was then that I realised I had no one to ask questions and teach me more.
I still needed to learn and gather inspiration. So, I went to the Ashburton cookery school. There I was able to learn from amazing chefs and I completed advanced cookery courses and courses in patisserie.
I had the tools. Now it was down to me.

How was your first yacht job?
My first yacht job. Haha, I took the first one that came along.
After being told, "No sea time no chance." I decided that the first boat to give me a chance was the one I'd take.
I got a job on a 30m sailing boat. Of course, I took a really low wage (at the time it still looked pretty good!). Because I was green, I didn't ask half the questions I should have. I was just happy to be in!
Then was flown to Palma then I was told I had a week to prepare. Cool a week to prepare for my first guest trip. Nope, a week to prepare to cross the Atlantic!
My first sailing experience. 1 hellish trip down Gibraltar straights later and I was fairly sure I couldn't take the fear of what would fly out of the fridge at me next or crawling into a bilge for ingredients. I was cracking my head every 5 minutes.
I was ok with the fact it wasn't the glamour you see on Instagram but it was small, hot and frustrating. Even to try and do the simple things would take so long! I decided to not let myself down and finish what I'd started.
19 days later I found myself in the Caribbean. Unbelievable! We did it. The old hands on board weren't as amazed as this first-timer. Crossed the Atlantic! Life achievement ticked.
The season started, and I found my feet. Learnt about sailing and loved it. Learned how to work on a sailboat. We chartered a lot. I was cooking the food I loved whilst sailing around these beautiful seas. I was also getting such generous feedback and confidence in my food growing. 
What are you working on right now?
I am currently working on a 38m motor yacht in the Mediterranean as a sole chef. In what is possibly my last season before I take on my next challenge and open my own restaurant.
Tell us more about your restaurant plans?
My decision for joining the yacht industry was based on a "get out plan" actually. I wanted to do it and have the experience. But also the obvious ability to save money and give me the opportunity to run my own business in the future.
I've enjoyed these past 3.5 years and could probably continue to do so for another 10! But my goal has always been to have something of my own.
That time is very soon. I want to open a relaxed dine-in restaurant and bar. With the food being fresh and honest and sticking to what I know best. Classic food, with a modern take.
Combination of flavours that are classic for a reason. I'm not going to try and scare people with weird flavour profiles. I want everyone to already know they are going to enjoy the food!
I'm leaving my options open as to where I open my restaurant. Whilst onboard it would be unwise to make a decision on a place you cannot see at the time. But the idea seems to be England. Close enough to home and family.
Most likely the southwest where I currently live. The produce is fantastic down in that part of the country.
How would you describe your style of cooking?
I would describe my cooking style as classic French/ modern British. Although I'd be a fool if I didn't enjoy cooking food from all the amazing places I've been. Italian, Greek, Thai and Indian all play big parts in my cookery repertoire.
Do you have a signature dish?
A signature dish was kind of forced on me about 3 years ago. The word got around that I made a half-decent chocolate tart. Not the most impressive dish for a chef to signature I know.
But I couldn't deny its popularity of it so I embraced it. Owners and charter guests kept requesting the tart. I will change up the flavour pairings but the base is always the same. Always a winner.

Did anything crazy ever happen in the kitchen?
My time in kitchens was mostly calm. Every now and again someone would lose it but nothing came of it. The most fun part for me was the constant learning and improving.
How is life on board a yacht different from your previous restaurant-based work?
When I worked in restaurants I always felt like I'd always take my work home with me. I'd lie in bed running through my prep list in my head.
You know the standard shouting "yes chef" in my sleep. But working on a yacht there is really no escape from it. Even when you finish working.
You'll get out of your bunk to do something in the galley because it's right there and you can. Working in restaurants you'd never wake up at 2 am drive 20 minutes to work just to move things around in the fridge then drive back home and go to bed. 

Do you have any tips for yacht chefs getting into the industry?

My advice is to be prepared. Prep as you would in the restaurant but don't leave anything out! Don't let guests surprise you.
Things like having as many base sauces as you can think of made, vac packed and frozen.
Make it so that whatever they ask you for you know you can make it cause the prep is there!
Crew food. Do yourself a big favour. Don't just try and make it up on the spot. Even if you can. That's great but you'll find you have more time if you walk into your galley knowing exactly what you need to do.
Time is key. Keep tidy and organised whether the galley is big or small. Having a clear workspace will make life in a small galley easier.

What does a normal day look like for you on a charter?
Not overly exciting to be completely honest. If I know I have an upcoming charter I prep up. When the guests arrive I'm already 2/3 days ahead.
I get the prep done for the crew before breakfast. Then we serve breakfast, brunch, lunch, afternoon tea, sundowner canapés, a 3-course dinner (maybe once a trip we'll do a taster menu with 8 courses) and petit fours.
I use the time between breakfast and lunch and afternoon tea and dinner to prep for the guests.
What would you say is the most exciting thing about being a chef in the super yachting industry?
If you don't get excited about being ferried around some of the most beautiful places and cooking with the best ingredients in the world then you ain't a chef!
What has been the most challenging thing you have overcome in your yachting career?
Definitely the lifestyle. Not exactly sure you can overcome it actually, it's more like "Endure it". There are so many positives in this industry. But you'll be lucky to see birthdays, go to weddings and have a Christmas at home.

Who are the yacht chefs that you look up to?
My buddy Luke Day, Nathan Clements, Shantala Tengblad.
Charlie Blacker (former yacht chef, now runs an awesome restaurant Pan) Jasper Weseman all amazing chefs, but there are also too many to name!


What restaurant chefs are you inspired by?

Simon Rogan, Peter Gilmore, Daniel Clifford, Tom Kerridge, Tom kitchen, Daniel Humm, Nathan Outlaw, Gordon Ramsay, and Thomas Keller to name a few

What resources have you used to develop your skills more while at sea?
Countless reading of cookbooks and online classes. Also experiences in markets and eating out in restaurants when we are on land to see the latest trends and be inspired by different food I've never tried before.
What are your favourite dishes to make?
Slow braises. Handmade pasta and bread.
If you could have a table at any restaurant in the world for a dinner reservation tonight, which one would it be, and who would be your dinner date?

The French laundry with Scarlett Johansson just to see that face she made in the movie chef when she's eating the pasta.
What is your favourite piece of equipment in the galley and why?
My spoon with the thermometer inside it! Makes chocolate tempering a dream.
If you were to gift someone one cookbook, what would it be…?
Peter Gilmore. From the earth. Inspiration cover to cover!
If you could convince the captain to drive the boat anywhere in the world right now, where would it be and why?
Guernsey in the channel isles. Can't beat home! It is a beautiful island with amazing produce and great people.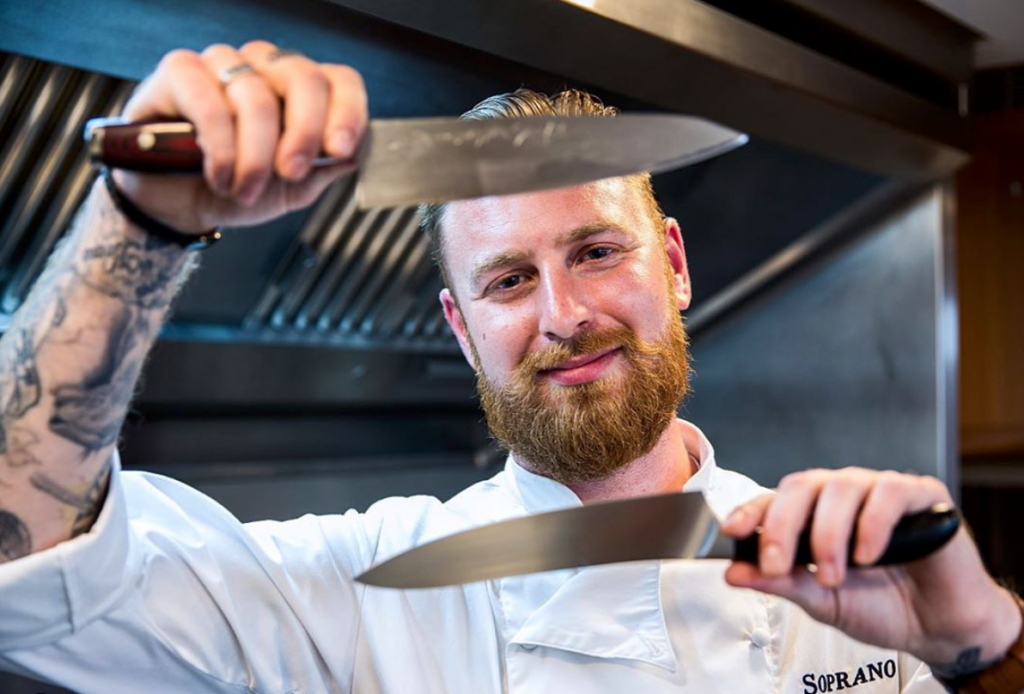 If you had to survive on one nationalities cuisine for the rest of your life, what country would it be?
French!
What is the last item you bought for the galley?
Pacojet (big grin)

For more English chef interviews, check out Micail Swindells and Dom Horsey or Melanie White. Chef Chris Assal also hails from the UK