We were super excited to have Chef Nathan Clements chatting to us this week. Nathan is another popular chef doing the rounds on Instagram and his name is always popping up in other chef interviews. It seems he not only inspires other experienced yacht chefs, but also the newbies coming into the industry.
Nathan works closely with the Galley Gang team, and participates in chef classes every year with them- more on that further down.
His Instagram account is peppered with shots of plated dishes, raw ingredients, and fun social shots with friends and family. Make sure you follow him if you aren't already- and stay tuned to his stories.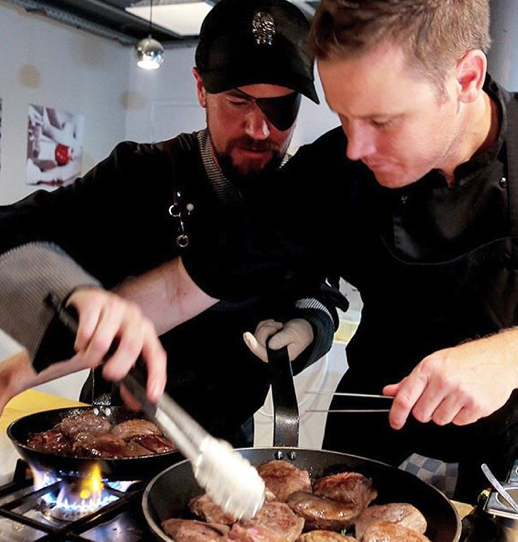 How did you get started as a yacht chef?
I found out about yachting through a friend who was a stew at the time when I was about to leave school.
I was working in kitchens whilst I was at school and completed a Hospitality & Commercial Cookery cert 2 at tafe/college concurrently. I was inspired way back then to try it out one day if I could gain the experience and knowledge to give it to go.
I worked in restaurants all over Australia from the Alps to Coffs Harbour, Airlie beach etc & eventually got my Cert 4 cooking qualification.
In 05 I went to work London and also West Sussex. After a couple of years there I really wanted to do a European ski season and found a job with Scottdunn.com (luxury ski holiday company).
I had three amazing winters with them plus two summers working in their catered private villas around Portugal & France. I used the last year practicing what it would be like to work on a boat after much research and then made my way to Fort Lauderdale in ´09.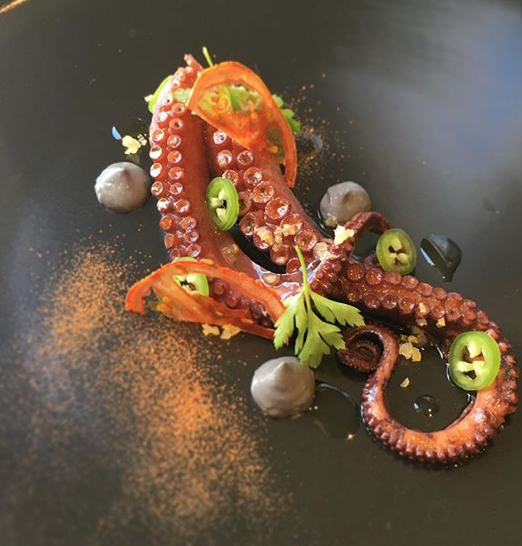 What things are you working on right now?
I'm currently on a 46m private yacht based in the med (can't say more as we have a strict confidentiality agreement 🙂 )
I have staged in London between seasons and also had a great workshop with the Galley Gang a few years ago too & I'd love to go to a mymuybueno guest chef workshop in the future.
What are some of the most inspiring destinations you have travelled to on a superyacht?
Inspiration wise – for me every destination, culture & market all have their unique things that make it such a fun job to go to a new location. Every morning you get to find the best produce you can find for inspiration. Even the Carib is fun with all the challenges it can throw up sometimes. Anyone can fly in food using a provisioner!
Some fun things I remember – bartering with locals in Papua New Guinea & the Torres Straight Islands for mud crabs using Coca Cola – they wanted that over money or fuel! Not to mention running as fast as you could through mud flats from tender to land so those huge crocs didn't get ya!
Also in Alaska, we would take a tender to the salmon fishing boats to see if we could buy some fish, we tried bartering beer or money but found out that a bottle of whiskey would produce the best swap! Securing the best king salmon and sometimes white salmon too, or even salmon jerky.
We would also fish in the evening in the tender or off the aft deck…making fish & chips from our own catch after guests dinner were some good memories.
What is your favourite market to wander around when you pull into port?
If I could only choose the one same market to be near every port I went to, it would have to be Mercat de IÓlivar in Palma…100%.

What has been the best chef class you have encountered on your travels?
Being a sole chef, sometimes I really crave that camaraderie and also the opportunities to learn easily from your workmates.
A few years ago I attended a Galley Gang cooking workshop in Antibes and it was amazing. We got to learn from some amazing chefs who specialise in teaching like @douglas_spik & @darko.juric and they taught me new techniques and ideas, and also helped me to think in different ways.
This helped me to grow much more once I left the workshops. I also learnt a lot from the other participating chefs from different yachts and villas.
Many of us still keep in touch and swap ideas etc online to this day as with all the other chefs I've met through the workshops since. We even got to learn about food photography from my bro @roddyaqua.
Last year Jemma (Galley Gang founder) asked me if I could lead some of the workshops in Antibes & Palma and design the savoury part of the chocolate menu for the degustation night held at the end of the workshops each year where tickets are sold for charity.
These workshops teach all facets of cooking and organisation. I helped integrate it into how best you can achieve it on a yacht, with the constraints such as space, times & not having 4 sous chefs!
This is where I got to meet another super talented chef @martinchiffers who is a Chocolatier. Martin is also back with us this October for another chocolate workshop and dinner. The other awesome yacht chefs that will be leading the workshops with Martin are, Ross Hutchison & Sofia Warsaeus.
On Saturday 26th of October the degustation night will happen and all the chefs will use what they have learnt to create the menu together.
From the 28th to 29th there will be vegan workshops and the 30th to 31st I will be leading seafood ideas with an emphasis on turning these into canapés for the sundowner canapé event for Halloween. As well as mini desserts!
These workshops will begin from the 21st of October in Palma and are designed for chefs of all ranges. It's catered around the chefs that join by gathering their questions pre workshop.
Contact jemma@thegalleygang.com if check out the Facebook or instagram page for more.
Do you have any tips for yacht chefs getting into the industry?
Keep at it!
Stay positive.
There is no exact way of how to get that first gig. Learn as much as you can and never stop learning through cookbooks, the internet, and keep pushing yourself however you can.
One of the best things I did when starting out was enter in to the Antigua charter yacht show back in 2010. I was so nervous, but after receiving a 1st place in dessert and 2nd place in the degustation competition- It helped me set the platform for all future jobs.
Crew food is so important, look after them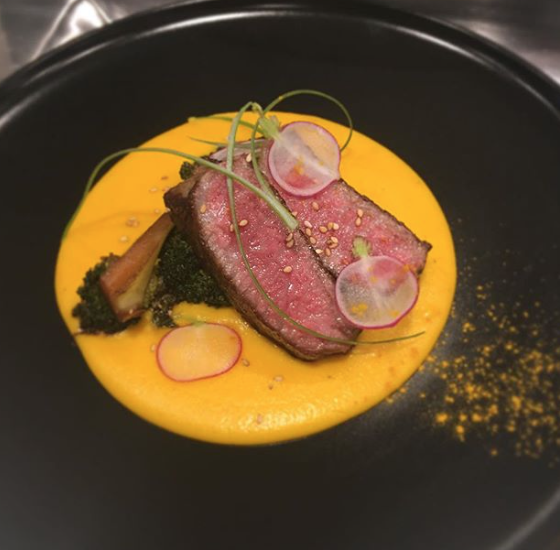 How easy was it for you to land your first gig? Did you have to dockwalk?
After about 6 weeks of dockwalking and weeks of daywork as a deckie, myself and my girlfriend managed to score a gig on a motor yacht as a couple chef/stew team, without a B1/B2
(I don't recommend doing this).
Tell us about your first yacht job? How did you get it? how was your first trip?
Our first job was 38m private, we spent months traveling between the eastern Caribbean islands.
Work wise it was great, though always remember to get a signed and returned contract as soon as possible…..thank god for American maritime lawyers!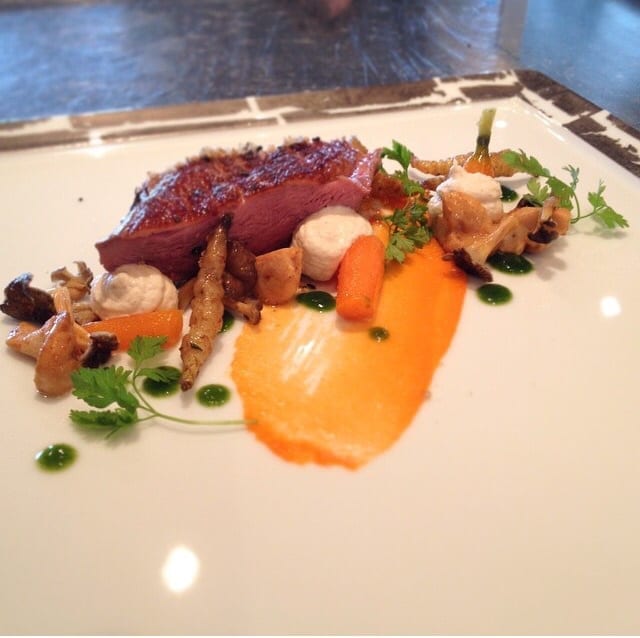 What does a normal day look like for you off charter?
A couple of beers on the beach with m/y Dragon crew , some mini putt or a round of golf.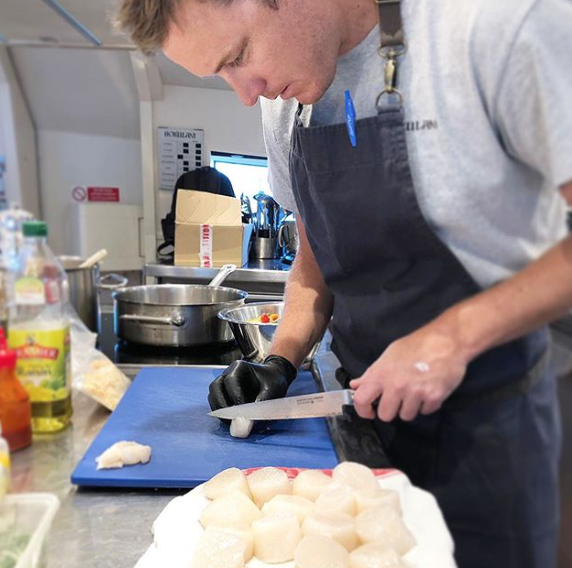 What would you say is the most exciting thing about being a chef in the super yachting industry?
Easy- being able to explore the fresh markets every day and create menus based on your findings.
What has been the most challenging thing you have overcome in your yachting career?
On my first Atlantic crossing, second day in from Fort Lauderdale, I discovered my fridges broke down.
The engineers could not fix it so they ordered parts to be sent to Bermuda, we spent almost a week in Bermuda but the parts still hadn't arrived, and the local technicians also couldn't fix it. As a temporary fix we bought 6 massive eskys/coolers/chilly bins and a tonne of ice packs, supported by the still working freezers.
We then embarked on our crossing to Genoa via a week stay in the Azores due to weather. In Genoa for the MYBA yacht show, the parts still hadn't arrived so I ended up cooking a six course dinner for 12 yacht brokers using the chilly bins! Somewhat challenging….
Who are the yacht chefs that you look up to?
There's so many!
Special mentions for Linus Nyvell (@private.chef)
sabi (@piratechef01)
Dean (@theyachtchef)
Ben (@Ben_tuhakaraina)
Chris (@Chris_chef88)
Claire (@Clairehutchings)
chefpatrickroney (@chefpatrickroney)
What restaurant chefs are you inspired by?
Josh Niland, Ben Shewry, Mark Best, Peter Gilmore, Tetsuya Wakuda, David Thomson, Gerry Spatz (old head chef & uncle(@chefspatz)), Ed dutton (edchefsometimes) Harry Faddy (harryfaddy)
Michael O´hare David Chang, Rene Redzepi, Heston, Clare Smith and Ainsley Harriot…Bhahaha but seriously how good are his faces in memes hahah
What are your favourite instagram accounts to follow for inspiration?
There's so many! maybe that's a good topic for everyone to add input on .
One thing I would like mention is, how good is The chef's table series and also The Final table!! both on Netflix.
Plus every single book Anthony Bourdain wrote and every tv show he's ever been in. There's so many older series you can learn from & I'm trying to see them all.
Also, if anyone loves seafood and hasn't yet heard of Josh Niland from St Peter Restaurant in Sydney, you should check him out. I seriously think he's a game changer for seafood at least and may also just keep the vegan terrorists away from my meal a little longer. Joking about the vegan terrorist part 🙂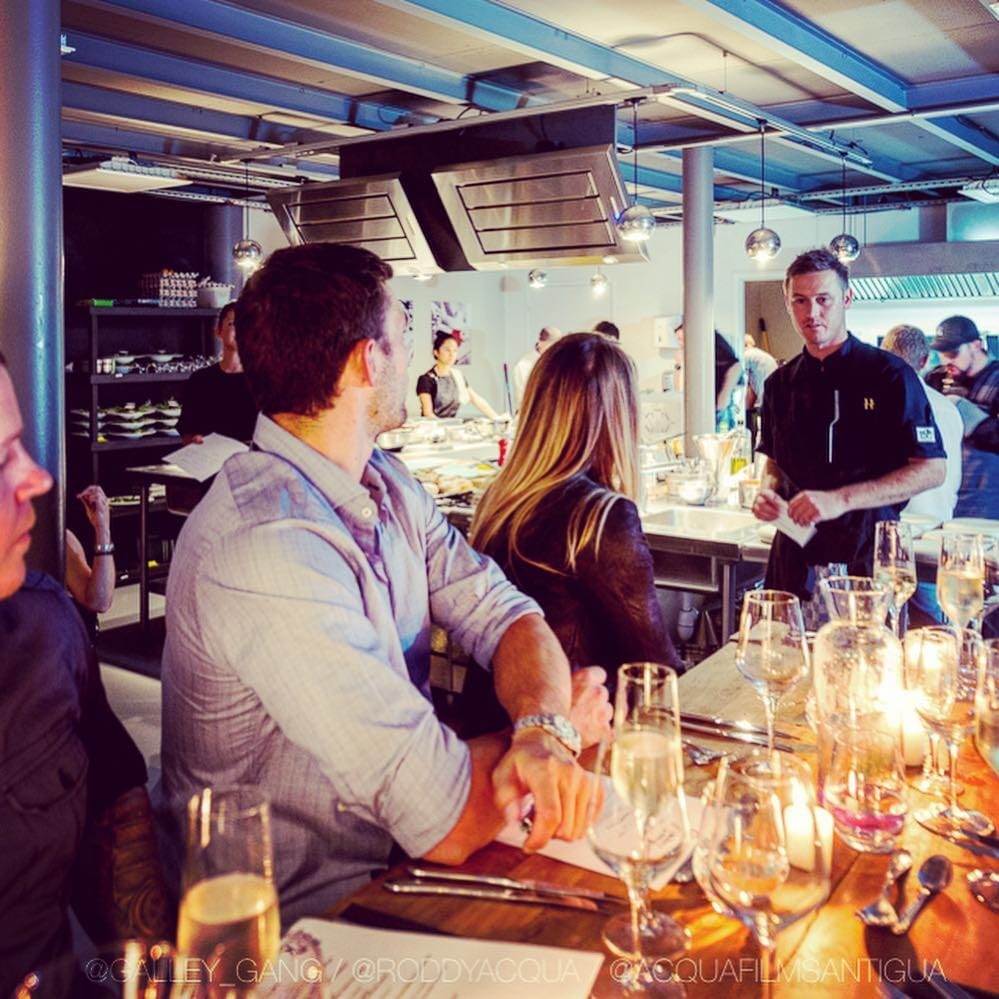 If you could have a table at any restaurant in the world for a dinner reservation tonight, which one would it be, and who would be your dinner date?
St Peter , Rene Redzepi
What is your favourite piece of equipment in the galley and why?
I do like the paco jet but it´s a double edged sword. A big sorbet and ice cream menu is a stitch up. The thermomixer is a handy piece of kit.
If you were to gift someone one cookbook, what would it be…?
The Whole fish cookbook: New ways to cook, eat & think by Josh Niland.
If you could convince the captain to drive the boat anywhere in the world right now, where would it be and why?
Anywhere in the Pacific where there is no other boats around.
If you had to survive on one nationalities cuisine for the rest of your life, what country would it be?
Thai