This week we speak to Tali Preuss a young green chef who is just starting out in the superyachting industry.
As a green chef ,she has been working temporary chef jobs and dockwalking for the past 3 months- and IS looking for a permanent job, so if you happen to know any boats looking, she's a gem!
It was great to get some insight about the superyacht chef industry from a newcomer. Her fresh eyes and attitude really shines through in her interview, we think she will go far in this industry!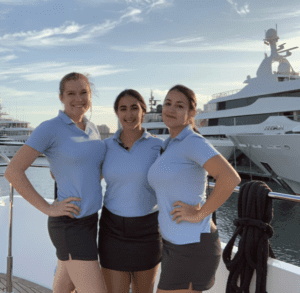 Can you tell us more about how you got into being a superyacht chef?
Around 14 years old, I decided I wanted to work on yachts. My parents are sailors, and when we would travel the Caribbean and see these giant white ships.
I was intrigued by their inner workings. Being happiest on the water, my plan for success started with high school internships at local restaurants and bakeries, followed by selecting and graduating Cum Laude from a four year Culinary Arts university. During that time, I worked at a few local restaurants, one of them Providence's oldest French restaurant.
Since graduation 5 months ago, I cooked and crewed for my parents, helping bring their catamaran down the East Coast to Fort Lauderdale, and then, secured all the necessary yacht crew certificates

How long have you been in yachting for? How easy was it for you to land your first job as a green chef?
So I have only been in yachting for 3 months, so I was absolutely thrilled when you reached out to me because of my Instagram food picture post. My first gig was a Kosher SuperBowl weekend that got extended for a short charter; I was recommended by a friend made during my courses. I registered with several Ft. Lauderdale agents, and have only dockwalked a bit since the agents have great leads for the type of Sous/Crew Chef job I really want, which is working alongside a veteran Chef.

What would you say is the most exciting thing about being a chef in the superyachting industry?

I guess we'll need a follow up blog after I'm a real super yacht Chef, as this is just the start of my yachting career!
I do love meeting and working with people from all over the world; they have very different perspectives and I'm making wonderful friends among crew, particularly as we newbies learn the ropes. It's a total immersion program for sure.
I'm sure glad I've been around boats all my life and not thinking this lifestyle is like what's on the cooking shows or reality TV.
Where did you study, and what qualifications do you have?
I went to Johnson and Wales University, graduating Cum Laude, with a BS in Culinary Arts, and secured ServeSafe, Mixology certifications plus my Blue Water certs: STCW, PDSD, HABC-2.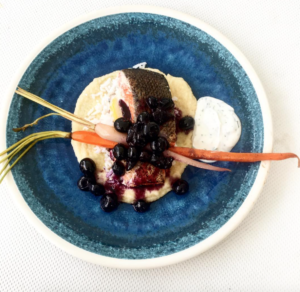 How is life on board a yacht different to your previous restaurant based work?
In restaurants, you are responsible for only one aspect of the entity: you're the expediter, line chef, or pastry chef.
On board, you're supporting the Chef for every aspect of a meal: appetizers through dessert. It's like having your very own restaurant with menu planning, provisioning, inventory, through delivery in a way that meets everyone's dietary requirements.
Sure, I studied and practiced some of these aspects of management in school, but am definitely looking forward to deepening those skills with good mentorship, while at the same time, learning the dynamics of living with the people I work with–which is also quite a change.
What's the most amusing thing about yacht life to you so far?
Seeing people's unusual eating habits, there are just little things that people do that I would never have thought of. As well as learning everyone's regional comfort foods such as Branston and cheddar sandwiches.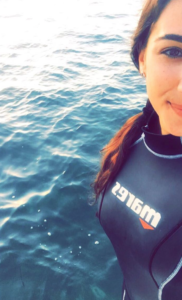 Who are the yacht chefs that you look up to?
One of the first yacht chefs I started following was @theyachtchef Dean Harrison. He is a whiz at plating, and posts fabulous shots not only of his food, but of his travel adventures as well.
What are your favourite instagram accounts to follow for inspiration?
For strong women chefs killing it in the kitchen, I follow:
If you could convince the captain to drive the boat anywhere in the world right now, where would you go and why?
Hawaii! I love the food culture (and am even game to try their spam sushi) and would love to dive and hike around their beautiful islands.
Another would be the Nordic region; it's someplace I have not explored at all and would be very keen to experience. While there are many places I am excited to see, I just have to see where my career takes me!
Follow Tali on her exciting journey from recent culinary grad to sous/crew chef to super yacht Chef @Talitastytraveltreats .
And of course, if you want to help take Tali from green chef status and put her forward for a temp or a permanent position, please contact her and let her know on instagram.