Contents
Cheers to you, readers of The Superyacht Chef website!
A few weeks ago, we asked you, the readers of thesuperyachtchef.com a few simple questions. While we thank you for your time answering them all and giving us some great ideas. We also wanted to explain why we asked for your help.

Two years ago, The superyacht chef was built. It has been running in the background of my life since. Through boat changes, crew changes, boss trips, charter, you name it… The lights have been kept on, albeit at times, a bit dimmer.

The Superyacht Chef has been ticking over with the help of a few other people. Mostly, it was being run by you lot. Every single chef who has been featured on the superyacht chef pages has been the reason the site exists and the reason our Instagram exists. It is purely because so many of you are so happy to share your passions and hard work at sea.

At times we have had some angry chefs message us. We have been accused of stealing content for our own gain. We have been told that we are exploiting chefs.

Sometimes I think a lot of that comes from the fact that most people don't know who the chef is that is running this account. It creates a bit of distrust. I get that.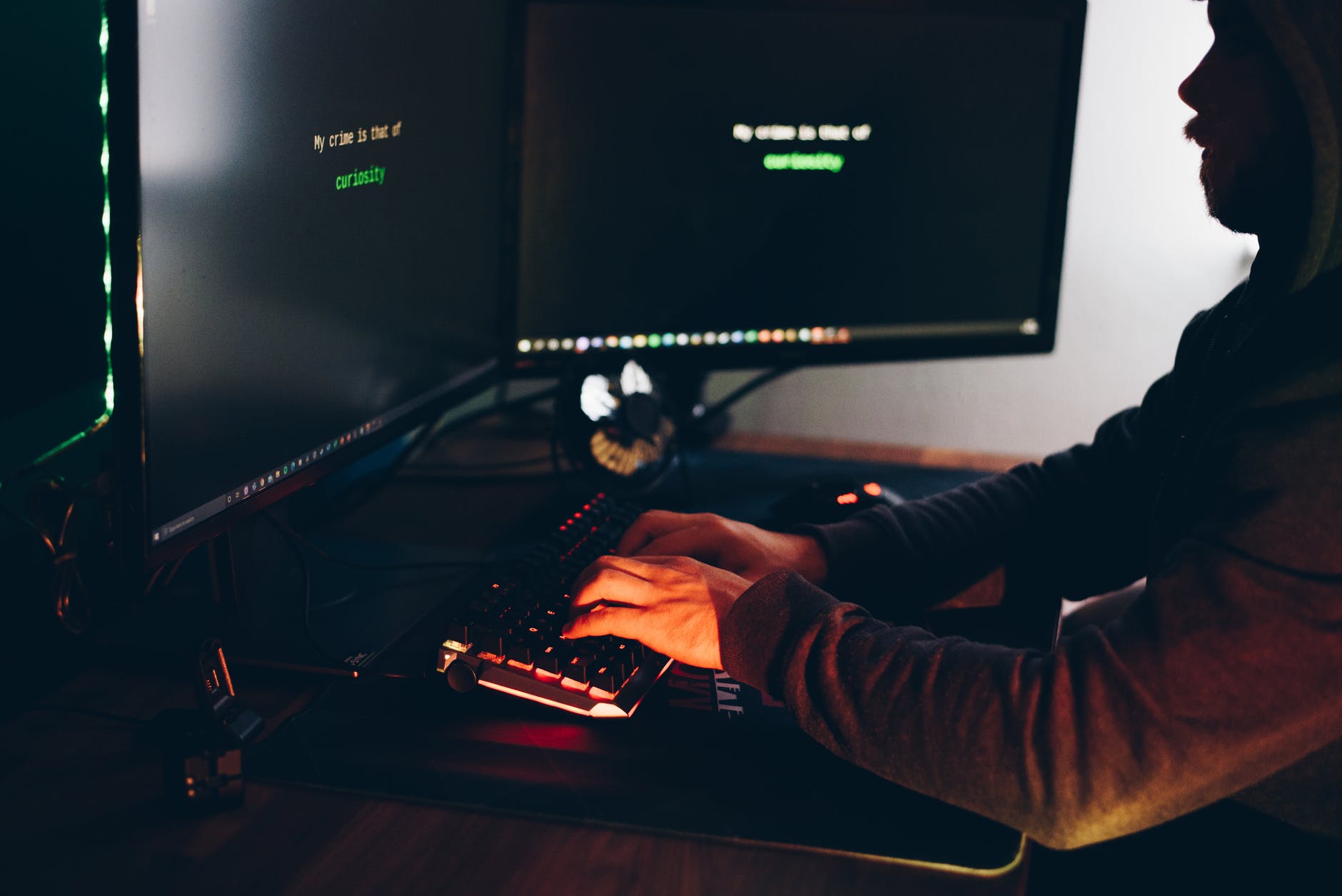 But here's why I don't personally want to be the face of this little community, that WE are all building.
1. Every one of you has your own unique and fantastic yacht chef account. You are your product, and you are capturing your own audience. I have no interest in competing with that. I want to instead celebrate YOUR accounts and YOUR yacht chef journeys. If I self-promoted, what use is that?
2. My opinions of being a yacht chef, how a galley should be, how a plate should be presented or how long to cook Pork Belly for is not the be-all and end-all. I am not "The Superyacht Chef". I am not the decision-maker for your careers, for this industry. This website is mearly an overall sounding board for anyone in the industry. We have the ability to collectively educate each other, share experiences and grow our own personal chef brands alongside this website.

3. A little mystery goes a long way. I'll be honest here, there are many chefs on these pages who know me personally. Some have worked with me in the past. Others have shared beers on the dock with me and had a long rant about galley life. There are plenty of chefs who I have never met, but whom I wish to one day! Maybe you know me, maybe you don't. But isn't that nice?

4. None of this is about me. The superyacht chef is a collective account of all yacht chefs in the industry. Big boat chefs, small boat chefs. Sailing yacht chefs, and day charter chefs. You all have a place on this website and within this community.
I'm not quite finished.
One takeaway I want you to all understand is that I am only taking myself out of the equation to make this a space for everyone to utilize. There is nothing to be suspicious about.
I am not a crew agent. I am not out to give bad publicity to anyone. I am not collecting your information to create a stupid "how to be a yachtie" guide to sell for $50. (I'll rant about those scams another time.)
In actual fact, this site costs a fair bit to run each month. It also takes up a bigger chunk of time than you would think… And it's being done without any glory, personal acknowledgment or profiteering. I hope the negative nancys see this!

Taking myself out of the equation has been to a detriment actually. I am not able to promote articles on the yachtie pages. And I can't advertise the interviews on the Facebook groups. Just in case someone figures out who I am. This means there are a vast number of yachties who NEED this information but aren't able to find it. Not everyone is on the gram.
So, I urge you, if you find any of the posts on the website interesting or worthy, please share it online. When a green yacht chef asks for advice, and you don't have the answer, point them in this direction. It's the greatest way this community can continue to grow.
I really just want this space to be about yacht chefs, written for yacht chefs.

The Superyacht Chef
Meaning, I need your help to create this space in order for it to exist. So thank you, for each and every one of you who have made that possible over the past 2 years. Your openness to share your work has helped guide and inspire thousands of other yacht chefs, current and budding.
Hopefully, it has helped you to make new friends and network more too!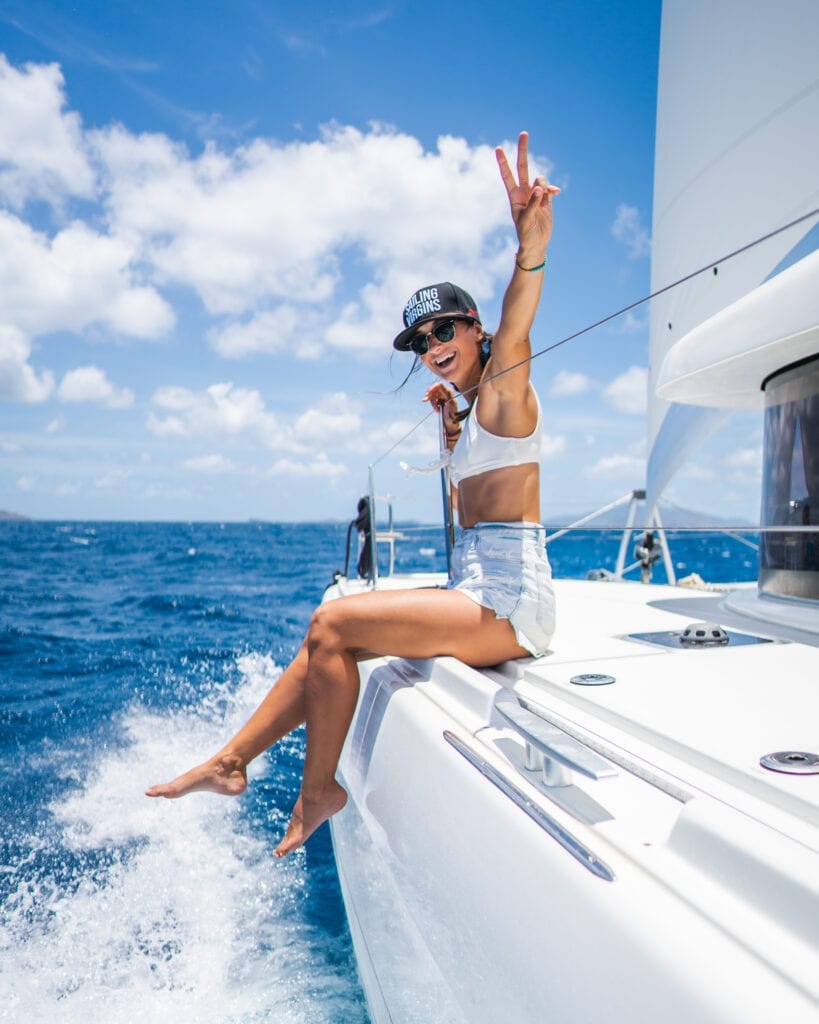 The future of yacht chefs
We mustn't put up brick walls and barbed wire about this industry. The information should be shared, it should be free. It should be easy enough to obtain.
We cannot be bitter about new yacht chefs entering the industry. Instead, we should be excited to teach someone eager to learn, to impress, and to work hard. By showing them how the industry really is, we can help mould them into even better prodigies.
The more information these green yachties get, the better quality of chef that will come through the ranks. And the better your next sous chef will be from the get-go!

So for those of you who still have your guard up about this account, just chill. We will all retire someday and throw aside the golden handcuffs. Your life, I highly doubt, is tied completely to the galley MKR or pacojet.

If you are still scared about sharing your guest menu. Yeah, the one from lunch service on June 16 2018. In case some greenie on a 35m uses it for inspiration, then perhaps this website isn't for you anyway.

For those who aren't afraid to help others, we are open to hosting them. To submit an idea to write about, or to add something to the slowly growing library of information for yacht chefs, please email us at hello@thesuperyachtchef.com
Final points. I'll stop ranting soon. Promise.
Now, to address a few other things that have popped up. They needed more explaining than what a short Instagram story can give you guys.
"There is favouritism on who gets featured"
It breaks my heart that people think this. This is literally one of the key ideas by keeping myself unknown. I cannot be favouring my own yacht chef friends if they don't even know that I am behind the account.
Everyone has the same chance of being featured.

So long as their food shots are:
Well photographed. Make beans on toast look good, and you can get featured. Try it!
Be an actual yacht chef. Sounds stupid, but you do actually have to be current or have recently been a yacht chef.
Post a relevant shot. Make it of food or yachting, please. Unless your bikini pic is of you standing in your galley, it doesn't have a place here sorry.
Have a public profile. If your Instagram is set to private, we are not allowed to share your images, no matter how many times you tag us. And that makes us a bit sad, so make sure your profile is set to public!!
And literally the only thing you need to do after that is TAG #thesuperyachtchef and/or @thesuperyachtchef. We won't see your post otherwise.
The same goes for your stories.
You guys, so long as you @thesuperyachtchef in your Instagram story, I get the notification, and I can repost it. No @? No repost. Simples.

If you feel like we feature the same chefs too often, it's because they are the chefs who are tagging us and letting us know they have something to repost. I promise that is all there is to it.
Moving forward in 2021
OK, Enough of the negative stuff. Let's unpack all of the epic information you guys gave us through the Instagram poll.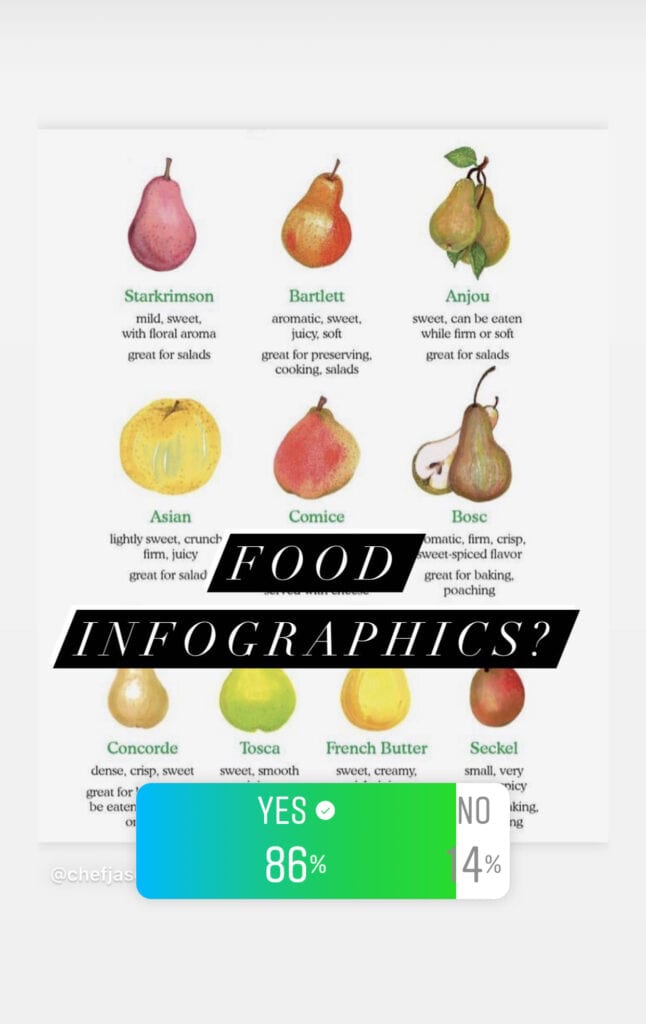 A whopping 86% of you want more food infographics. Ask and you shall receive. Working on it as we speak…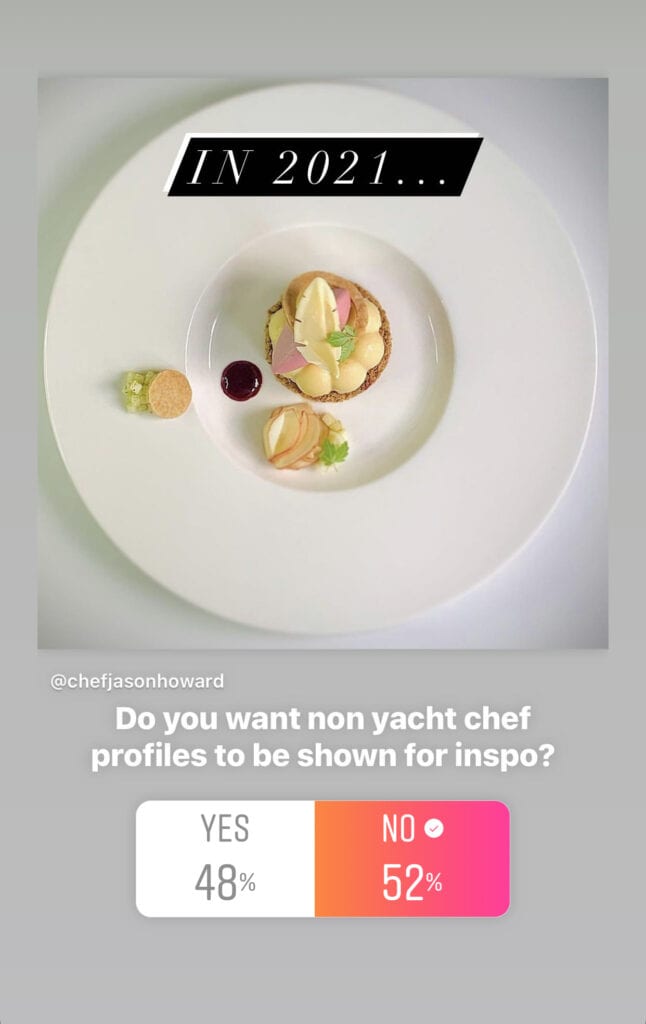 The jury was out on if you wanted more non-yacht chef profiles to be shown. With such a close split, I'm going to leave it as-is for now. We will still only exclusively feature yacht chef accounts. If you are interested in chef inspiration outside of the galley there are plenty of accounts that cover high-end restaurant dishes.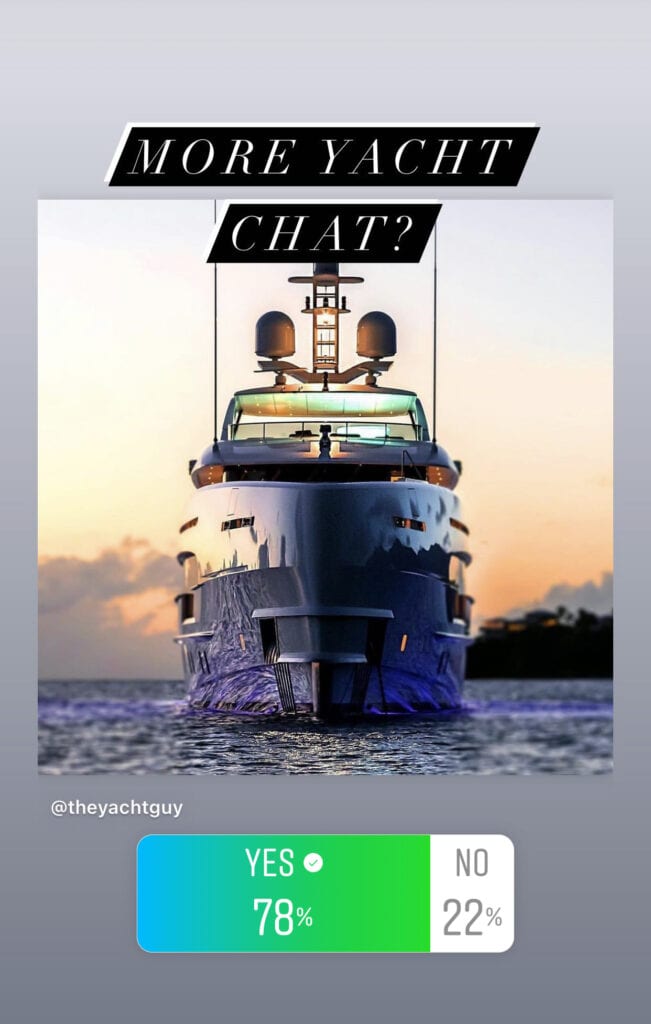 Interestingly, 78% of you want to see more yacht chat. We will aim to introduce more yachts to your knowledge base, and speak more about them. Especially new builds 😉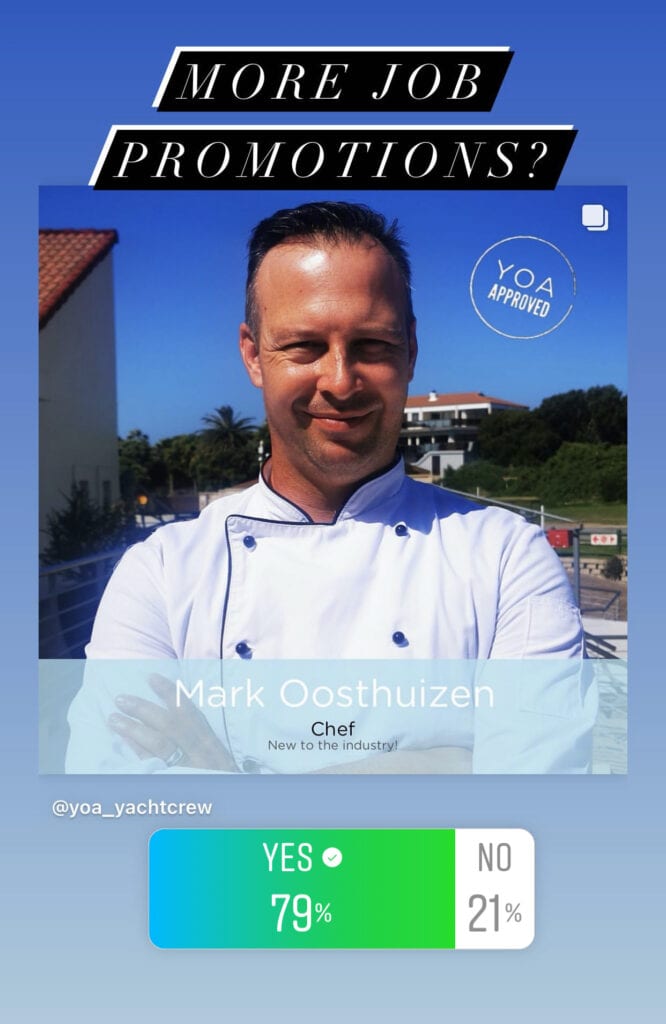 It was always going to be clear that most of you would want yacht chef jobs to be promoted more. We also love that idea! Last year we set up the job board, which is free to use and built into our platform. It gets used sporadically, which is a shame, but for now, it's the best way for us to maintain job listings. Hopefully in 2021 more yacht chefs will use the platform and it will become active again!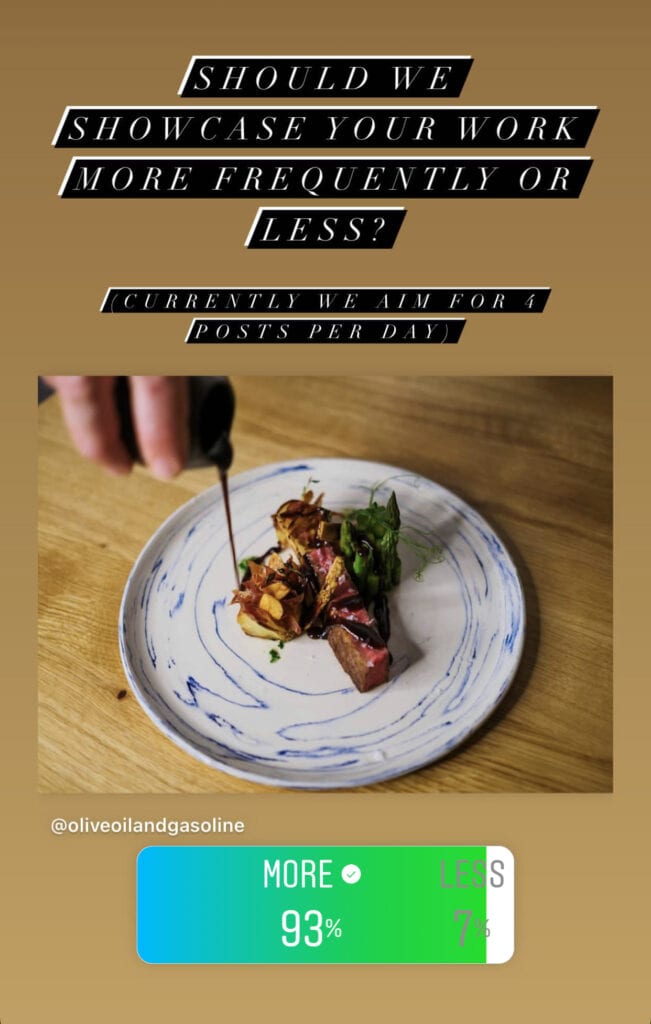 93% of yacht chefs think that 4 posts a day on your feed from us is not enough!!! I love that!! I was actually worried your feed was getting too clogged up with our images, and some of you didn't like the spam. But if you want more… we shall try to give it to you! (don't forget to hashtag and @ our account in your pics so we can feature them!)
Other ideas we loved and are working on
Sponsoring an event at a boat show.
We love this! It would be amazing to be a part of a boat show to help with a cooking competition, but I don't think 2021 is the year still… perhaps 2022?
Also, the cost these guys want for taking part… hmmm…
A virtual cooking competition.
Standby. This is hopefully in the works!
More giveaways and competitions.
We love this too! Of course, we want to be able to give you guys epic freebies and run more competitions, but we need sponsors to make that happen. Public notice to any yacht chef related businesses!! We are happy to help promote your businesses with giveaways! Get in touch!
Basically, you guys love free stuff! which brings us to the final bit of info…
Hitting 10k followers
OK, here we go… an announcement is in the works!
We WILL be offering a giveaway when we hit 10,000 followers. The prize is yet to be decided, but it will be a good 'un!!
Ya'll deserve it!!! Thanks for being such great sports, and as always, if you love what we are doing, please, share the posts and promote the helpful bits with other yacht chefs and friends. The more we grow, the more you will all benefit 🙂
And our DM's are always open. If you think we suck at something, let us know- if you think something is not up to standard, chances are others do too… tell us! Feedback is king!
If you have a fab idea for something we can promote or create, let us know- It might take a while to happen (guests come first, unfortunately) but we will try!
On that note, 2020 was a bit of a shit year for many of you… hopefully 2021 is shaping up to be better. Stay safe.