Anna Hewinson is a bubbly blonde Kiwi Chief Stew who has worked her way up the ranks of yachting over the years. She has ticked off both sail and motor yachts and has worked on both private and busy charter boats. She's the perfect all-rounder to chat to about galley and interior relations.
Follow Anna on Instagram to keep up with her life as a superyacht chief stewardess. And keep an eye out for those gorgeous cupcake shots every now and then. YUM!
And with the surprising number of interior followers over at The Superyacht Chef Instagram page, we thought we had better represent you all.
After reading this interview with Anna Hewinson, please get in touch if you have any further comments to add regarding the interior and galley relationship woes and how to prevent breakdowns in communication with both teams.
It rarely happens, but when it does, it can be a disaster on a yacht! Perhaps we can put our heads together and help prevent it from happening in the first place.
How long have you been in yachting, and how did you get started as a stew?
I have been on boats 6.5 years now and am just about to complete my 7th summer.
Time flies!
I did my courses straight out of school and was very lucky to fall into a job joining a 50m SY in Antigua that was coming back to Europe so my first ever trip was an Atlantic crossing.
I stayed with them for a year and haven't looked back!
What was your first yacht season like?
It was something I had never experienced and you just stick your head down and get on with it don't you?!
My season entailed racing and owners trips and extremely long days. I remember not being able to sleep because my feet were so sore haha. But in the end it was so rewarding and I realised I was on an amazing boat!
How have you grown as a stew from a junior crew member to a chief stew?
I have slowly worked my way through the ranks.
I worked on an extremely busy charter yacht, who put me up to 2nd stew, it was such a great experience. That's when I realised I really wanted to pursue this as a career and become chief stew.
You definitely change a lot personally through this process as you go from having little responsibly- nothing you will lose sleep over, then to going to bed at night thinking about the next day and then trying not to spend your weekends (if you have one) thinking about the plan of attack for Monday!
Once you get used to this it just becomes part of the job!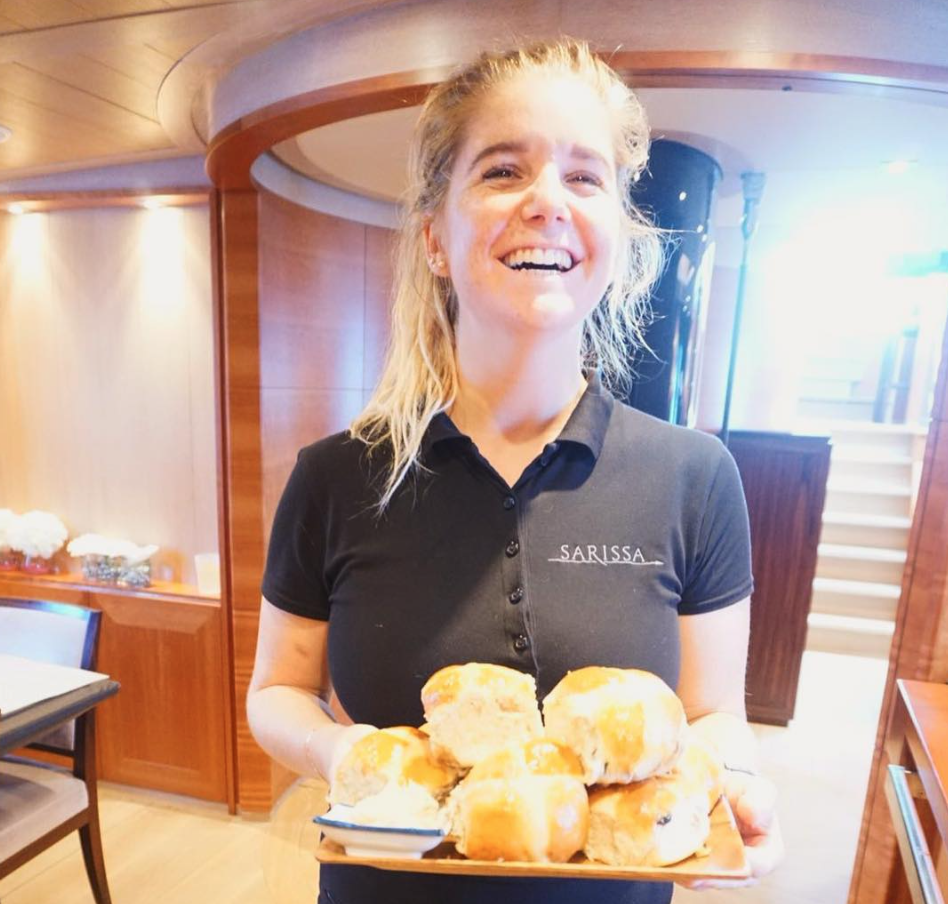 Whats one piece of advice you have for green stews looking to enter the industry?
Contacts!
These are what are going to get you the best jobs through people you know, word of mouth.
These are some of the best jobs I've got and crew I have worked with are from friends of friends. Always make sure you are on your best behaviour and not causing havoc on nights out as you never know who you may be turning up for an interview with come Monday!
and when you do get a job, stick your head down and do the hard work with no complaints and just be willing.
You don't have to be the best at the job on the first day and no one expects you to be!
We can always teach you how to the job but attitude is everything.

Anna Hewinson
And Smile! 🙂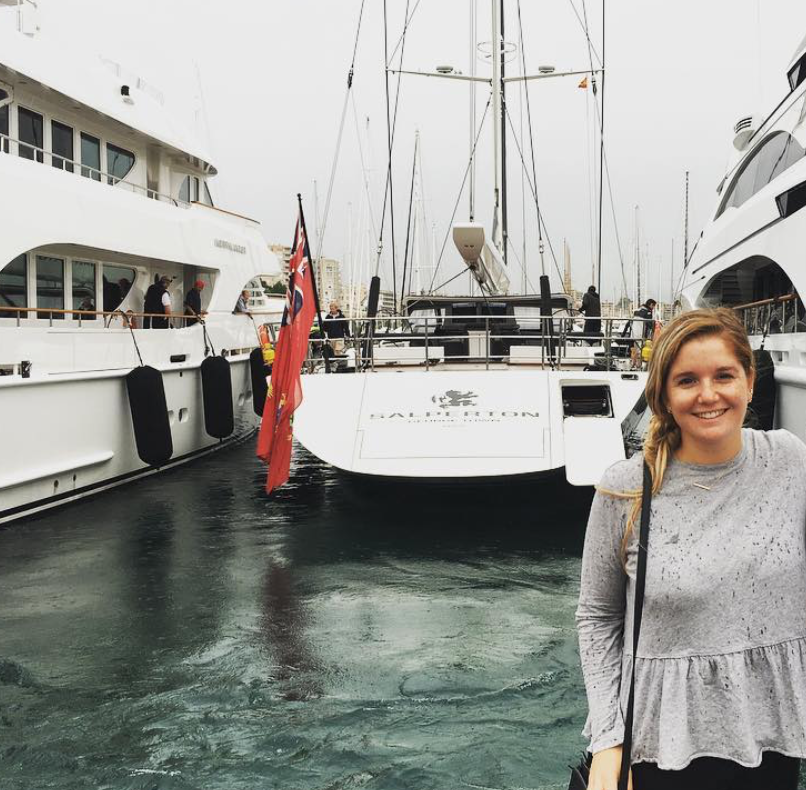 What has been the best thing that has happened to you so far in your yachting career?
Being asked back for the owners I now work for as chief stew after working on their sailing yacht that unfortunately sold. This is such a great feeling to know you have developed a good relationship with them.
Also going to the last Americas cup in Bermuda and sailing into New York are huge highlights.
With yacht show season kicking off, have you entered any of the table deco comps?
Yes!!
I did the Antigua Yacht show chef and stew competition 2 years ago, and my chef Harriet actually Won! Which was amazing she did a fantastic job.
Unfortunately, I didn't win the table setting but it was such a fun experience and there is some HUGE competition out there.
What interior courses have you done? How have they helped you?
I have done a Purser course. I did a version by correspondence with Angela Wallace. It was so good to be able to fit it into my work and spare time as I know these courses can be a few weeks and then you don't even have to use any holiday leave!
I recently did HELM Operational as well which was fantastic. I know this is mainly aimed at deck crew but its all about us, humans, and how we behave. I highly recommend it to any crew really as you learn to understand your crew and maybe why your superiors are making certain decisions.
I have also done medical first aid in the hope to be the medical officer onboard soon.
Also WSET level 2 is one I am starting to look out for people having when I interview them!
I think any courses are better than none as you look like you have invested in your own career and can show a lot more interest in developing onboard.
What are you working on right now?
I am on a 42m MY as chief stewardess, operating with two owners. So we are back to back with them and also dual season!
I started with them on the new build project last April so we have now done 2 summers from scratch which has been an amazing process and nice to have everything just the way you like it!
There are 2 other stews to accompany me and I usually cook in our in-between season stages when our chef is on holiday. I cooked all last winter and really enjoyed it, so I am looking forward to getting back into the galley after some more inspiration from this season.
What are your plans for the future?
I really don't know what I will do in the future. I'm aiming to one day get into a purser position and after that who knows! Hopefully I still have a few years left in me on yachts so we will see where that takes me for now.
What are some of the favourite crew meals you remember?
I think some of our favourites onboard are things like Mexican, thai etc and also build your own burgers, wraps etc is always an entertaining lunch time in the crew mess.
What has been a favourite guest meal you have seen go out?
Our chef does a cracking Japanese night which is my favourite so we can do our Kimono napkin folds 🙂
How can the chef better communicate with the interior team?
I think it goes both ways and just to be on the same page as the chef. If something is unclear about the menu, it is so important to ask also whats in it and how its cooked as I know I get a lot of questions from our guests regarding this.
And the same goes for the chef if he is unsure on platter or plate choices.
I always have a big discussion before lunch and dinner service as to what and how everything will be and then I pass this onto my girls so we all know whats going on.
We like to bounce a few ideas around also and it helps them out too! We always think better when there is two of us, so I am never scared to suggest something that might make both of our lives easier.
How do you handle a grumpy chef?
I am very lucky that mine is not!
But I think it's just important to realise being a chef is one of the toughest jobs on a boat and they can be cooped up in the galley with little or no information about whats going on in the outside world!
I know we try to pop in as much as we can say "Hi" and take the food down to the crew mess, take the bin out if we are walking past etc.
This always cheers them up. I also just try to give them as much info as possible so they feel more included as it can be a bit lonely!
Taking them a coffee has also never been rejected haha.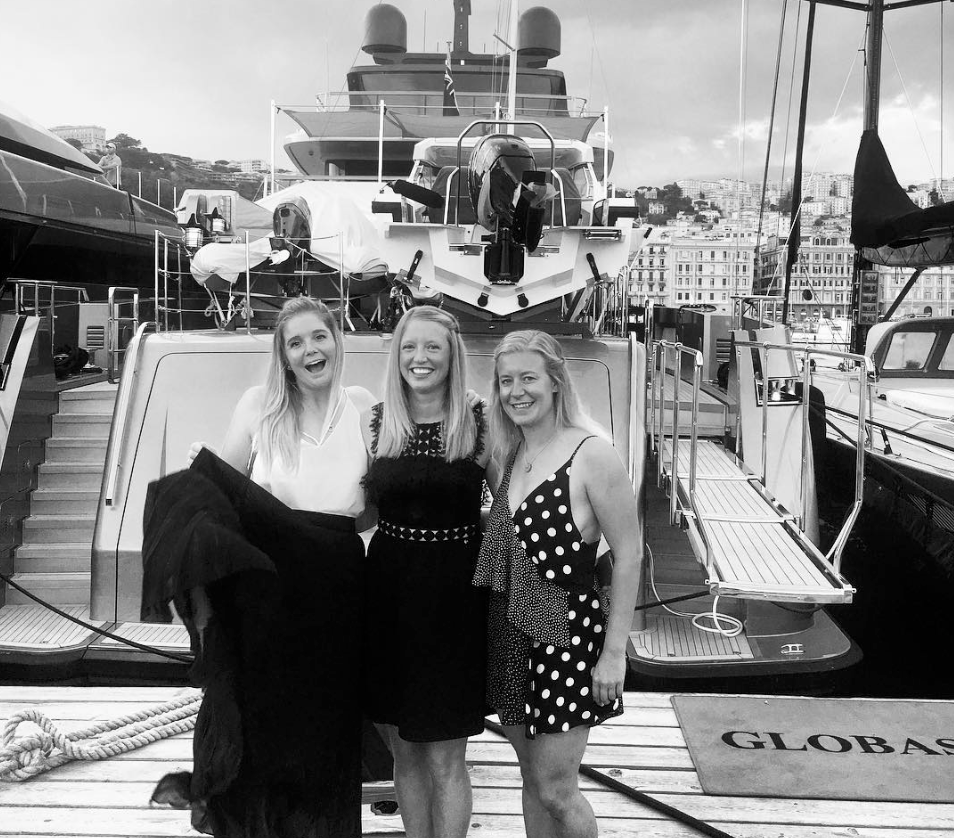 What's your favourite memory of a galley/interior relationship?
I think when we do some huge last minute dinner parties and at the beginning you just think "How are we going to pull this off?".
And all of a sudden it's over and the guests love it!
As much as I dread it these are actually my favourite meals to do! We get a lot of interaction with our guests, so these end up being quite fun services for us.
I think if the stews are in a good mood during service so is the chef.
When there is an issue with the food (regarding guest feedback), how do you handle it?
Subtly and in the nicest possible way. Usually you don't get yelled at because they would actually rather know than to make the same mistake again.
What are some of the ingredients/dishes you hear guests oooohing and ahhing over at the table?
Too many to name but definitely things like fresh ceviche, we do a lot of sea food onboard and then things like Pad Thai and pulled pork open burgers are always a hit!
Curry night is our guests favourite hands down!
Plated or buffet?
Plated for sure!
What are some things that chefs do, that they don't realise irritate the interior?
Haha I have to be careful here but I think the biggest one for me is greasy shoes!
What are some things the chefs can do to make the interior girls lives a bit easier?
Again, I know I am very lucky here as we are usually the ones trying to help each other out a lot, but just little things like washing up platters when they give them back is highly appreciated especially as we can't fit them in our small dishwasher.
The lovely Jamila also interviewed with us earlier in the season about her time as a superyacht chief stew, read more about her interview here.