Ladies, are you ready to finally find a chef jacket that not only fits you but also looks absolutely banging?! We speak to superyacht chef Hannah Staddon who has been busy setting up her newest business: Funky Chef.
They aim to make chef jackets for female chefs that actually fit properly! Literally, none of us like that boxy unflattering shape every other chef jacket makes. Funky Chef jackets also have super cool and interesting fabric choices that allow you to shine like the superstar that you are with patterns that fit your personality.
To sign up for the ambassador programme, visit FunkyChef.co and be one of the first to get your hands on these new chef jackets!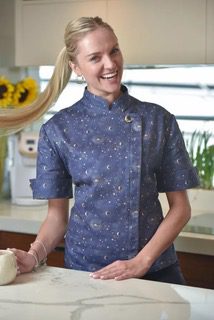 Tell us a bit more about your time in the yachting industry working as a yacht chef
I started yachting in 2013 when I was 20. I started as a Junior Stew on a 95ft Private Riva in Ibiza. Then I jumped on a sailing cat and did a delivery from Spain to Antigua with my partner and 3 other guys. I was a self-designated cook for that trip. Even though I'd never cooked in my life, I was seasick every day! But at the end of it, I thought, "hmm, maybe I should do this professionally".
I worked as a sole stew the following Med season to save up money for a cooking course. From there, I went back to South Africa, where I'm from. Which meant moving back to my parent's house. (shoot me) I got a ton of restaurant experience and trained for a year to get my culinary diploma.
Related: Female yacht chefs we love! Jackie Goudie , Millicent Wood and Nina Wilson
Before my training was over, I was hired as a crew chef on a 160ft Trinity in Fort Lauderdale. So I packed up and left and started my chef career on boats! That was in 2015.
Flash forward to now. We (my partner and I, now husband) transitioned onto smaller boats and have been with the same owner for the last 5 years. We're on a 65ft Horizon Power Catamaran and we're a busy charter boat in the Bahamas and BVI.
It's just the two of us on board. Because we both have a background in 'big boats' we really try and bring that level of service down to our little boat. So, to answer the question, when I turn 30 next year, I'll be celebrating my 10th year in yachting too. Eek!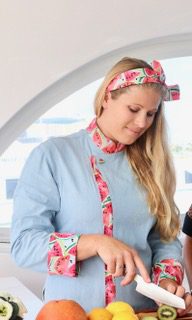 What was your inspiration for creating FunkyChef chef jackets for women?
I LOVE wearing chefs' coats! But it's not always practical in my role because I'm doing cabins, handling lines, making drinks, and vacuuming.
When I put on my chef coat I kind of resume my actual superpower. I know it sounds silly, but it just uplifts my confidence in my abilities. However, whenever I bought a chef's jacket it just never fit me properly. It was always too boxy and long. So I'd always have to have it altered by my seamstress, which, let's get serious, no one has time for.
I decided to just buy my own fabric that was in a leopard print. I gave it to my seamstress to make into a jacket for me and voila! Then I had this snug-fitting chef's jacket that literally made me feel like 100 bucks.
When I wore it to a vegan course I did last year at Demuth's in the UK and the lecturing chef was like "Omg where did you get that jacket from, I want one so bad!?" And that's where Funky Chef was born 🙃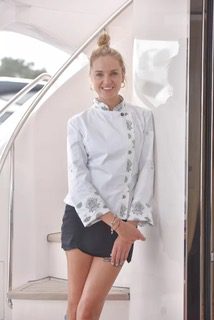 Tell us more about the pre-ordering system
To prove whether that Funky Chefs jackets are something people want; our initial launch of Funky Chefs' first collection will be through a crowdfunding campaign.
This means that we will be asking people to pre-order their jackets and sizes. If we can reach 200-250 orders then we will go ahead and create all of the jackets according to the sizes and patterns ordered.
I am making them in South Africa. Then they'll be housed in Florida. So when the order comes in it'll be boxed (recyclable) and shipped to wherever the consumer is.
I'm 100% about the chef feeling good in their jackets. To prove this, we're all about size exchanges and returns (not on embroidered jackets, unfortunately).
We're also really wanting feedback from everyone to improve the jackets as we go. So they're going to be great to start but they'll keep getting better and better.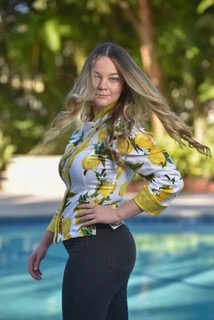 How is Funky Chef improving chef jackets for women?
These jackets have literally been designed around the female body. It has darts in the back to create more shape and actually has a tie at the back too. So if you decide to go with a bigger size because you prefer more movement in your clothes, then you can still cinch in the waist if you're having a 'skinny day' (let's get serious, we all have them).
Also, they're shorter. They end roughly where your t-shirt typically would end. So if you're like me and you wear a skort, you won't look like you're naked on the bottom.
All around they're just cut way more flattering. With the hopes that you will never feel like you must get it tailored.
We will be offering embroidery on the 2nd collection, so you can get your name or establishment put on (obviously these won't be able to be returnable though). And as we progress there will be more collections of prints & colours and more options to customize.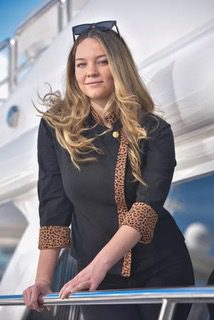 Sound's amazing! So which chef jacket is your favourite?
My favourite is the Lulu leopard. Being African it kind of takes me back to my routes. Plus, it pairs well with black bottoms and almost makes me feel like I could go 'out out' in it.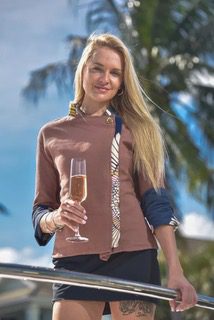 Contact Funky Chef
Follow us on Insta @Funkychefco
Facebook @FunkyChefco
TikTok @funkychefsco