Contents
We have done a round up of the BEST vegan apps for yacht chefs that will make your season run smoother for guests and crew alike.
Charter guests are often writing "vegan" on their preference sheets. And all too often now, yacht crew are also turning vegan. Why not? It's not all that difficult to accommodate their dietary requirements and many vegans claim the health benefits are amazing. With the rise of veganism in the modern world, it's important to keep ahead of the food trends and remain educated. 
Vegan diets are here to stay. And a yacht chef shouldn't be caught off guard without having a great repertoire of vegan dishes. Vegan Apps are a great way to stay on top of your chef game this season.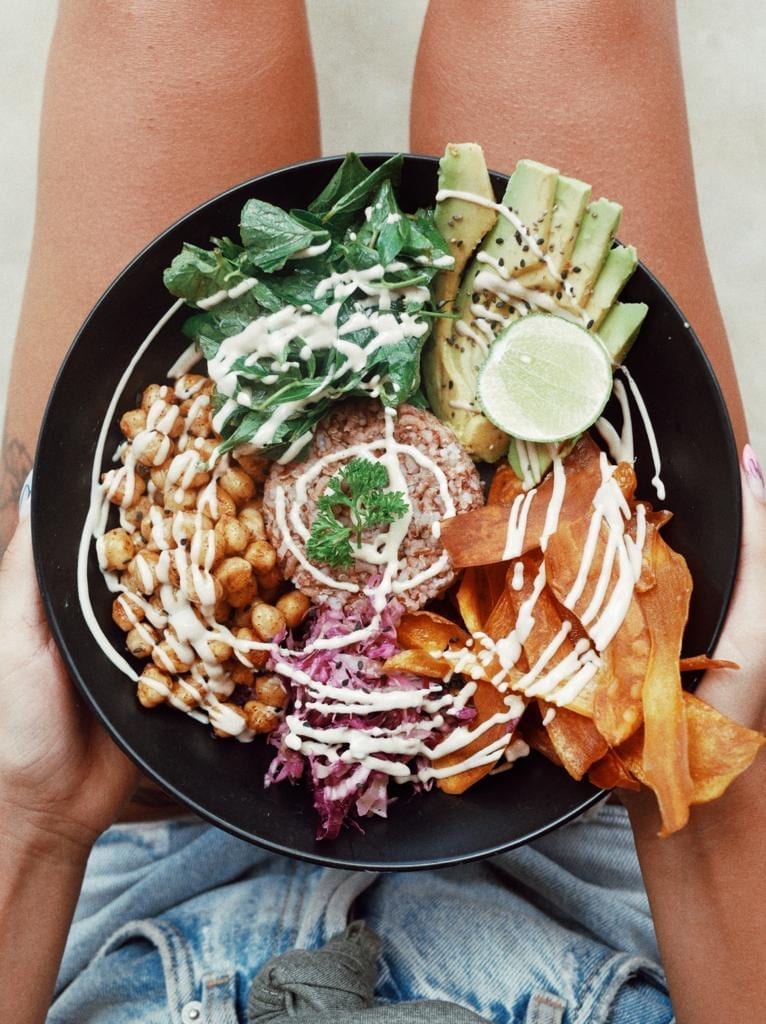 A quick brush up on "what is vegan food?"
It would be embarrassing for an experienced yacht chef to not know about the vegan diet at this point. However, we do have many readers at different levels in their yachting careers. Perhaps you are a cook/ stew and have just encountered your first-ever Vegan crew member. Or maybe you have only ever worked in Steakhouses and it's been a while since you encountered anyone else who doesn't chow on animal protein. Look, it happens…
For everyone else, skip ahead.
A vegan diet mainly consists of foods such as cereals, legumes, fruits, nuts, and vegetables.
This means that vegans do not eat meat, fish, seafood, eggs, milk, dairy products, or honey, nor do they wear fur, wool products, bone-made accessories, as well as skin, coral, pearls, or other animal-derived products.
Now, you probably think that by cutting meat, milk, and protein-rich foods like eggs out of the menu, your body will lack essential nutrients.
However, vegan diets actually offer every bit of nutrients you need – from essential vitamins and minerals to healthy fats and calories. This way, with a few adjustments, your body can still feed on foods rich in protein, fibre, vitamins, minerals, and carbohydrates.
Many vegans claim that a vegan-rich diet can fully satisfy the body's needs for nutrients, and is suitable for both regular consumers and professional athletes.
Read more on how plant based Polly Baptist has carved out a niche as the go to vegan yacht chef in the industry
Hints for upping your vegan game on board
You can also easily expand the dishes when cooking for guests by ensuring a more substantial dish is chosen for the main to include a vegan option.
For example, Instead of grilled chicken breast, supplement with the vegan option of grilled cauliflower or fried tofu. So long as you keep the flavours similar, you can easily interchange a set menu for guests who are both vegan and meat-eating. It's the oldest trick in the book, but it is so easy to overlook when you are creating complicated menus for multiple diets. Keep it simple!
And a great way to trick the meat eaters is to create a vegan menu and supplement meat protein where possible. A hearty salad option, for example, is perfect for a vegan guest (or crew) but a piece of lean grilled chicken on the side turns it into a balanced diet for the non-vegans.
Read more on 2020's best vegan app for yacht chefs- A Billion Veg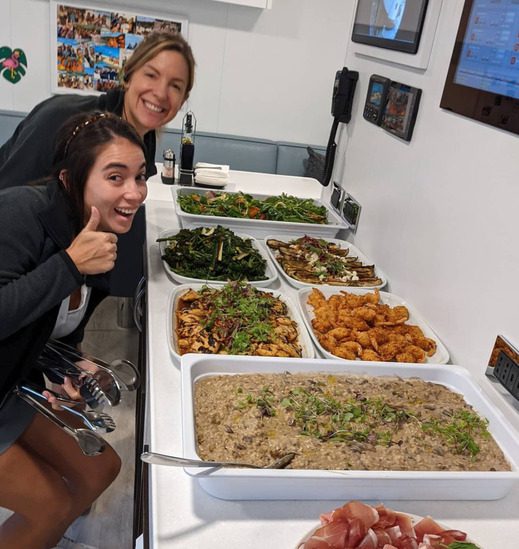 How to keep your vegan yacht crew happy
It's always important to quantify just how "vegan" someone is when they join the boat as crew. We have all seen new crew claim to be vegan, only to smash their face with burgers on a night out, or make cheese toasties when they get home.
And as chefs, we need to understand that, perhaps they *try* to live as vegans, but slip up every now and again? If this is the case, they may also be understanding when you use a few tablespoons of fish sauce in the crew Thai red curry for example. But, it is important to establish this with the crew member in question first. 
There is nothing worse than a chef who is anti-vegan these days!
If you have a "militant vegan" who wants to live and breathe the vegan lifestyle, you must accept that wholeheartedly. Sure, it adds some extra time to your day and possible additional stressors, but hopefully, you can build enough repertoire with the crew member to have some even ground.
Establish some basic ideas- if you are under the pump with guests on mid-charter maybe you can have some hummus and some vegan "meat" ready for them to construct their own dish. Perhaps you have some pre-made black bean burger patties to quickly cook off for them, or some beyond meatballs ready to toss through pasta. It can still be quick and easy on you, as the chef, while also nourishing and ticking the right boxes for the crew member in question.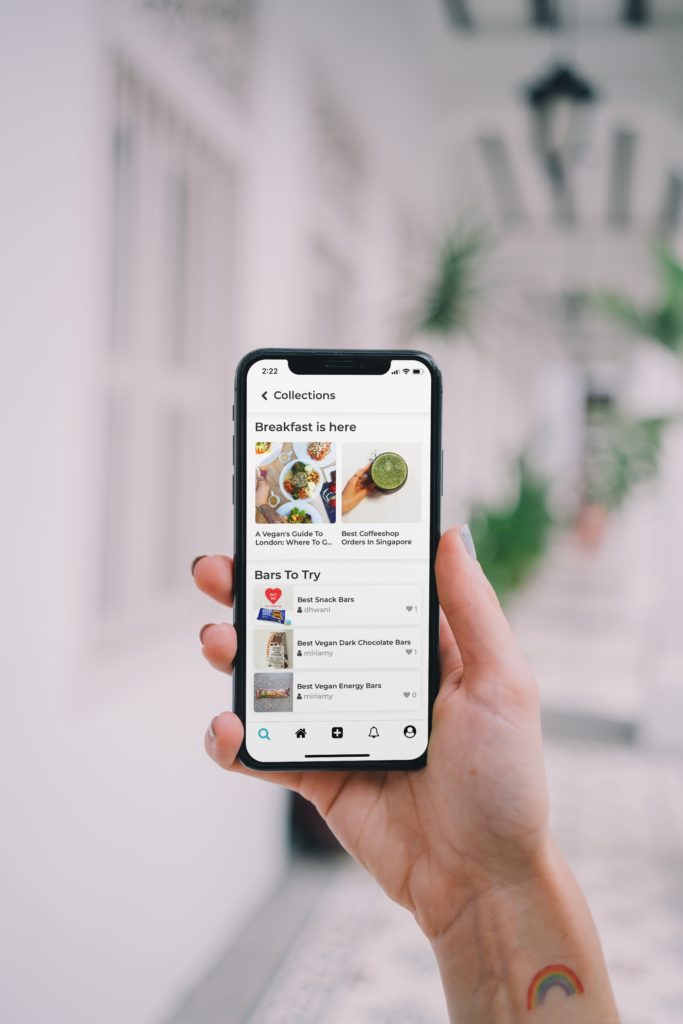 The 5 best vegan apps for yacht chefs this season
Food Monster
One Green Planet's Food Monster app gives you free and instant access to 20,000+ plant-based, vegan, meatless, and dairy-free recipes that are sure to satisfy all taste buds!
By subscribing to our monthly and yearly subscription options you can unlock our premium features like accessing 600+ category filters, creating meal plans, bookmarking recipes, and more!
Forks over Knives
#1 Food & Drink App and Featured as 'Best New App' by Apple – this is the essential recipe app from the makers of the critically-acclaimed film Forks Over Knives. Discover over 600 hearty and decadent meals from over 50 leading chefs, with new recipes added weekly!
Every recipe fits the whole-food, plant-based lifestyle that a growing number of health professionals recognize can help stave off and even reverse chronic ailments like heart disease and type 2 diabetes.
Happy Cow
Got questions about a place? Did something resonate with you? You can now comment on reviews to share your thoughts with the community!
Since 1999, HappyCow has helped users find vegan options at 156,000+ restaurants, cafes, and grocery stores in 180+ countries. Now it's easy to find vegan food delivery nearby, or get takeout. Read 860,000+ reviews and see 1,000,000+ photos posted by our awesome community! With HappyCow, you can search for vegan-friendly bakeries, health food stores, catering, farmers markets, juice bars, coffee shops, or other types of vegan businesses and use filters for delivery and takeaway!
Veggie Alternatives
With Veggie Alternatives, you can find over 300 animal-friendly substitutes for all your favourite food products, including Bacon, Ice Cream, Chocolate and even Eggs! Find recipes and buy products through the app – all with just a couple of clicks.
Veggie Alternatives is the perfect app for vegetarians, vegans, or anyone that's curious about what they eat – it's also great if you have veggie friends! Use our user-friendly interface to easily navigate through hundreds of alternatives and start replacing your favourite foods instantly!
Discuss everything related to veggie diets with others just like you in our Forum, have your questions answered by our Smart Assistant and recommend products and recipes that you'd like featured in-app – with Veggie Alternatives, new diets have never been so easy.
Veggie Alternatives has transformed the way vegetarians and vegans live by making it possible for anyone to cook up their favourite meals without compromising taste or health. With its easy-to-use Alternatives pages, the acclaimed app can be used by anyone.
Vegan Pocket
Just scan a product and it'll tell you if it contains animal products.
Do you agree with the list? Are there any that we have missed? Let us know in the comments