Here at The Superyacht Chef, we don't like to have favourites. But this weeks interview was a tough one to not get a bit of a chef crush on. When we first spoke to Kesi about doing an interview she was hesitant because of her self taught background, and her main experience being on smaller boats.
However, we believe yacht chefs come from ALL sorts of different backgrounds and work within the industry in many different ways. Highlighting the array of yacht chefs is one of the greatest things about this website- and, featuring a yacht chef who has worked for more than 5 years for The Yacht Week certainly gave us insight into another avenue of cooking on yachts.
The intricacies involved with working on these smaller charter vessels, and the lifestyles they can afford the crew are pretty amazing! Kesi wowed us with her writing and all-round positive vibes. If you were a 20something chartering a yacht for a week in Greece, you'd be stoked to have someone so vivacious cooking for you and showing you around.
Have any other chefs worked for The Yacht Week or similar programmes?
Follow Kesi on Instagram at @iamnot.a.chef or for more travel shots @kesitoandfro And don't forget to check out her travel blog at www.kesitoandfro.com
Can you tell us more about how you got into being a chef for The Yacht Week?
I do not have a traditional background in being a chef.
I graduated from the Wharton School of The University of Pennsylvania with a degree in economics. Post-college, I worked in finance in NYC for three years, where I rarely cooked. NYC living is all about Grubhub (take-out). In 2015 I decided to leave my job to travel the world. Two weeks before I was flying to Europe to begin my journey, I received a life-changing email.
The Yacht Week, a sailing flotilla (where I was a guest previously) contacted me and stated that if I could be in Croatia the following week, then I had the job as a hostess. I had little to no cooking experience, but decided to become a hostess because cooking on a boat in Croatia for a couple of weeks seemed like a fun way to start my around the world adventures.
I only worked four weeks that summer in 2015, and afterwards, I continued travelling around the world for a full year. After a year of travel, I realized I needed money again. So, I figured I could work for The Yacht Week again until I decided on my next steps. It turns out my next steps would be a new lifestyle of seasonal work as a hostess while travelling the rest of the time.
I have been doing this for almost five years now and proudly call myself a chef.
What are you working on right now?
I work for two sailing flotillas, The Yacht Week and The Bucketlust, and also do private charters. My last charter was the first week of November with The Bucketlust, where I was the chef on a Lagoon 520 sailing in French Polynesia.
There were five boats total on this flotilla. My next charter is on a Bali 4.1 catamaran over NYE with The Yacht Week as a part of a 22 boat flotilla.
As a sole chef, what are some of the biggest difficulties you face each day?
The most significant difficulty is lack of sleep.
The charters I work on, I want to 1) ensure guests are always safe and 2)become friends with the guests. Frequently this includes me staying up late to hang out with the guests and make sure they know how to get home from the parties.
I'm always the first one awake since I have to clean the boat and make breakfast, so being the sole chef can be very tiring, especially if I work several weeks in a row.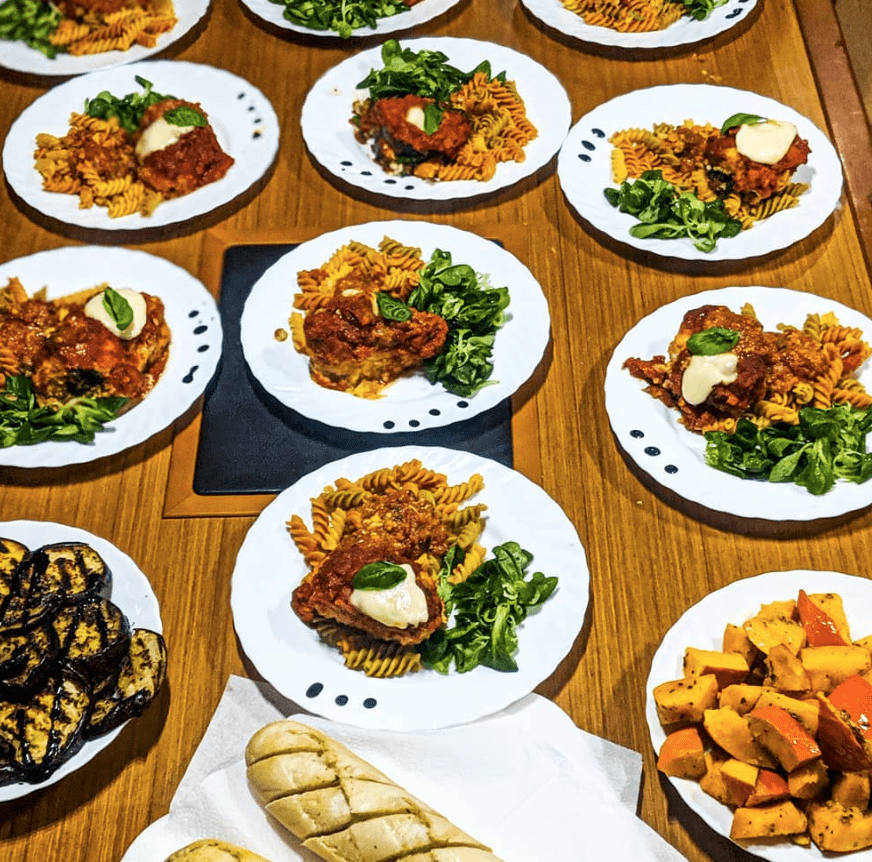 Do you have any great timesaving tips that you implement in the galley?
I soak all the dishes in soapy water first, and then I come back later to wash them. By the time I come back to wash the plates, they already are mostly clean.
What does a normal day look like for you on charter?
6:30 AM – Wake up outside with the sunrise. Smile. Life is beautiful
7 AM – Start cleaning the cockpit and galley
7:30 AM – Buy fresh fruit and bread from the market.
8:30 AM – Start preparing breakfast.
10:00 AM – Serve breakfast, usually buffet style
10:30 AM – Clean up breakfast
11:00 – Enjoy the sail with guests. Work on my tan.
12:30 – Start preparing lunch
2:30 PM – Serve lunch
3:30 PM – Crack a beer with guests. Explain what the activity options are for the day and night
4:30 PM – Meet with other hosts on the flotilla and rave or complain about guests or nap
7:30 PM – Head to a local spot for dinner with guests.
9:30 PM- Take guests to the night party. Dance. Take a shot. Dance some more. Never stop dancing.
1:00 AM – Head back to the boat to sleep
What are some of the most inspiring destinations you have travelled to as a yacht chef?
French Polynesia was magical, truly one of the most beautiful places in the world.
Also, Bonifacio, in Corsica, France, is mindblowing. When the boat pulled up to that marina, my mouth dropped to the floor because of the beauty. Croatia is like a second home since I've sailed there for the past five summers.
I am fortunate for all the places I've seen because of sailing. I've sailed many islands of Greece, Sardinia, Sicily, Thailand, the Caribbean, and Montenegro.
What are some of your favourite markets to wander through when you pull into port?
My favourite market is in Bol, Croatia, because of the two brothers who are owners and are extremely friendly.
They have fresh veggies, fruit, bread, and olive oil. Their service is impeccable. They will be like, "Kesi, you must try this tomato. Take a bite – it's delicious!" Then I take a bite and buy it because they were right.
They always give me extra fruit for free and offer to help carry my groceries back to my boat if I have a lot of stuff. Trogir, Croatia also has a great fish market with calamari, octopus, tuna, etc.
Where would you suggest other yachts chefs visit in their next leave?
East Africa!
It's my favourite part of the world to travel in. I love East Africa because there is so much to see and do. There are amazing landscapes like the Danakil Depression in Ethiopia, or affordable beautiful beach towns like Zanzibar, Tanzania or Lamu Island in Kenya.
The wildlife is impressive, and it's a new experience to see animals you know from the Lion King in real life. Also, the locals speak English, so it's a more immersive travel experience. Thinking about my travels in Africa brings me so much joy!
The most adventurous and memorable country I've been to is the Democratic Republic of Congo, so I highly recommend the Nyiragongo volcano trek and gorilla trekking in the DRC.
What would you say is the most exciting thing about being a chef in the super yachting industry?
The people that I meet. The reason I do this job is that I love meeting people from all over the world. I have a global network of friends and have been hosted in Nigeria, Australia, Germany, Brazil, and many more countries because of the relationships I made while working.
Also, the destinations I go to are incredible. I feel blessed that my job allows me to see places that would usually be inaccessible for me because of costs.
Do you have a favourite memory of yachtlife so far?
Jetskiing in Bora Bora is unforgettable. Bora Bora has the prettiest water wither several shades of turquoise. The jet ski tour went around the island, and I swear I had tears coming down my face because I was so happy at the moment. I couldn't believe where I was and how this was all possible because of my job.
What has been the most challenging thing so far in your yachting career?
I have significantly improved since I started my yachting career. As mentioned, I started with no experience, so it was a challenge to establish myself as a reputable chef.
I remember the first week I ever worked, and I wrote down a recipe for scrambled eggs!
I've been in the industry for five years now and have learned a lot. I am focusing on my plating and taking pictures of my food now, so people no longer view me as a novice. I started in yachting because it was something fun to do, but now I am in the industry because I love cooking!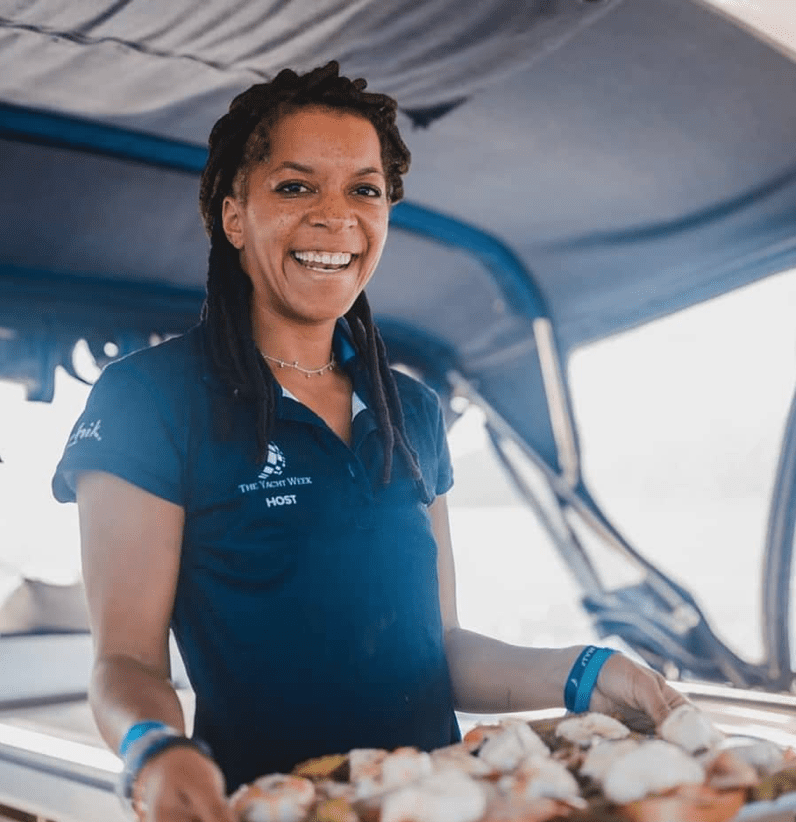 How is life on board a yacht different from your previous corporate work?
It's completely different! I used to work in finance in NYC, so I traded in my business suit for a bathing suit. When I was in NYC, I made more money, but I also had a lot more expenses. NYC is all about the hustle, so I felt the need to make a lot of money to buy beautiful things, go to the best restaurants, and party at the exclusive clubs/speakeasies.
My status was important, and my job title and the lifestyle I could afford determined my success in life.
Living on my boat, I have a lot less stress. I don't feel as judged and am more easily satisfied. I don't care about my appearance. I never wear makeup and love how my hair looks naturally with the saltwater and sun. I also don't have many items, since I live out of my backpack. It's nice to be minimalist.
I'm not saying one way of life is better than the other, because now maybe I'm less motivated to make a change in this world.
There's a certain energy in NYC that makes you want to make an impact. I do not have that desire with my current lifestyle. I have a simpler way of thinking. My goal is to have a positive effect on each person I interact with, whether it's a taxi driver, a guest, or a friend. Also, the amount of free time I currently have gives me a lot of freedom, which is the aspect I appreciate most about my lifestyle.
What advice do you have for new chefs coming into the industry?
If I can be a chef, anyone can be a chef! I have learned so much through the job, and cooking (along with travelling) is a big passion of mine. The Yacht Week is an excellent introduction to the industry. Although the pay is below the market rate, the environment is more relaxed, and it's a great way to hone your skills as a chef.

Tell us about your first yacht job?
I got my first job after I finished one week of training with The Yacht Week, now called Quarterdeck Academy. I lucked out with the job since The Yacht Week was desperate for hostesses at the time. I was so nervous on my first charter since it was the first time I cooked for others. I was attached to my recipe book (and even wrote down a recipe for scrambled eggs) and prayed that my guests would like my cooking.
My guests were from Australia, and they were great. They loved me, and the feeling was mutual.
What resources have you used to develop your skills more while at sea?
I learned how to cook on a boat, so I feel at home cooking while on a boat. I'm finally buying more chef tools like meat thermometers and plating rings.
What are your favourite dishes to make?
I love making seafood dishes – Tuna is always a winner, whether it's sesame-crusted tuna or sushi. I also love lamb chops right now because they don't take a long time to cook, and you can incorporate them into different types of meals.
Where do you get your inspiration for dishes, ingredients or plating?
Pinterest is useful, and I also started watching more Youtube videos. One of my favourite recipe sites is Food52 because the comments sections are always quite active. I also use my colleagues at The Yacht Week for inspiration.
How do you deal with crew dietary requirements on board?
I don't mind dietary requirements because it allows me to get more creative with meals. I encourage guests to tell me their nutritional needs so I can make alternative plans, but I take dietary requirements as a fun challenge.
Do you have a great Charter save story?
I was baking a spinach-ricotta stuffed chicken in the oven when all of a sudden, I smelled smoke. I went back to the stove and witnessed the baking paper was on fire in the oven. Instead of burning the boat down, I was able to put the fire out and still save the chicken!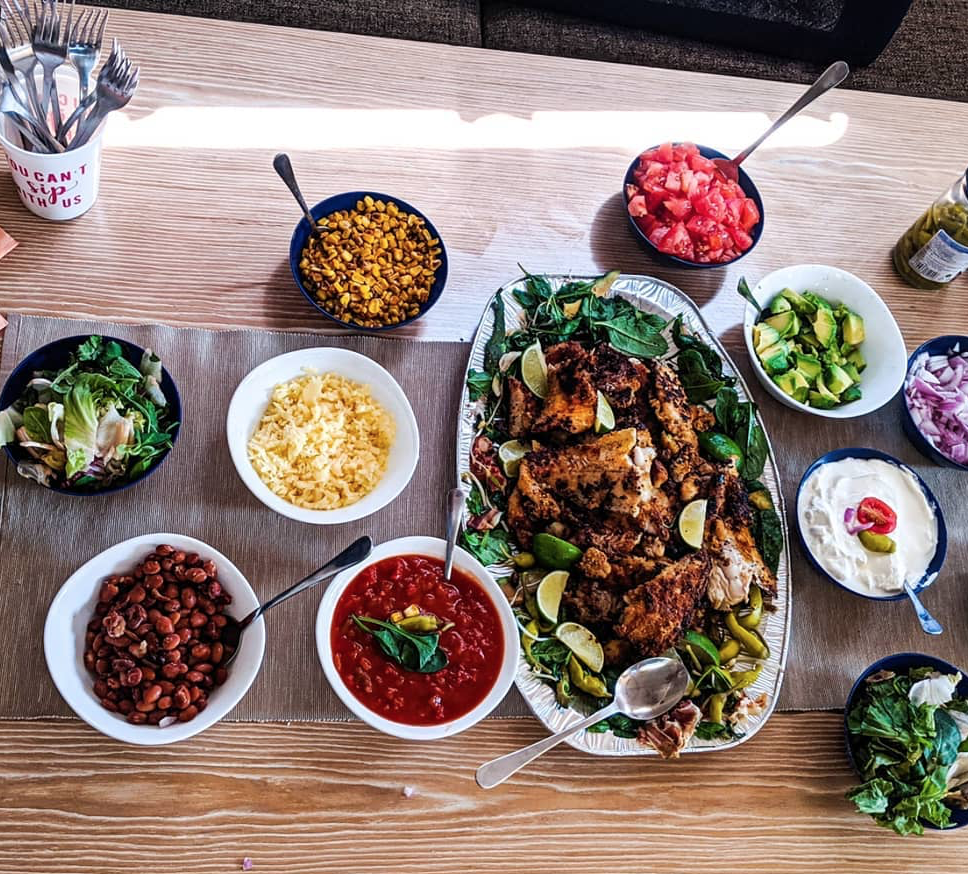 Do you have a fun charter memory you can share?
Working for The Yacht Week and The Bucketlust, there are a lot of stories, but they aren't all appropriate to share.
One of my favourite memories was from my last charter in French Polynesia. All five boats on the charter made a standing circle raft (the boats were in the shape of the circle, and people were in the middle standing in the water). We also tied soundbox speakers and put them in the middle of the circle raft with additional ropes so people could climb up and try to mount the soundbox. The circle raft lasted for hours, so it was all great vibes with music, great people, drinks flowing, and it ended with the sunset.
What is your 'show stopper' charter dish?
People love talking about my poke bowls. I love the recipe because it works great with raw tuna, steak, or tofu. I prefer to make the dish with fresh and local tuna, but sometimes there are vegetarians or non-fish eaters, and the poke marinade tastes great on whatever it touches!
How would you describe your style of cooking?
My style is cooking is "with love." I am a chef because I want to make people happy with my food, whether I make comfort food like buffalo chicken or something savoury and delicious like a sous-vide steak or a poke bowl. No matter what dish I make, I put a lot of effort into it because I want to make sure my guests enjoy it.
What are your favourite instagram accounts to follow for inspiration?
@fat.kineza
@eatsbyleah
@cooking_on_a_yacht
@shine.dining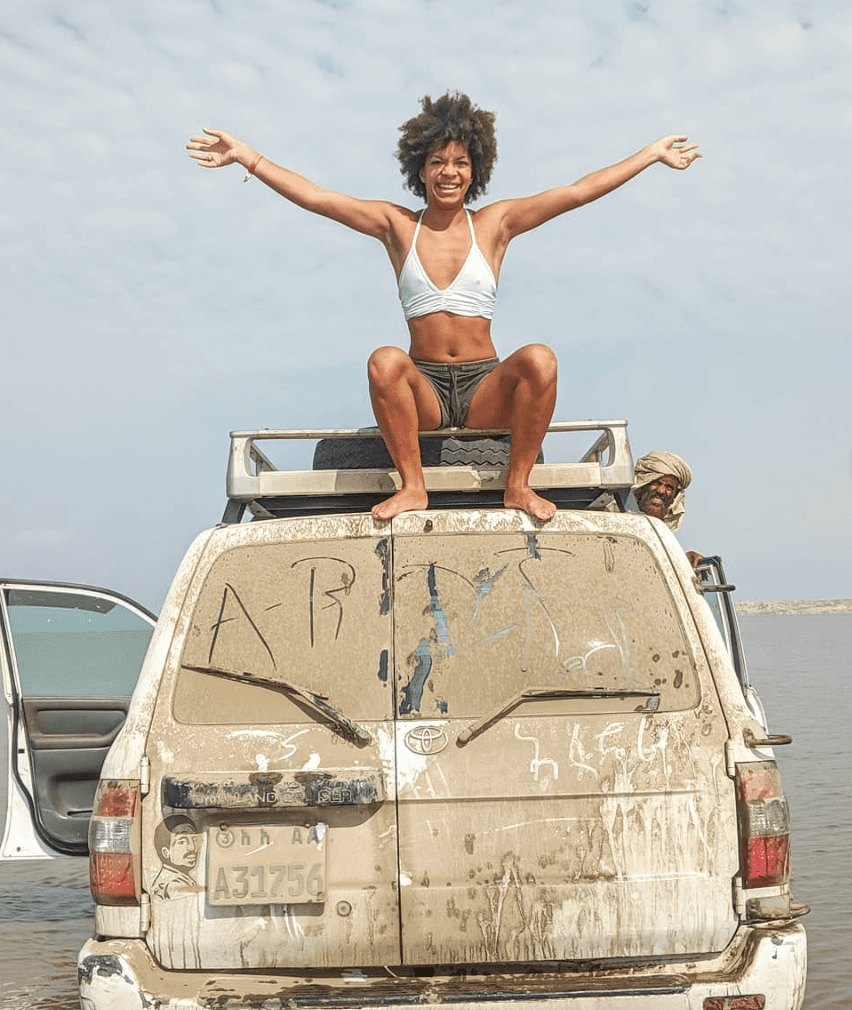 What are your plans for your next leave/downtime?
I only work three months of the year, so I have a lot of downtime. I have a travel blog, Kesi To and Fro, which focuses on travelling to off the beaten path destinations (like the DRC), how to travel more locally, and how to sustain longterm travel. Currently, I'm busying updating my website with new blog posts. After my charter over NYE, I will backpack in Central America. I'm celebrating my 30th birthday with 20 friends at a villa in Nicaragua.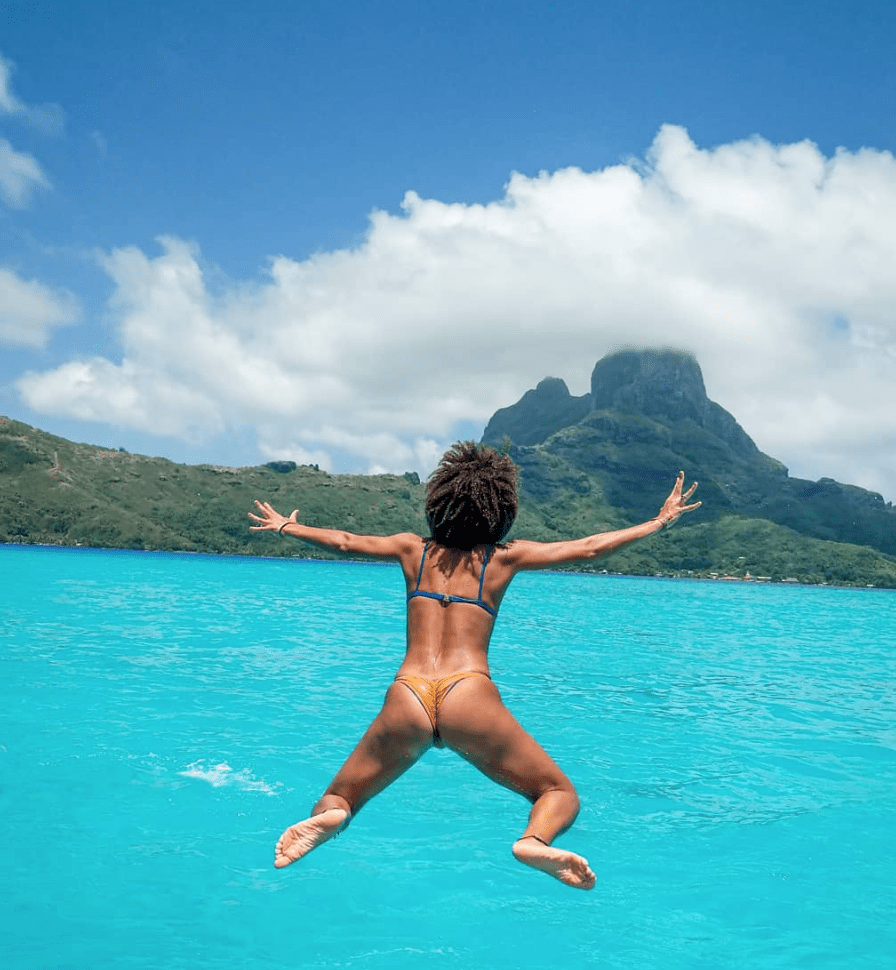 Favourite…?
Protein to work with? Lambchops
Vegetable to work with? Eggplant
Cuisine to cook? Asian
Service style? plated/buffet? Plated looks better, but way more dishes to clean, so Buffet!
Meat free Mondays, yay or nay? yay – although I don't follow it, I support it
Crocs or Birks? crocs
Med or Caribbean? Caribbean
Port to be based in? ACI Split
Boat you have worked on? Lagoon 50 (I like it more than lagoon 520)
Crew member? Alex Weikert, he's a young german skipper that caught my eye 😉
If you were to gift someone one cookbook, what would it be…?
A personalized cookbook with recipes that remind me of them. (My sister did this as a Christmas present one year for each member of the family, and it was quite extraordinary).
If you could convince the captain to drive the boat anywhere in the world right now, where would that be?
The Soloman islands, because it's a hard place to get to, and I've always wanted to have blond hair. There are brown-skinned people with blond hair, so I could see how it looks in actuality.
If you could have a table at any restaurant in the world for a dinner, where would you go, and who is your dinner date?
I've always wanted to try Per Se. I don't have a specific person in mind for my dinner date, but I'd want them to be highly educated. I would love to talk to someone who understands the social and political culture in Africa and if they had any ideas on how to stop corruption and encourage economic development.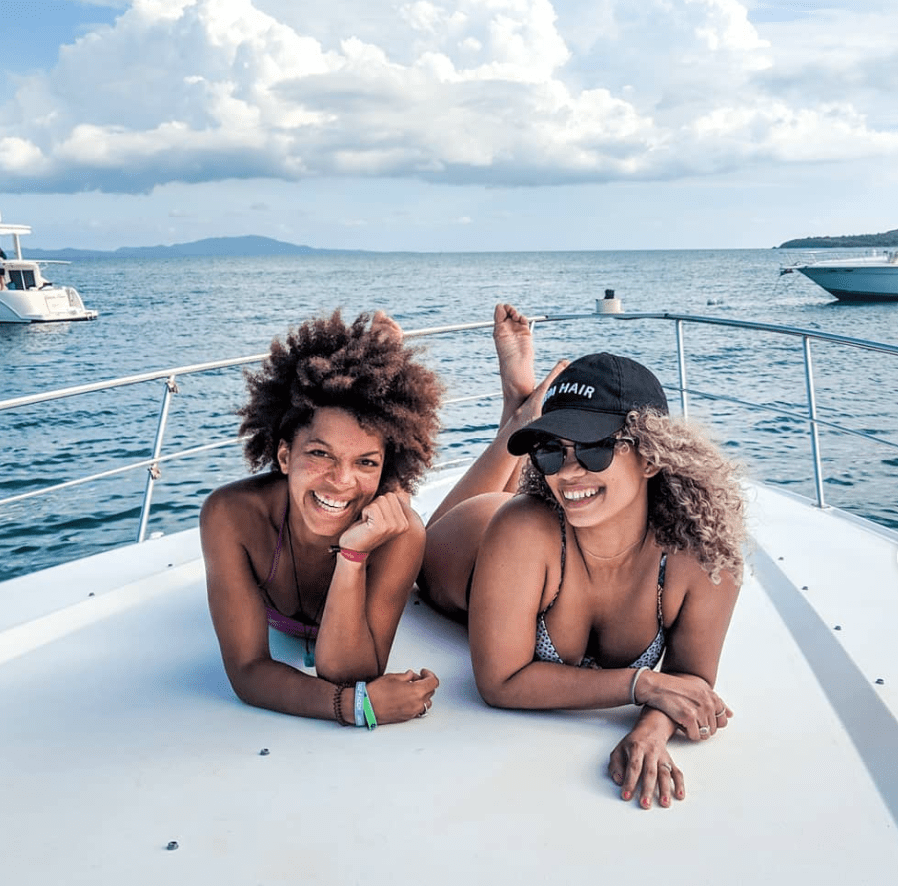 For more yacht chefs who blog in their downtime, check out 2 kiwi chefs: Rachel Cunningham and Nick Walden