You might know charter yacht chef Danny Davies best as @futurechefproject on Instagram. Or you may have seen his smiling face around the ports over the years. He is well known online for his lively insta page as well as his presence in yacht chef competitions in Fort Lauderdale. Let's get to know him more, and find out how he became a charter yacht chef.
Contents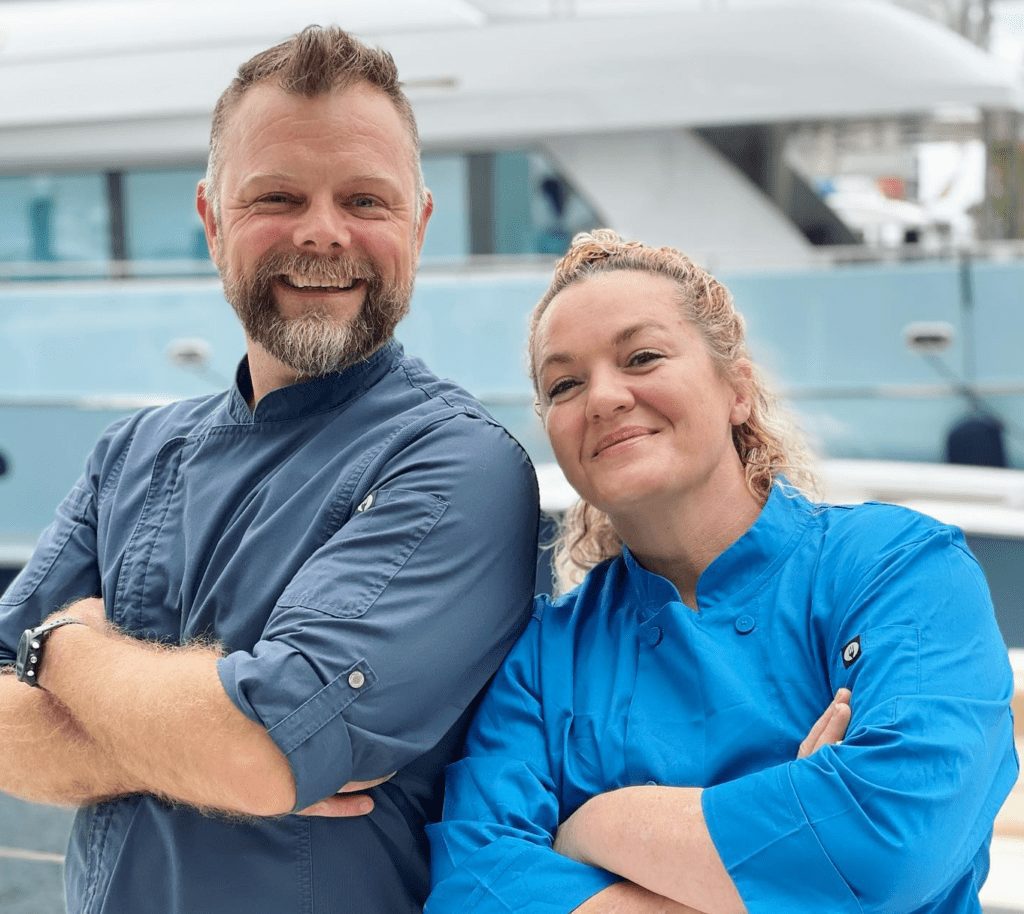 April 2022 Update
What is your current work situation?
I left Project Enzo, now M/Y Ahpo in December 2021. I'm back cooking for a fantastic UHNW family in South Florida and NY, plus I travel with them on their yachting vacations. My boss is in finance and an ultra-athlete. I have to provide him with a nutritious plant-based diet that compliments his tastes. Plus feed their kids and house staff. It's challenging and has allowed me to develop a number of projects I'm working on which has been great for me.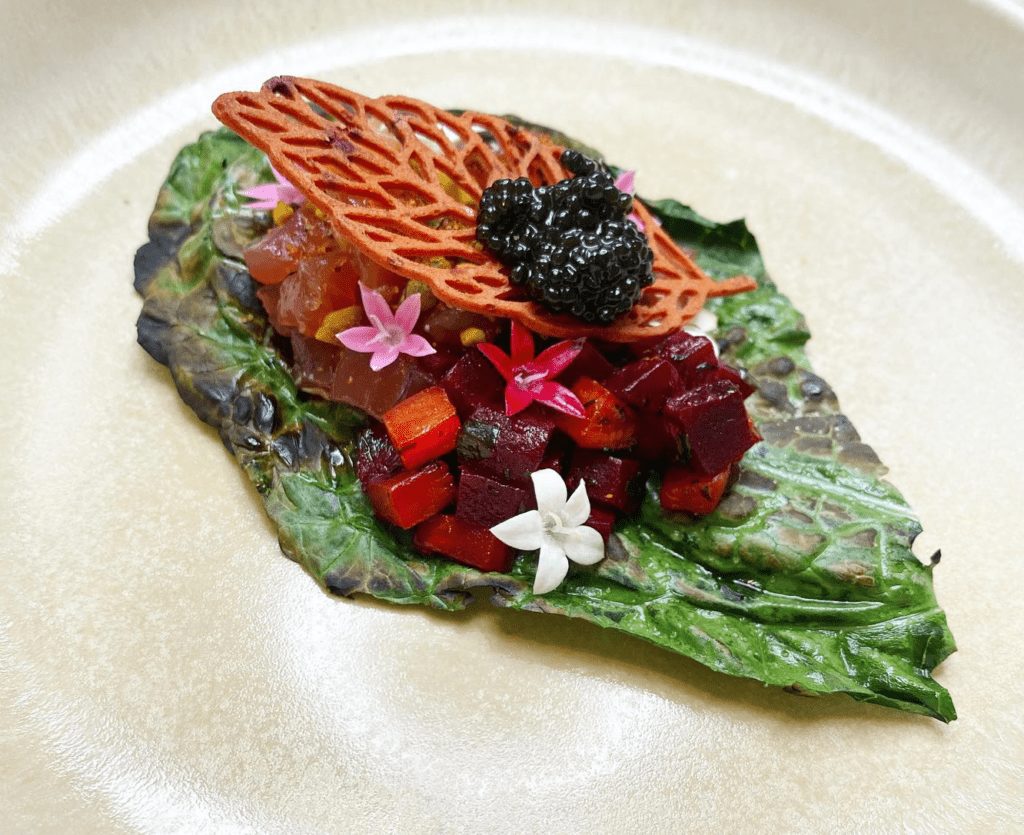 What were some of your galley highlights of the past season?
Getting to work onboard M/Y Ahpo, Project Enzo at the time was fantastic. It is a beautifully designed mega-yacht with so many fantastic features and a cool design. It truly blew me away each time I when onboard. 
I flew out to northern Germany at the Lurrsen shipyard. In the cold bleak weather, every day seem surreal when you stepped onboard this 380ft yacht. The galley and chef areas were great with plenty of storage and all the Mod-cons, toy and tech you fit into a galley. I should know I pretty much moved everything onboard by hand.
I set up all of the galley and cooking areas on the boat. I also ordered and received all of the equipment and food provisions for the yacht's maiden voyage to Jamaica. Where it was delivered just in time for a birthday celebration.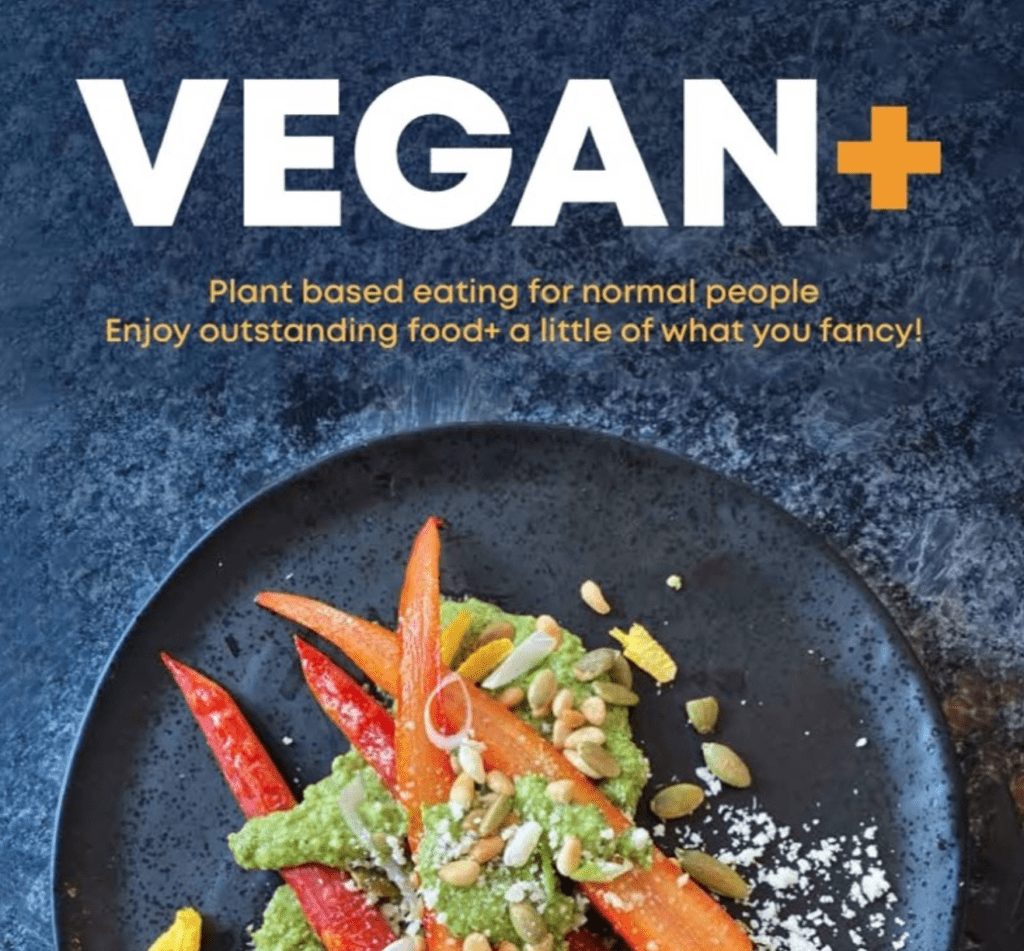 What has been the greatest achievement you have had recently? 
I recently won the Monaco Chef competition.
I was featured alongside some of the UK's best chefs, including Gordon Ramsey and Ben Murphy in a Book published by CHEF and Choose hospitality, the book was distributed to all UK catering colleges and Culinary apprenticeship programs.
I was a chef lecturer in the UK so it was a great achievement for me to be included.
I have also released my first recipe book, Vegan+ Plant-based eating for normal people. And have another few books in the works.
Related: Vegan cookbooks for yacht chefs- incl the link to buy Danny Davies's book Vegan+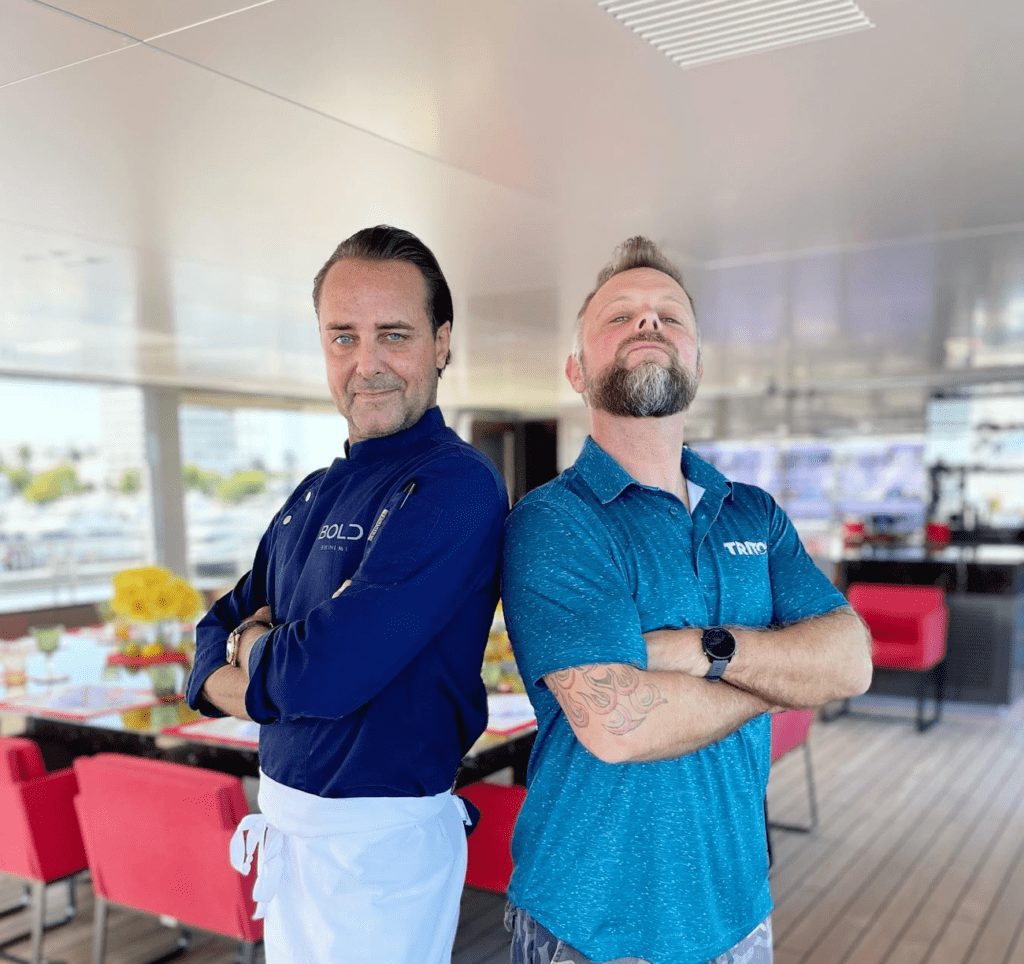 Tell us more about "Behind the line" how did it come about
I have started filming a podcast with Triton News in which I interview and chat with Yacht chefs from around the world. It is now available on Spotify and YouTube also via the Trition News website.
What do you have planned for 2022 professionally? 
I plan to keep filming podcasts and writing cookbooks. I'd love to do a little more travelling with my podcast and visit some of these awesome yacht chefs in the Bahamas or Caribbean. 
Original Interview April 2021
How did you become a Superyacht chef?
Before yachting I was a chef consultant, I helped hotels become wedding venues and opened a number of restaurants and cafes. I was an executive chef lecturer at London's first career college of Food, Hospitality & Enterprise. Plus, just under 10 years as a British Army chef class 1. For the last year of my service, I cooked for HRH Prince William & Harry at The Household Cavalry regiment in Windsor. 
I got into yachting as a way to carry on cooking, to get back on the pots and pans again. I found a friend on Facebook who was cooking great food on a yacht. He was from the British Navy and gave me some sound advice and I started rewriting my cv!
Nothing gives me more pleasure than cooking outstanding food onboard luxury yachts in the most beautiful places on the planet. I'm really honoured to be able to do such a fantastic job. I get to work with awesome characters both on deck and in the interior team!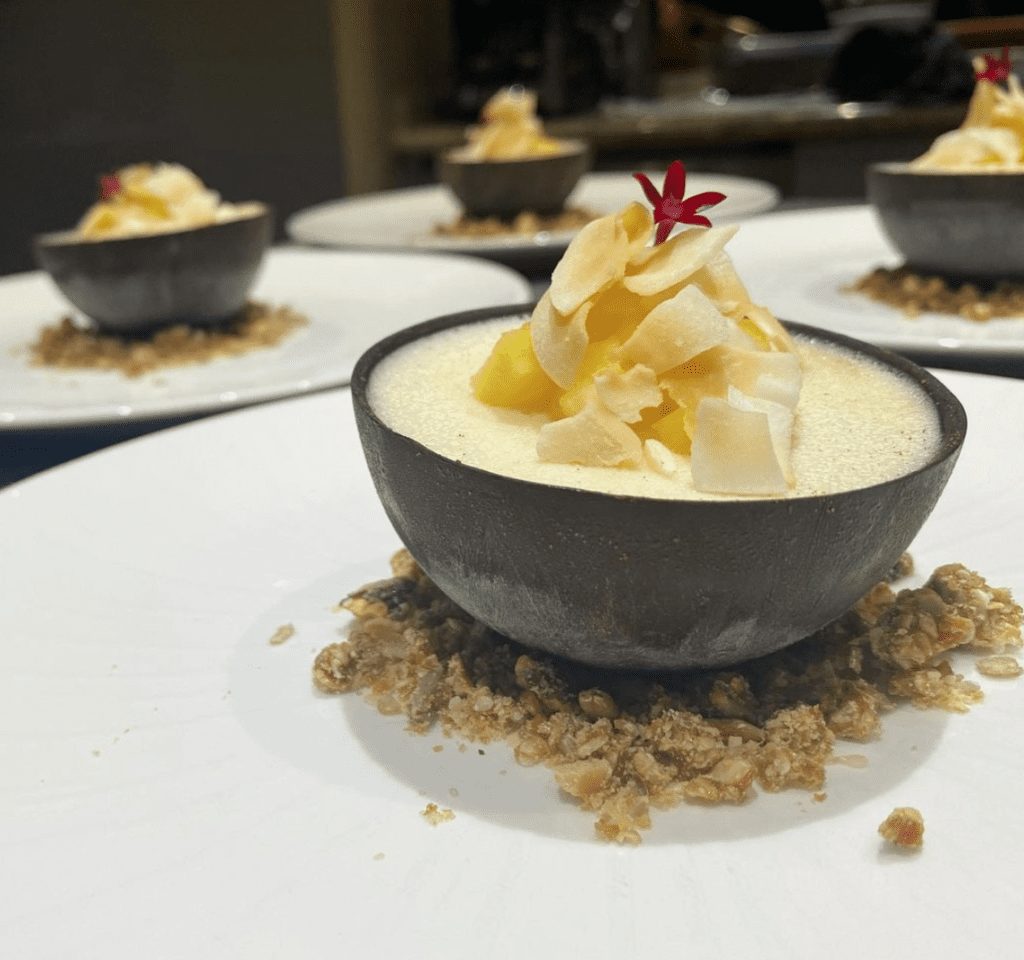 What is your formal chef background?
I trained at Buxton catering college for two years, later on in my career I became a chef lecturer and completed a teaching degree in culinary arts. I taught hospitality & catering for 7 years. I gained a vast amount of technical knowledge and ran two successful student-lead restaurants.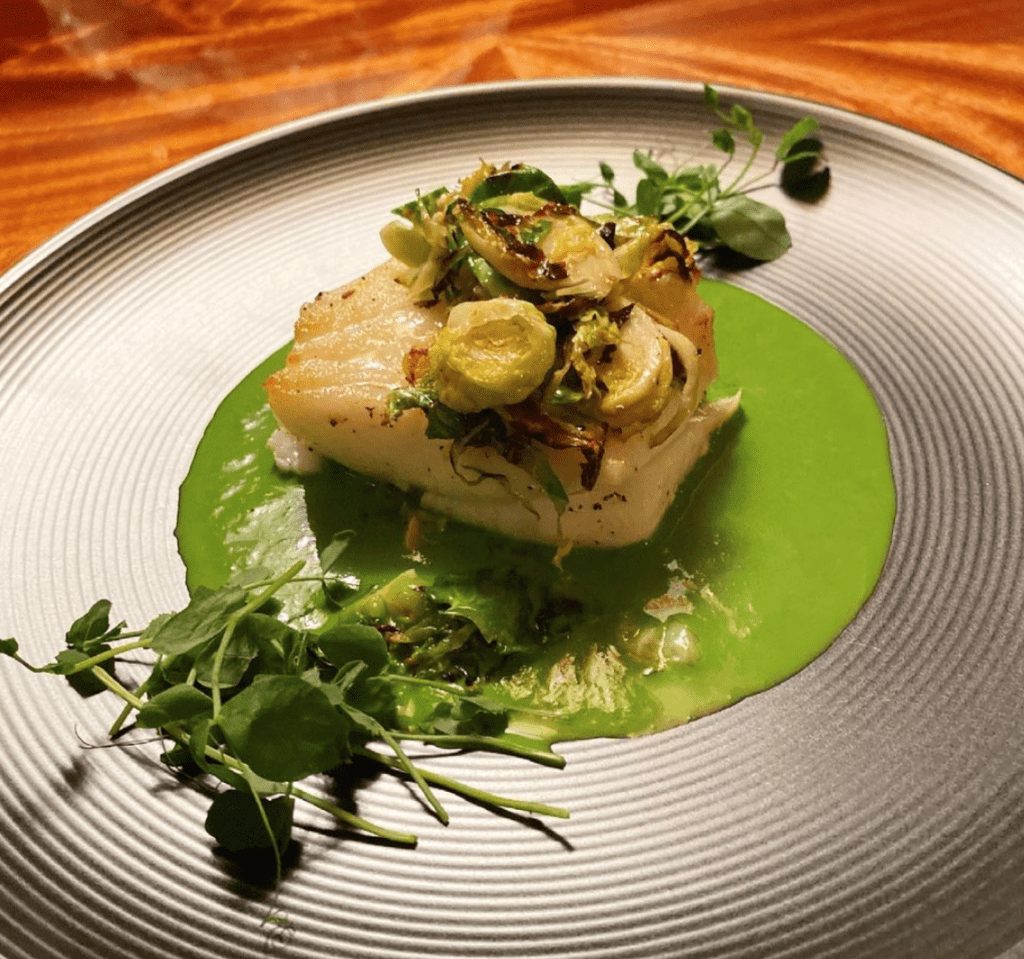 What are you working on right now?
I've just stepped off a 46m super busy charter yacht based out of Nassau, Bahamas. We regularly did back to back charters in the Exumas, Chub Cay and Staniel Cay. I was the sole chef looking after a crew of 9, around 8 to 12 guests. We often did 24hr turnarounds with both boss trips and charters. To say it was a busy program is an understatement. Two years was a long time to grind out charter after charter, but it taught me two things, use everything you have to produce the best you can. Provisioning is the most important thing to get right, and plan ahead!
Crew morale is vital to a successful trip for the crew and the guests. Nobody wants to go on an excursion with a grumpy Decky. I always try to cook the kind of 'healthy' comfort food people enjoy. I want that 'home cook feel' to my crew's food. Asian food is a favorite of mine so are breads, curries, pies and plenty of healthy salads.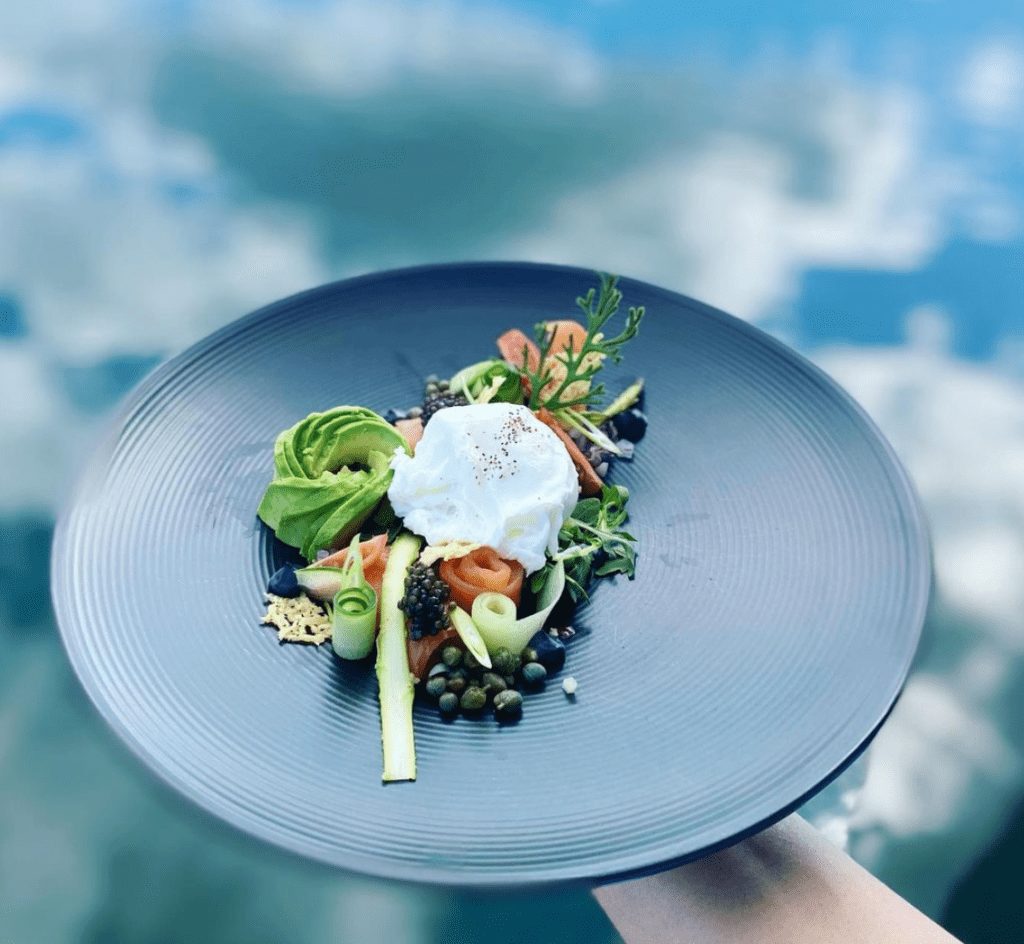 As a sole chef, what are some of the difficulties you face day-to-day?
Time management is fundamental as a sole chef. You have to have a clear plan of what you need to achieve that day, the following day and plan for the next provisioning run.
I've always found crew food to be the easier part of the job, as long as I'm able to feed everyone what they like to eat. I know some yacht chefs don't want the hassle of cooking three or four different things for the crew, but I honestly don't worry about it. I see it as a way to use up leftover guest food.
I like being able to make use of leftovers to create new meals, it also minimizes waste, which is so important when you only have the food in the dry store or fridge. I try to feed the stews the 'just in case' portions I make for the guests and every chef worth their salt knows that the sneaky 'spare' dessert will score you extra brownie points with any crew member! 😂🤣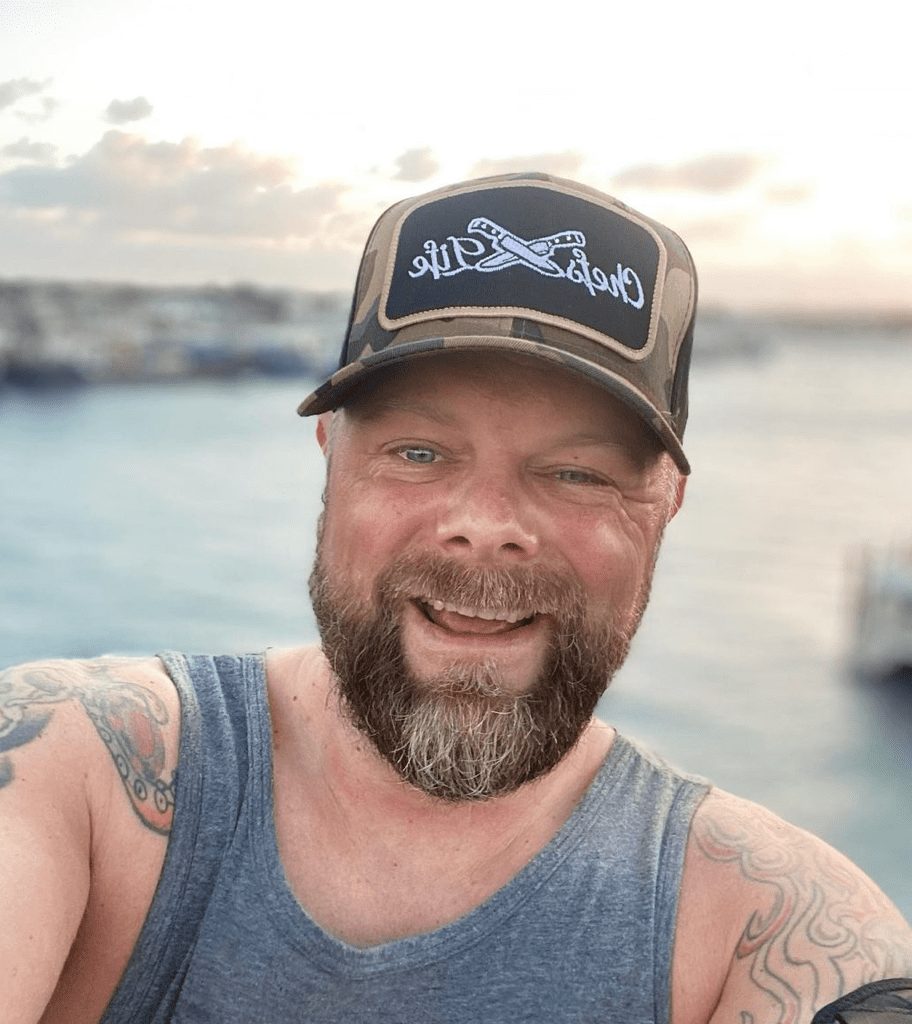 What does a normal day look like in the galley on a charter?
I'm up at 6 am in the galley with a coffee by 0630hrs for breakfast prep.
I try to get dinner and lunch desserts baked in the morning. I always make fresh muffins, cook the bacon and bake the breakfast pastries. Then start preparing the fruit platters, etc. After breakfast service is done for me. I start crew lunch, I'll have that ready at 11:45.
Guest lunch prep/crew dinner prep. After guest lunch service. I push on with crew dinner prep and guest dinner prep. I can normally get everything squared away by 3:30-4 pm.
Crew eat at 6 pm and guest dinner can be anytime from 6:30 to 8:30 to start service. Onboard MY Excellence we had a well-oiled team, we could smash an awesome service in around an hour and a half. Cleaning up at the end of the night was normally a good giggle and normally consisted of singing songs to the tunes while we washed the dishes and cleaned the galley.
Bed by 10 then rinse, sleep, rinse and repeat!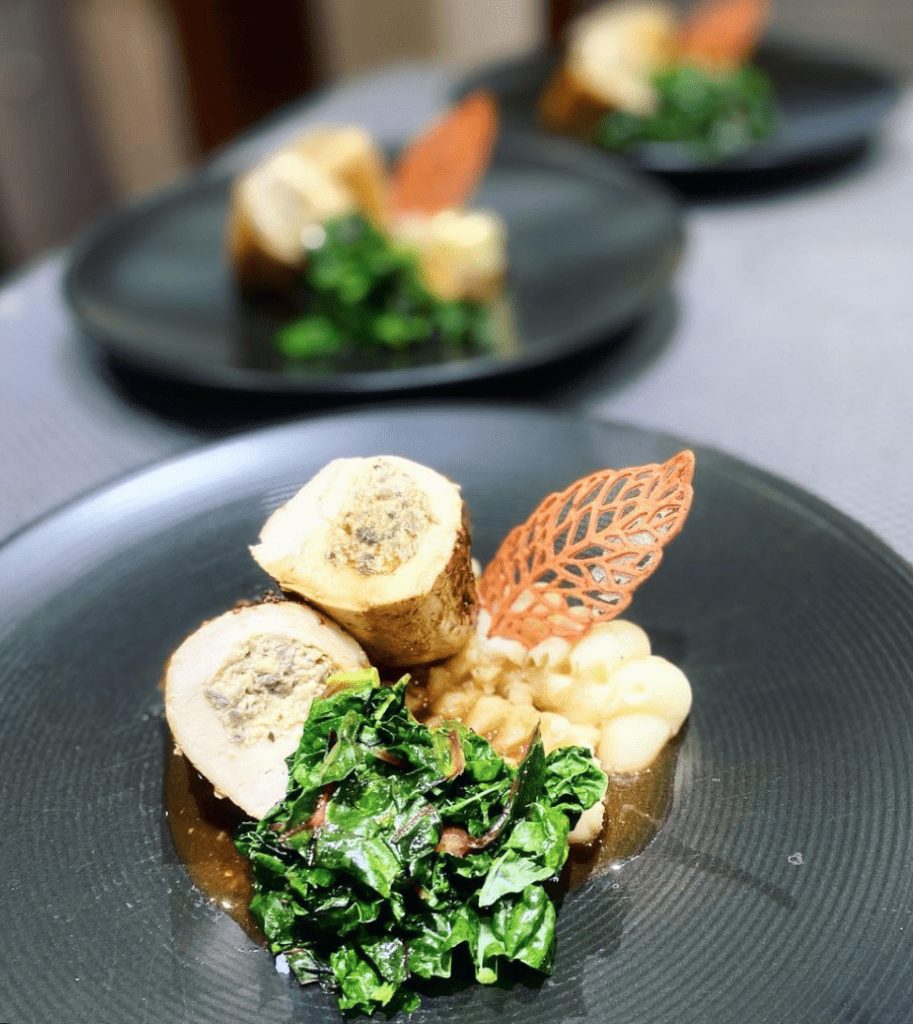 What are some of the most inspiring destinations you have been able to travel to as a Superyacht chef?
I really enjoyed the Mediterranean milk run. But the BVIs blew me away with their beautiful islands and fabulous diving! I was sous chef on a 75m Lurssen, we crossed from Europe to the BVIs and completed a charter over Christmas and New Year. I've never seen water so clear, the reefs were beautiful, truly breathtaking. 
I have also spent a lot of time in the Exumas National park and it's stunning. The sunrises and sunsets are so incredible, it's sometimes hard to believe your eyes.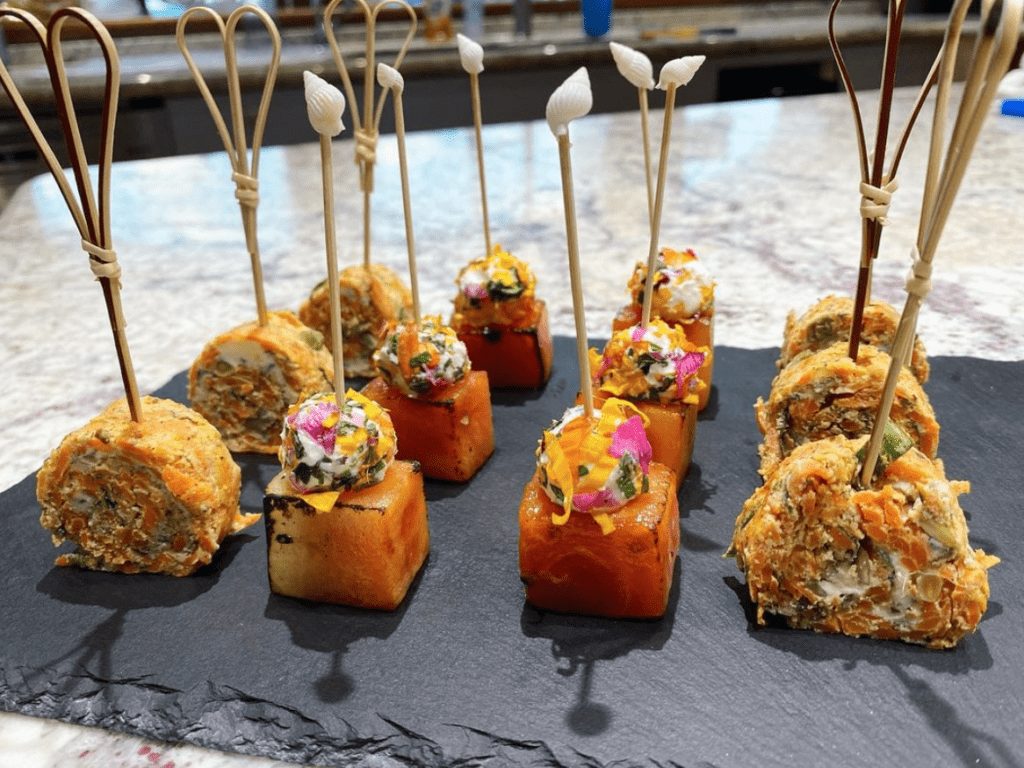 What are the most exciting things about working in the super yachting industry?
The most exciting thing I found about being a yacht chef is the other chefs I've met in crazy places all over the world. I've made friends with some outstanding chefs that have inspired me, I love helping like-minded people to succeed in doing what they love.
People like Andrew Lichaa, Manny Vasquez, Jamie Tulley, Enrique Espinoza, Micail Swindells, Pete Frost, Emily Cabanas, Patricia Clark, Kate Elizabeth, Owen Morgan to name but a few.
I've made so many friends via Facebook and Instagram. Being able to met up and have a beer or meal is always the best fun. I recently spent the evening with Andrew Lichaa & Emily Cabanas in Atlantis, I haven't laughed so hard in years and can not wait to read Emily's book when it comes out!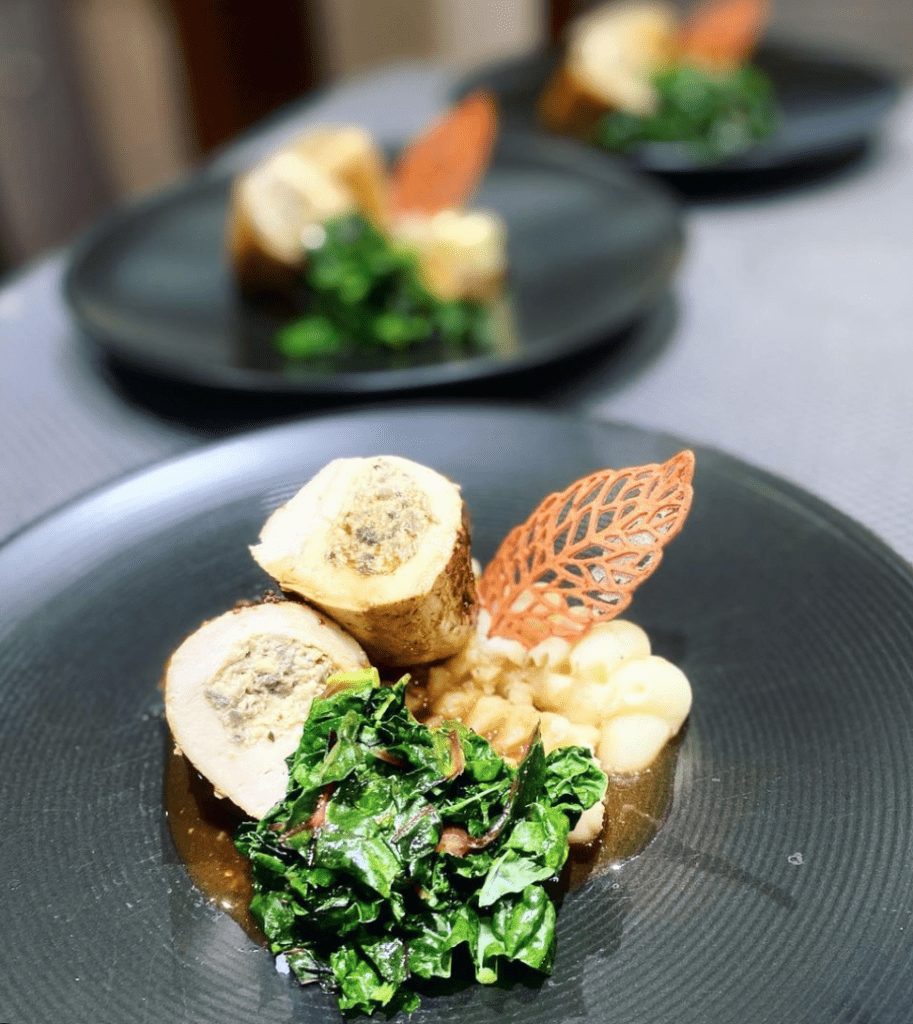 What has been the most challenging thing about working in the yachting insert?
How fickle the industry can be. As a chef you're only as good as your last meal. If the boss doesn't like it, you're gone!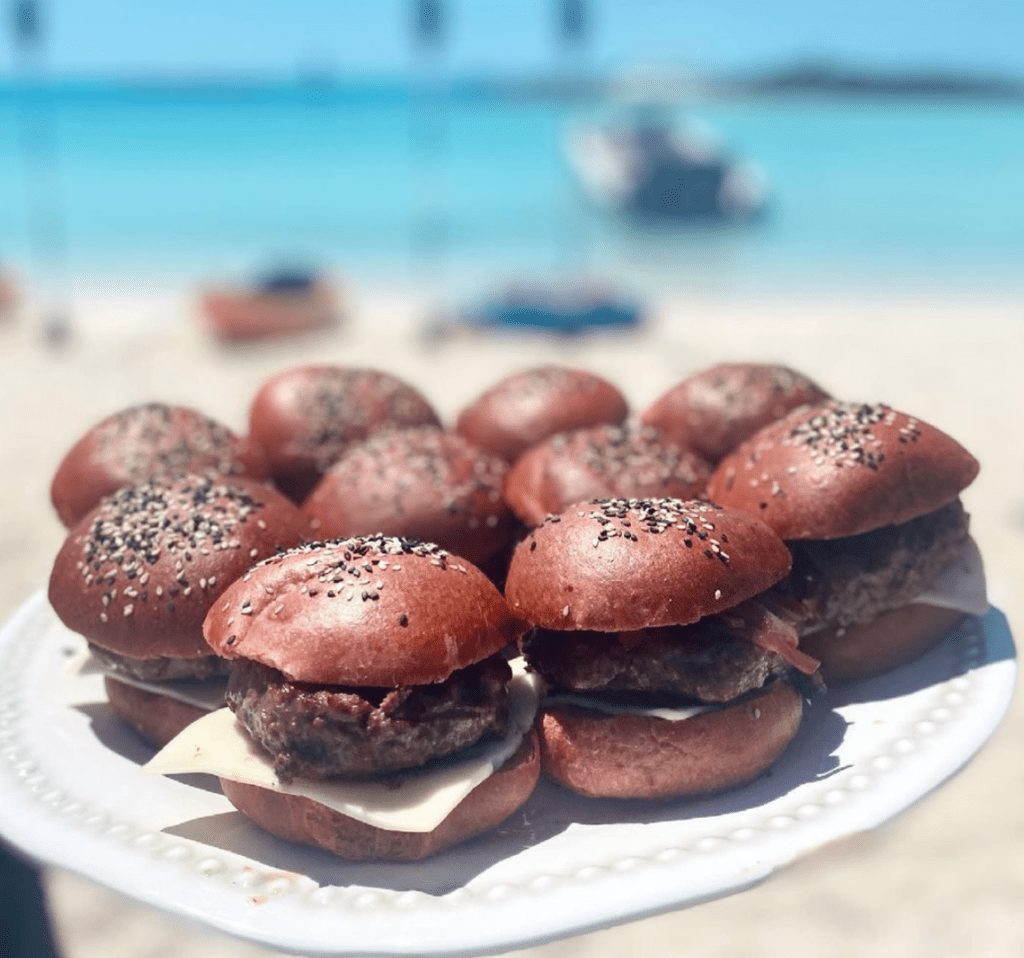 What advice do you have for new chefs coming into the industry?
Don't work for peanuts, in other words, know your worth.
Establish yourself as a professional chef and make sure that you can deliver what you promised at the interview.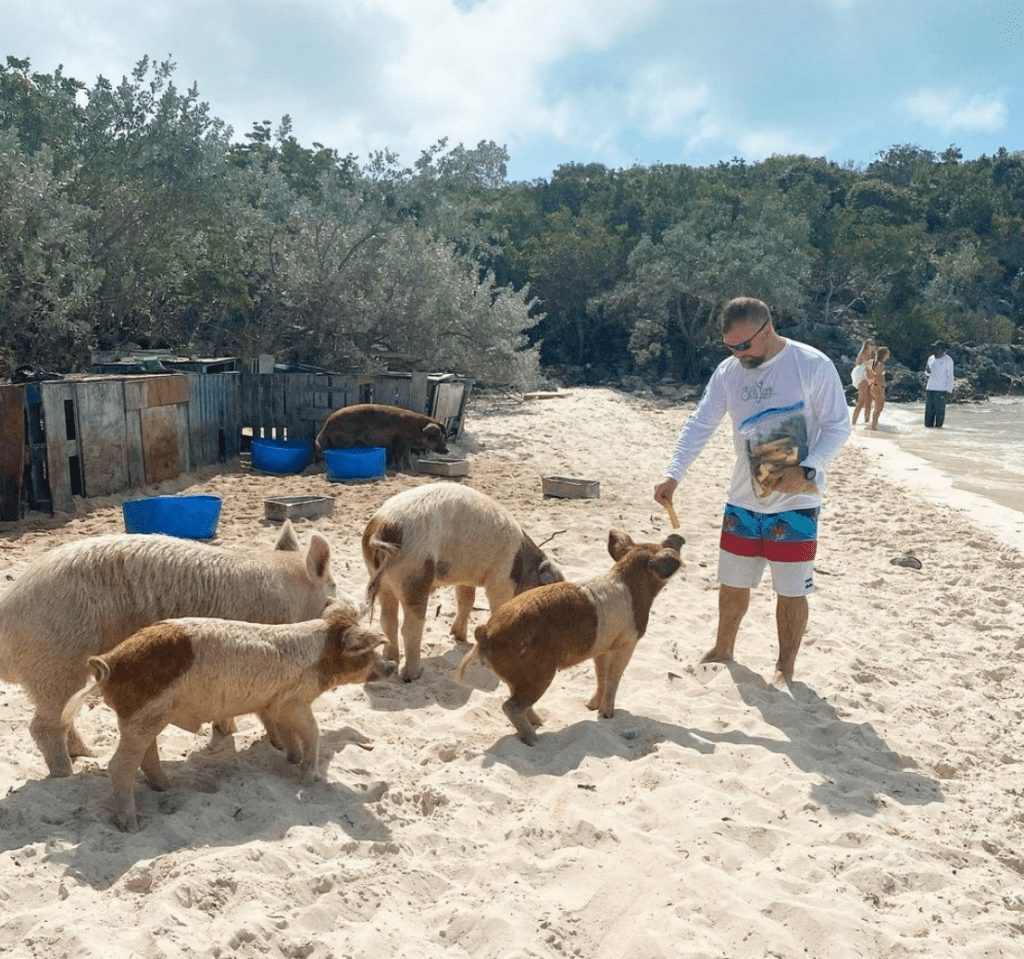 Tell us about your first yacht job.
My first job was as the salad chef on a 125m Royal Yacht. It had a huge crew of 60 plus two galleys. The boat was beautiful and had everything, I mean everything plus another 100m plus support vessel.
My first charter was with Lady Joy in the Exumas. I found it entertaining to say the least and worked hard for my tip, which was very nice!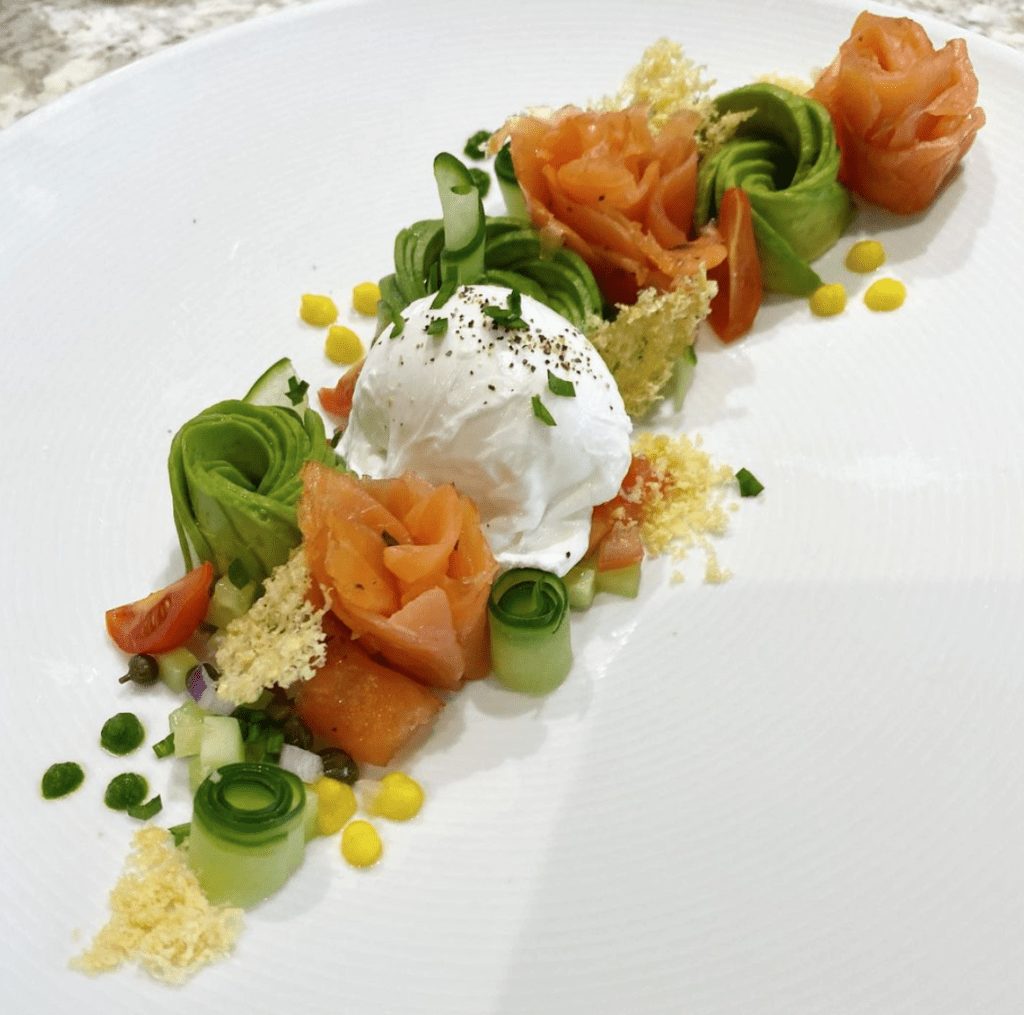 Where do you get inspiration for dishes or plating?
On Instagram, I spend far too much time looking at other people's food in my spare time.
I like to draw my new dishes and work out how I'm going to plate the dish.
For ingredients I like to play with the guests preference sheets and see how I can use their requests to my advantage. For instance, I had a couple that did not want any mayonnaise or aiolis on their food. I use aiolis a lot with my tried and tested dishes. So I adapted and made vegan purées of different veggies to create the same effect but without the extra oil and egg yolk. Bags of flavour and colour. It went down really well and was offered a job at the end of their charter.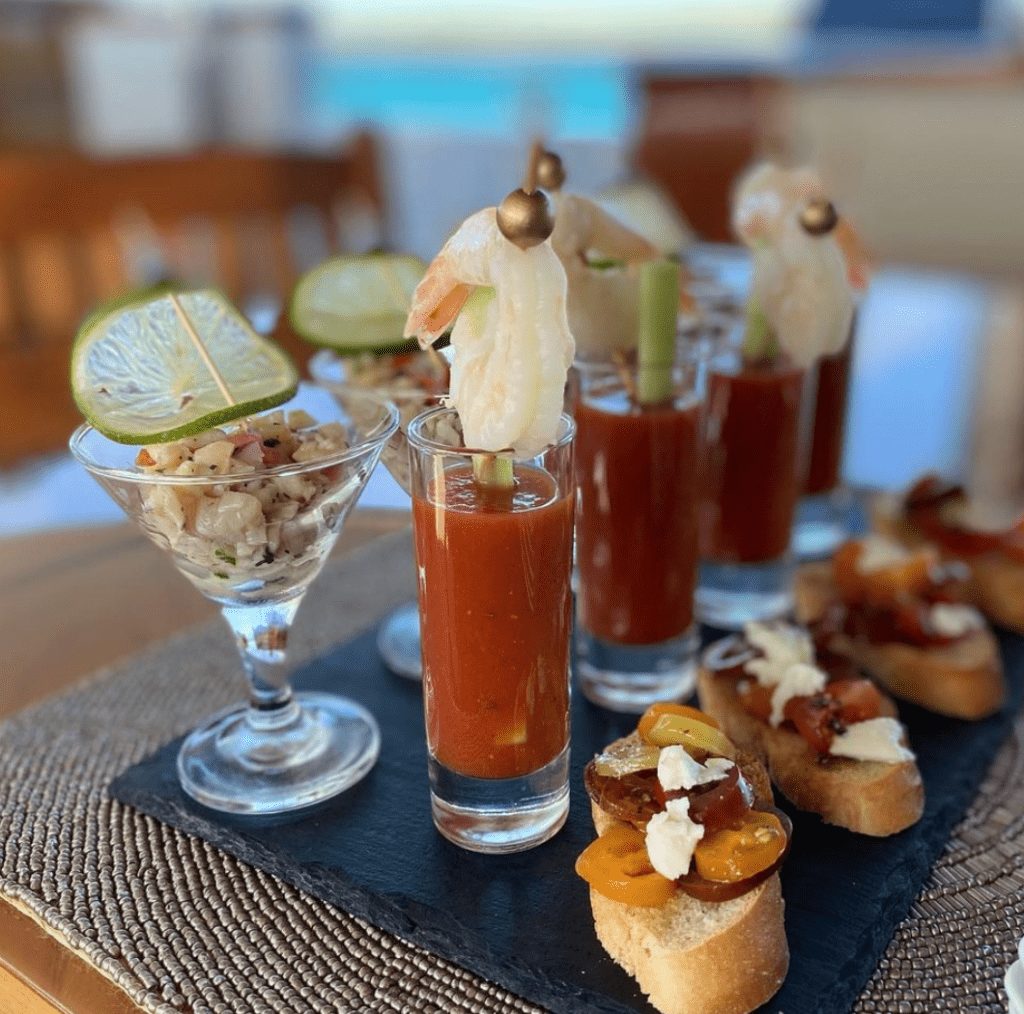 How do you deal with crew dietary requirements on board?
The way I see it is, everyone has to eat something, right? Why people 'choose' to put restrictions on their own diet is down to that individual.
Medical requirements are another subject. I like to keep everyone happy. So, I feel the three or four different dishes for crew lunch and dinner is normal and a good way to stretch the food you have onboard.
Of course, I understand that comfort food from your home country can make for the best dinner after a crazy day.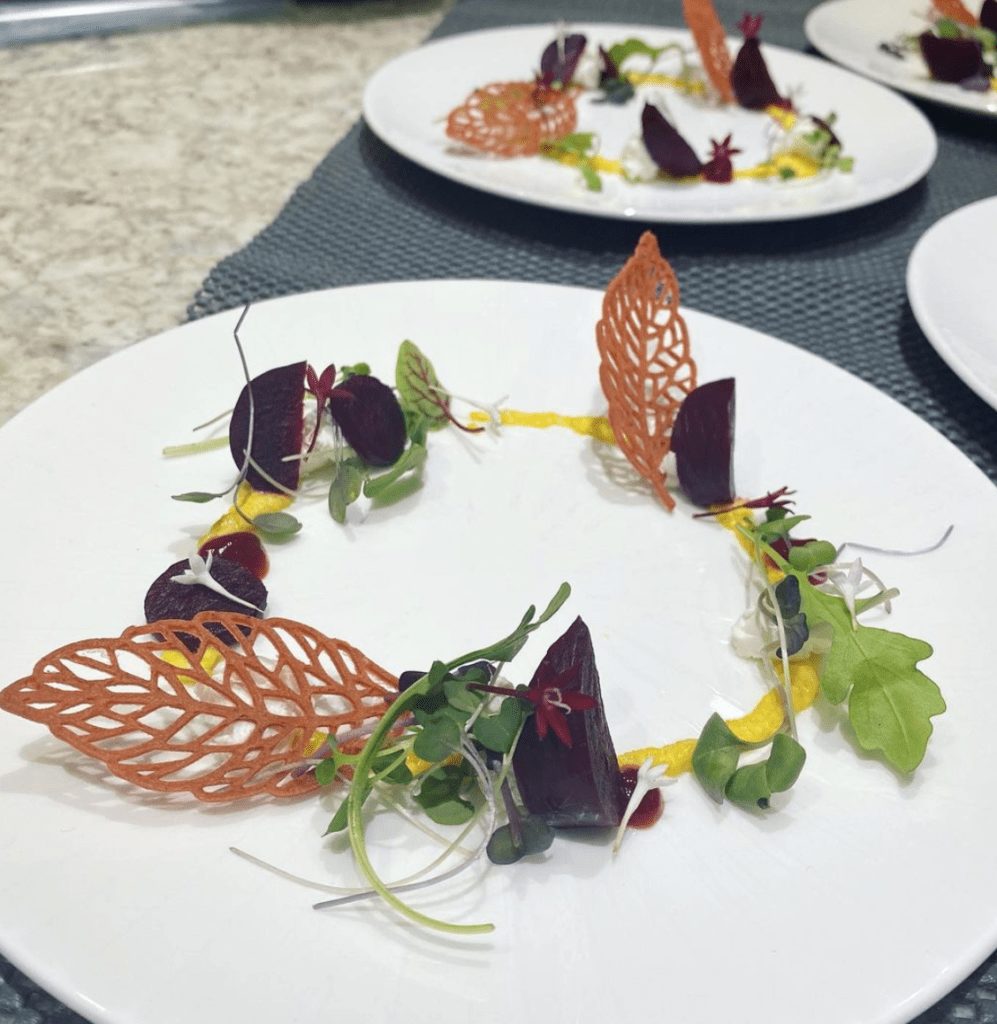 Do you have a fun charter story that you can share?
There have been so many fun charters over the years. I've fed heads of state and celebrities but the best fun I've had has been with my last yacht's owners.
A day fishing on their 92' Viking was the best fun I've had in a boat! Cooking tacos while fishing for tuna next to oil rigs in the Gulf of Mexico was out of the world. Such a lovely couple, I'll really miss those days!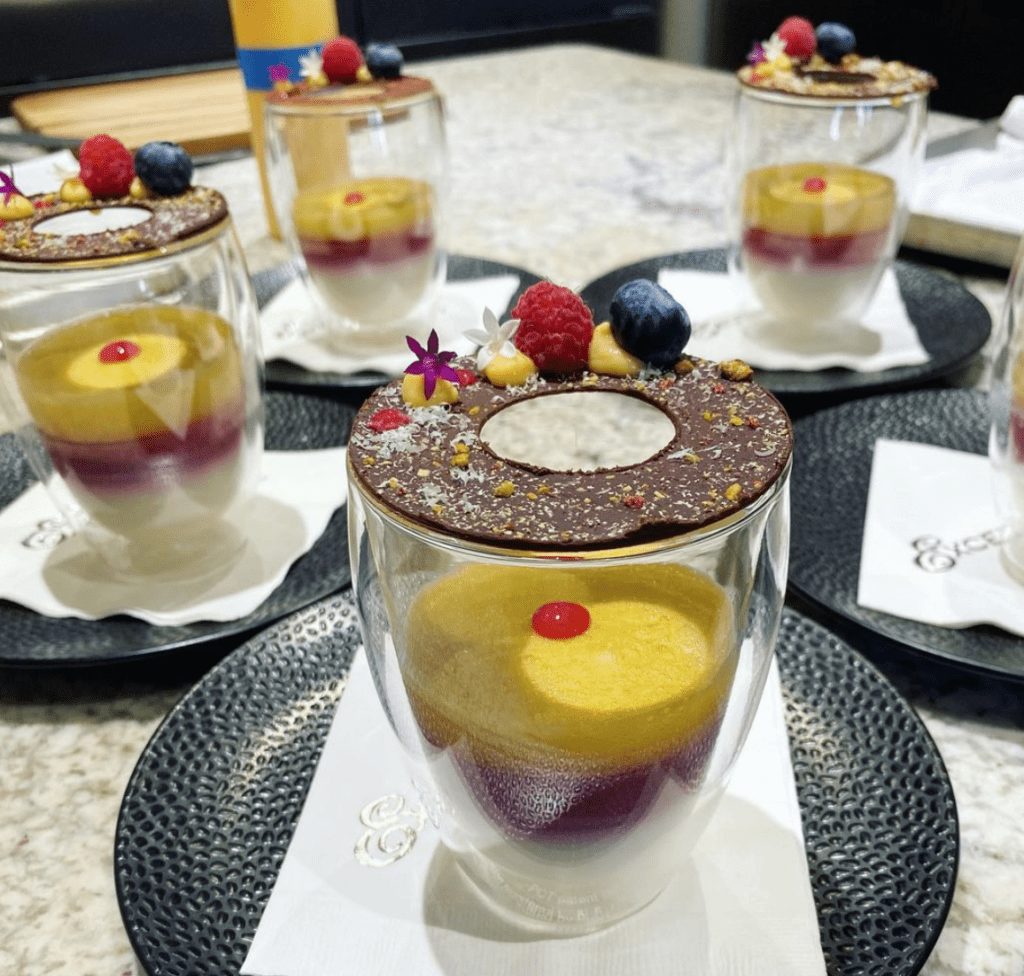 Have you entered any yacht chef competitions?
I won the FLIBS 2019 yacht chef competition. It was a much-debated event as we had to produce a small plate for 350 people at the main event and an awards ceremony for the competition. We had 3 days to prepare and deliver our dish with the help of a sous chef.
Pier 66 hosted the competition and their Executive Chef Greg McGowan was the perfect guy to run operations on the night he made sure we had everything and that it all worked. 
My sous chef Ratu Dawai was awesome, he worked on the boat as the deckhand but, so badly wanted to be a chef. I took him under my wing, I had no choice, he hung out in the galley all the time, helping as much as he could, that guy is a legend.
The boat show competition was a great way to welcome him into yacht chef life. I was proud to have him as my sous chef and so happy he is now working on a world-class vessel now, hopefully one day we will work together again.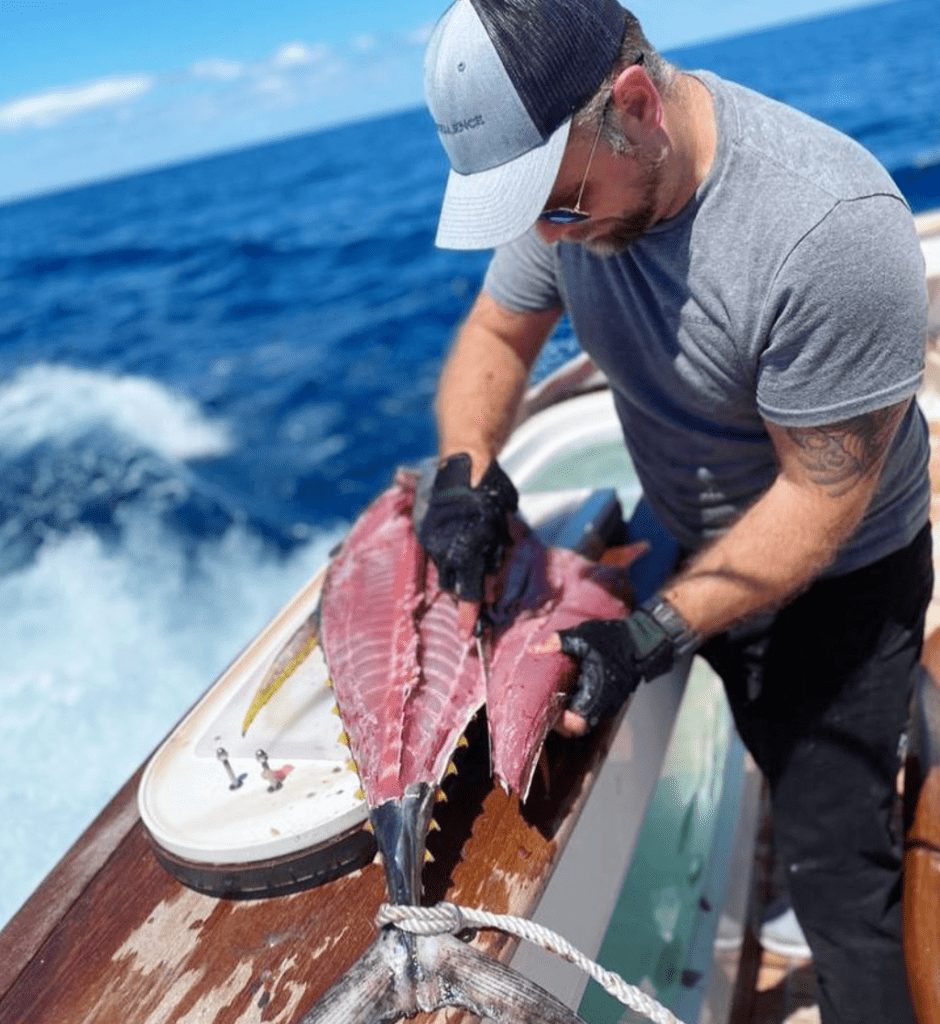 How would you describe your style of cooking?
It's a kind of a mix of all the things and places I've been to over the years. I definitely have style and enjoy cooking food from all over the world.
If I don't know how to make a dish. I'll research and do my homework until I get it right. I usually draw my new dishes and play with how I'm going to plate them. I use Instagram and Pinterest to look at new dish ideas.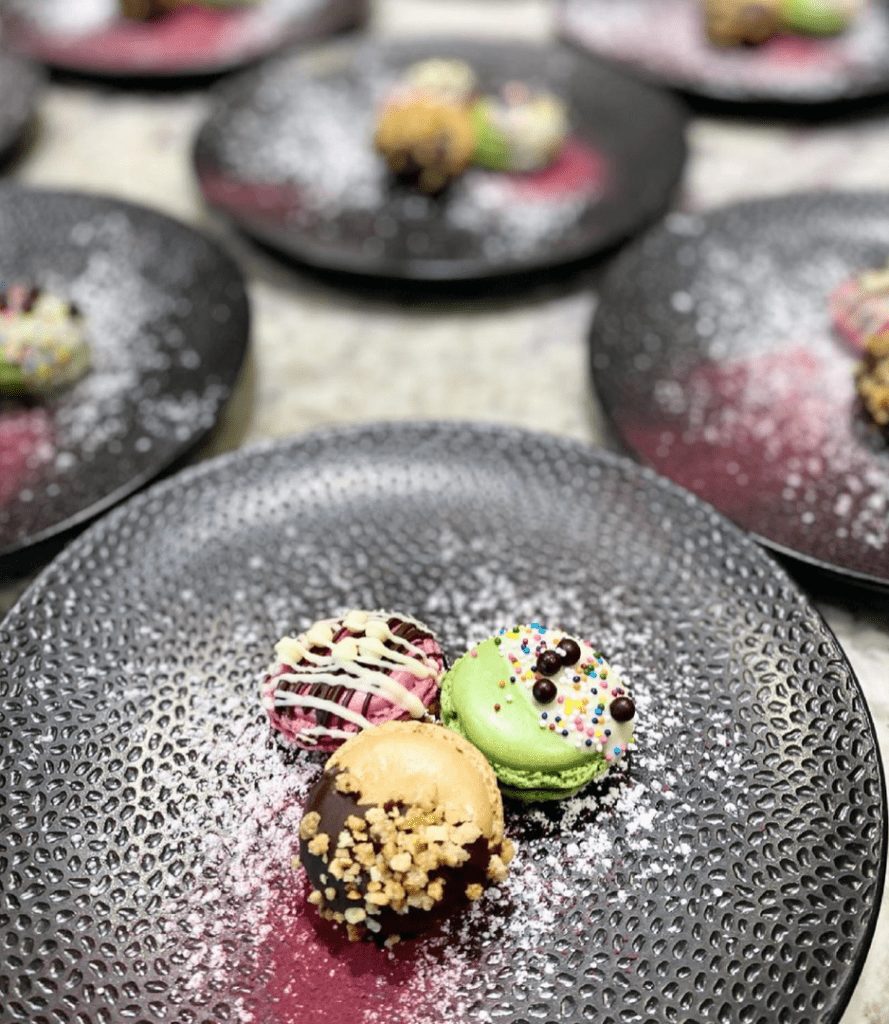 What ingredients are you loving working with right now?
I'm loving using wagyu beef and caviar. I used these ingredients from Tommy B at Shoreside support to create a dish that is called the most expensive thing on toast.
I've cooked for a number of charter guests and it always goes down well. It is a thick slice of brioche toasted in a pan with butter, covered in a layer of truffle fried mushrooms, next is pan-seared A5 Japanese imported Wagyu topped with Petrossian Caviar and garnished with gold leaf. 
I'm currently working on improving my Asian dumpling game and brushing up on sushi skills for the upcoming season.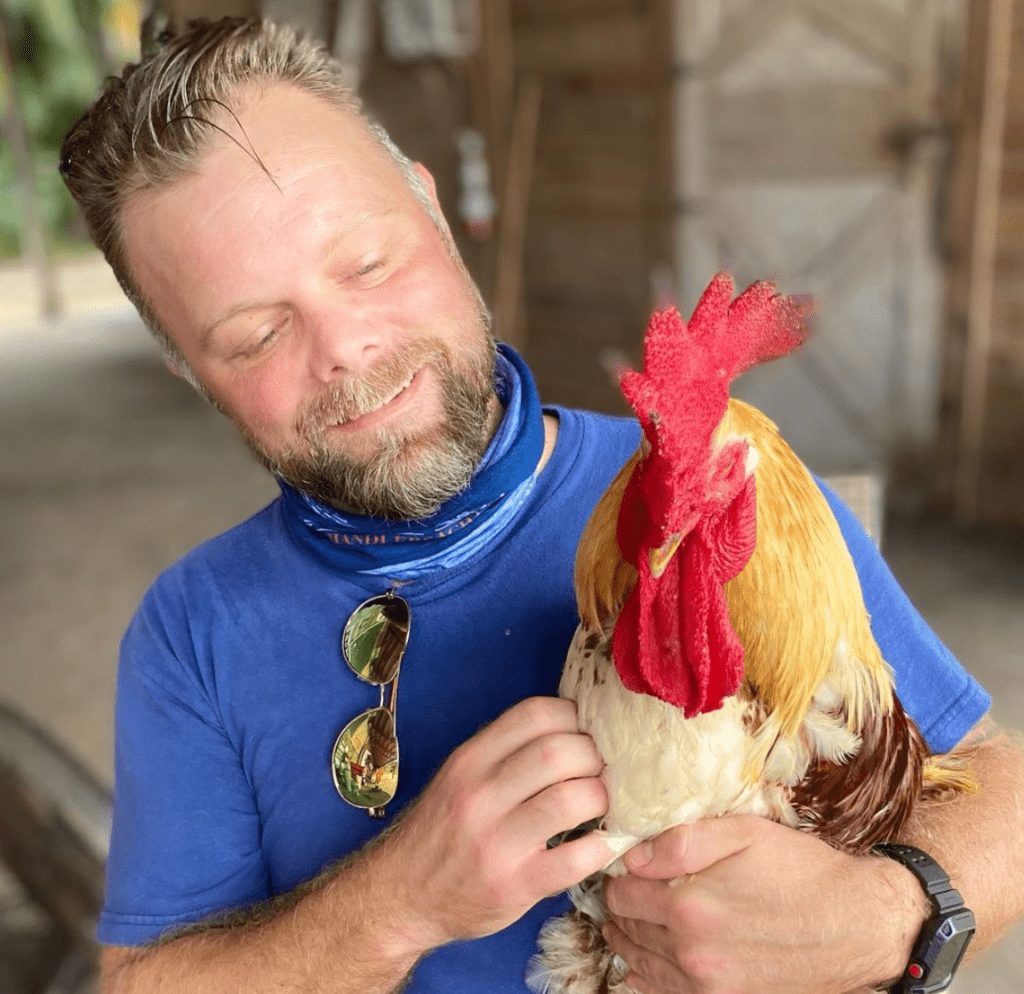 What restaurant chefs inspire you?
There are two outstanding chefs that have been inspirations and mentors to me over the years. Allen Pickett, whose career has included roles at D&D London's Plateau (1 star) in Canary Wharf, Aviator, Orrery in Marylebone, Galvin Bistrot de Luxe on Baker Street, and Marco Pierre White's L'Escargot in Soho. I met Chef Pickett while he ran Plateau restaurant. He mentored me during the National Chef of the Year competition in 2012 and we became friends ever since. 
Chef Alan Irwin is another friend and mentor. Alan is a British chef from Scotland with a passion for Kent produce he was the Head Chef at The Vine Sevenoaks, when I worked with him on a project with a local catering College I worked at.
He became the head chef of the prestigious Spa Hotel in Royal Tunbridge Wells. He has been a Roux & Ramsey scholarship finalist 3 times and has won a number of awards such as best restaurant of the year at the Mulberry Tree. Alan has worked in Michelin-starred restaurants including Lujon and Chapter One.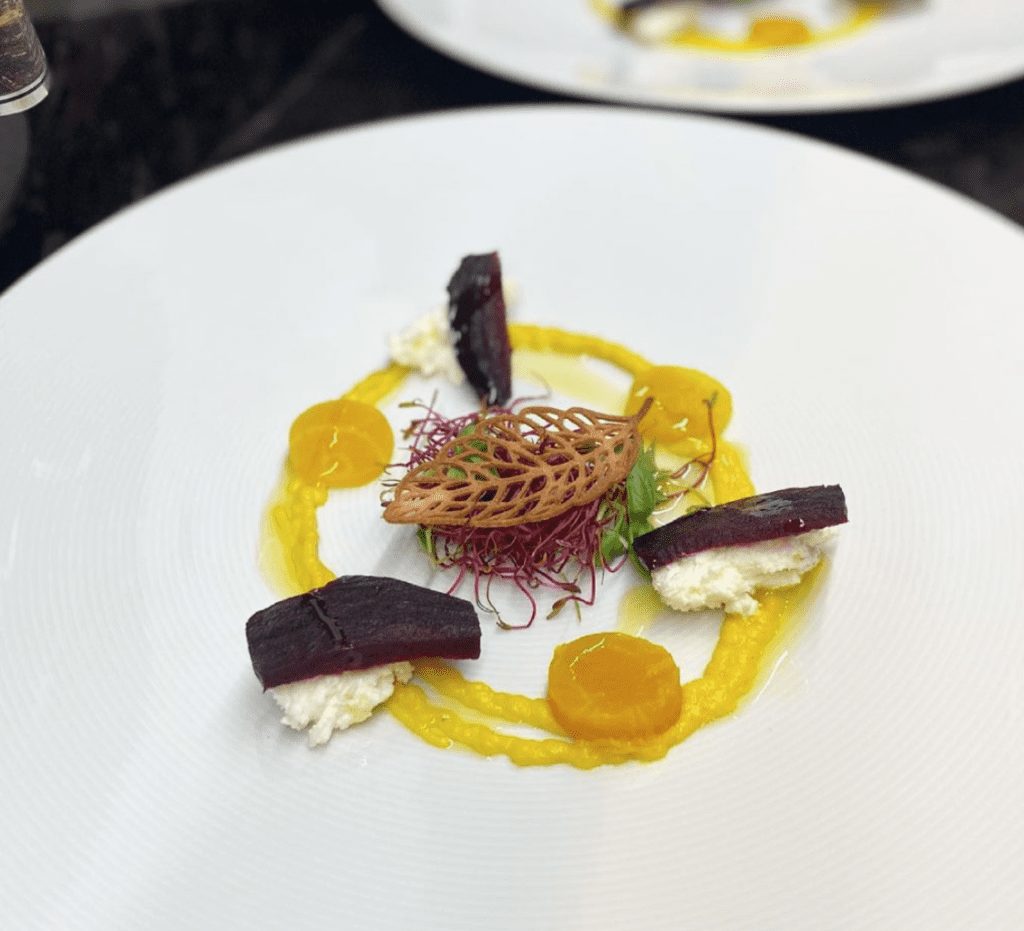 What are your favourite instagram accounts to follow?
I love, love, love the plating style of Charmaine @m0mmyeats. She has an amazing eye for detail and her plates always look so good.
I follow @tattoochefs I love reading the real-life stories of chefs. Plus, @chefgregmcgowan his food is outstanding, he is a legend.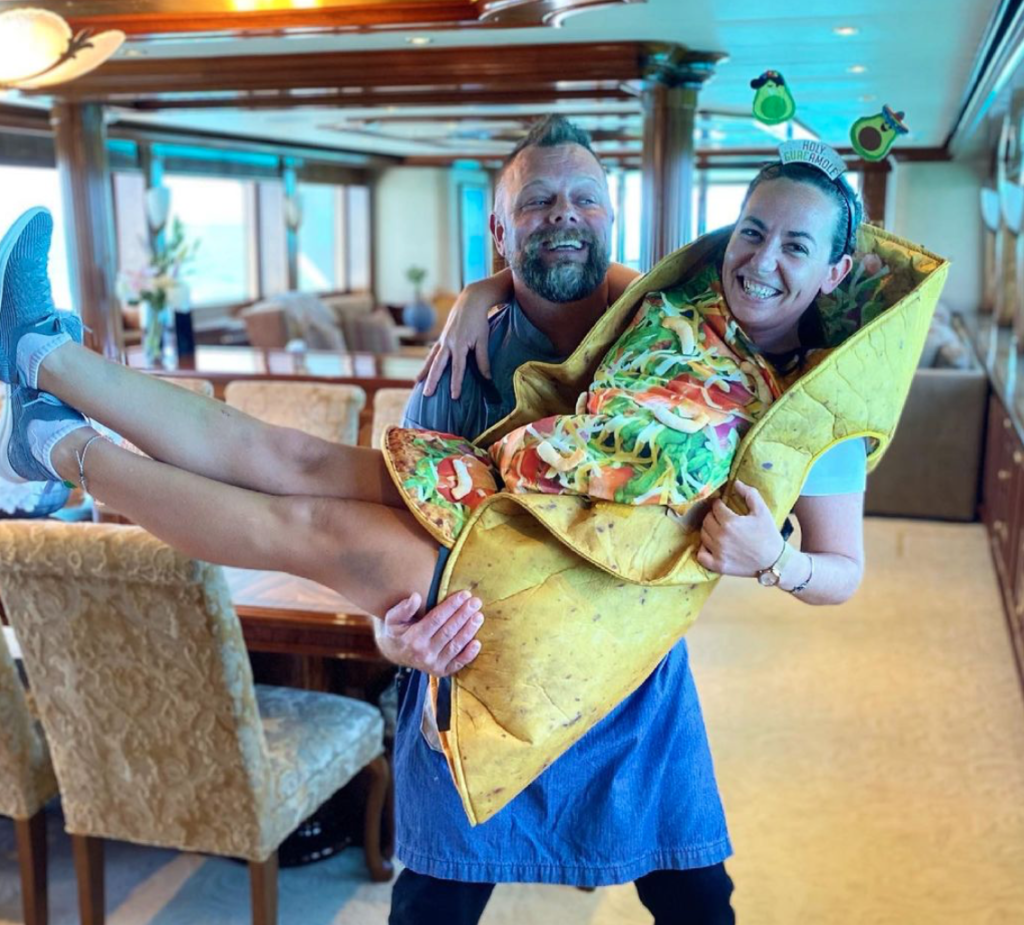 What are your plans for your next leave?
Next vacation I really want to take my family horseback riding in Tennessee or Texas, like a 3-4 day Trek, sleeping under the stars and just getting away from it all in big sky country.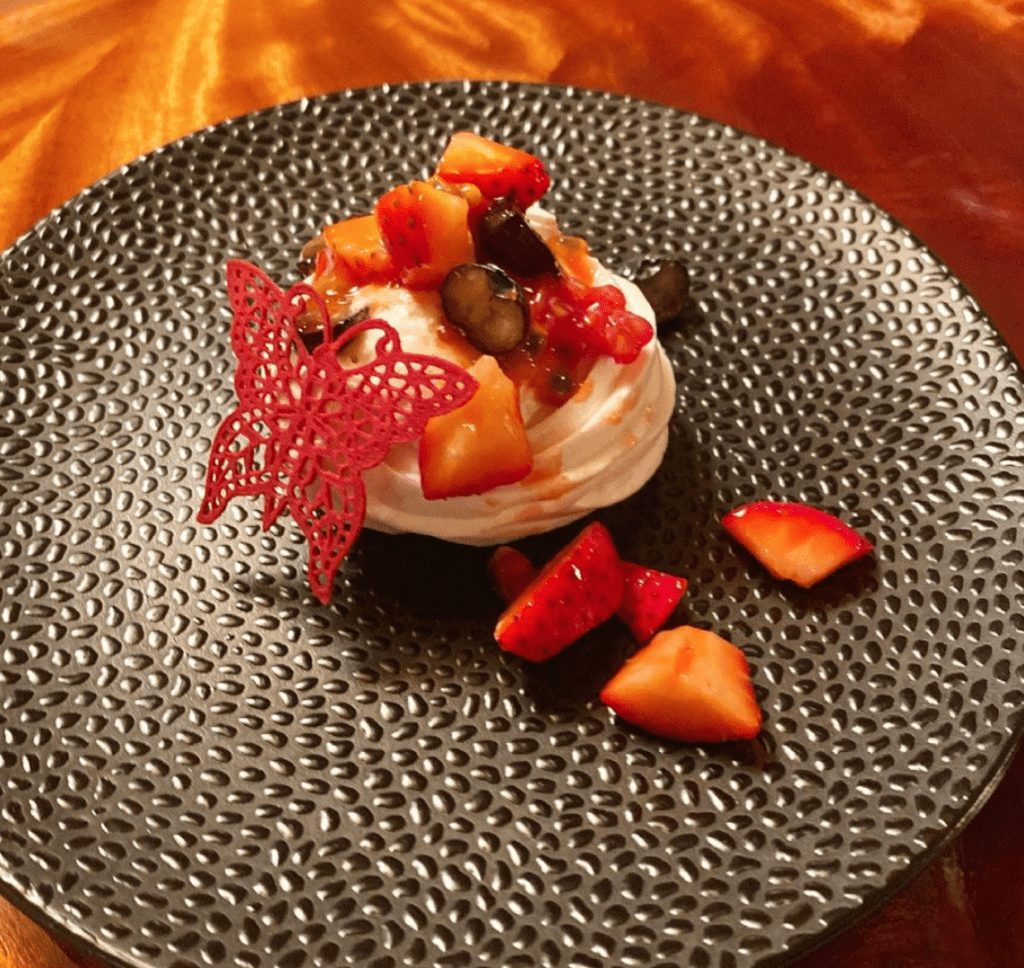 Favourite….?
Protein to work with? Japanese Wagyu
Vegetable to work with? Carrots, I just love them especially @GLFBahamas baby carrots from my good friend Tony Hall, green leaf farms the Bahamas. 
Cuisine to cook? Italian or Ottolenghi style salads
Service style? plated/buffet? Plated for formal dinner and buffet lunches and of course beach bbqs
Meat-free Mondays, yay or nay? Yeah, I'm all for cutting down the amount of meat I eat, I had two crew members that would go pescatarian and carb-free during charters. I'm all for it! Health is wealth! 
Crocs or Birks? Nike, please!
Med or Caribbean? Caribbean
Charter or private? Charter all day baby!!!
Under 50m or over? Erm… I've mainly done 40-50m but I did enjoy my time on bigger boats.
Port to be based in? Fort Lauderdale
Boat you have worked on? I'll always have a soft spot for the crew on MY Excellence.
Crew member? Binny Bintu. She is my favourite and always will be! Oh and Sue!!